2021-2022 review: stand-out moments and achievements (part 2)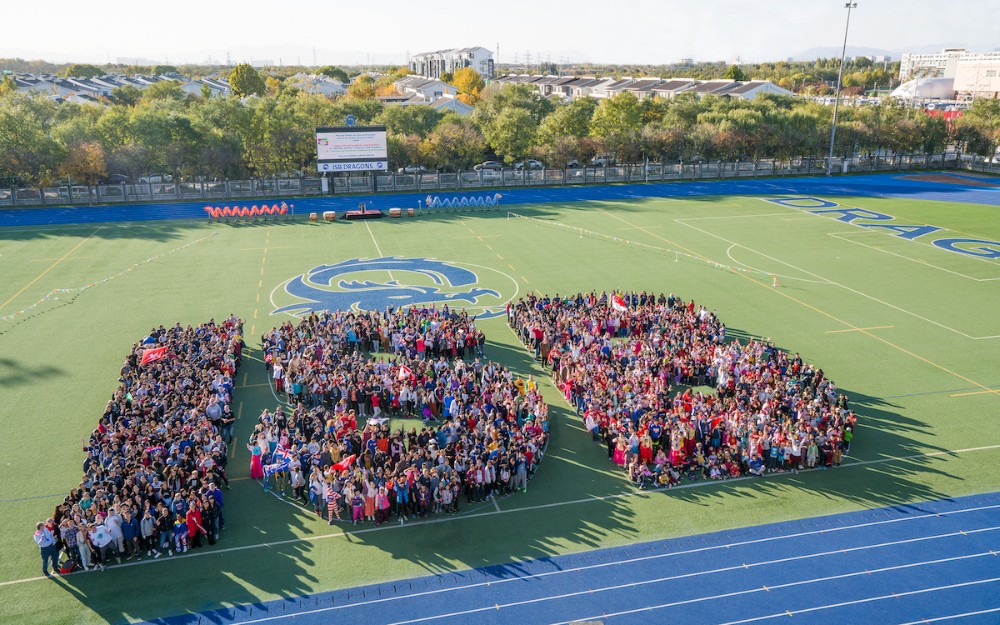 By Nick Yates, ISB Communications
Published on Thursday, June 16, 2022
Another academic year is almost complete! It's time to look back at stand-out moments and achievements for the International School of Beijing (ISB) community, in this second part of our annual review.
Month by month, you will read how the school provided challenging and joyful learning, empowered students to purpose and compassion, and fostered strong relationships in the second half of 2021-2022. These are the three main focuses of ISB's new Strategic Plan, drawn up this year and set to be implemented in 2022-2023.
You can click here for part one of this article, covering the first half of the year and explaining the Strategic Plan more fully.
January 2022
The APAC swimming competition this month saw some impressive achievements from ISB, whose girls were crowned champions in the pool. The girls and boys combined won seven gold, 12 silver, and five bronze medals. ISB students set 56 personal best times. And ISB's Sun Y set two APAC records.
The ISB girls Varsity basketball team were also celebrating after going through the entire season undefeated.
A highlight of the Upper Elementary School calendar every year, Mission: Impossible is a fun PE project that provides a physical and mental challenge for action movie stars in Grades 3 to 5. They must have the dexterity to leap, climb, and wriggle through an elaborate obstacle course set up in Gym 4. They also need to practice communication, understand the rules of the game, and be fair when applying them to their classmates. Careful, this ISB news story about Mission: Impossible may self-destruct after reading!
Mission: Impossible is typical of the kind of fun and learning that can only happen in person and in amazing facilities like ISB's. So, it was undeniably disappointing that Covid-19 meant Beijing schools had to restrict access to their campuses and return to online learning in January. Nevertheless, thanks to much hard work and contingency planning, ISB was ready to make learning remotely as good as it possibly can be. In this new normal of periodic returns to online education, ISB has committed to prepare as much as possible, react when needed, and make the best of what is a challenging situation.
The campus closure did not keep ISB film students from success in an international competition in which they were given just 48 hours to plan, film, and produce a short movie. Thirty ISB film students in Grades 9 to 12 worked in five teams, filming in locations around Beijing. It was a great exhibition of ISB's renowned film program, part of a whole-school visual arts and media offering that gives students plenty of opportunities to explore and discover their passions.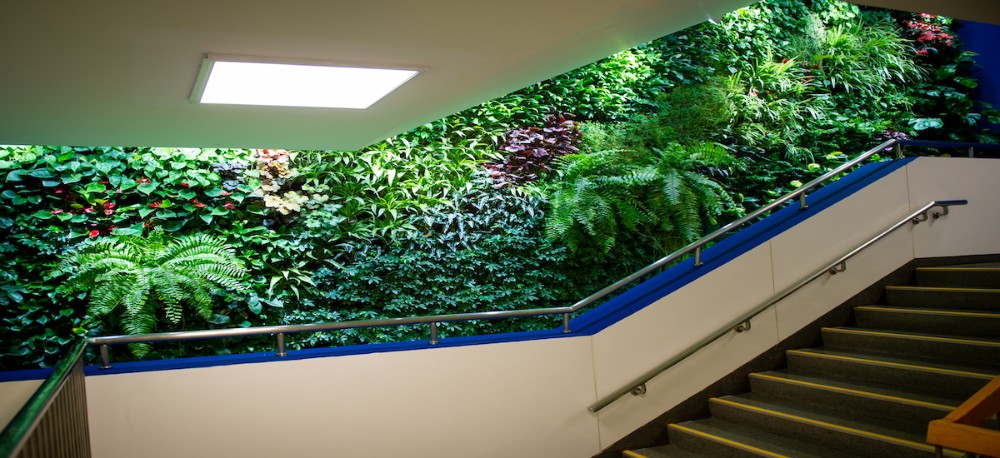 The green wall is part of ISB's commitment to sustainability
February 2022
ISB's Social and Emotional Curriculum was officially launched for the 2021-2022 academic year, sparking new initiatives teaching children how to be healthy in body and mind alongside striving for academic achievement. One idea that had come to fruition by February was Dragons Alternative Recess (DAR), helping ensure students in Kindergarten to Grade 5 have a variety of ways to socialize and enjoy time between classes.
"There are students with athletic prowess who will go and grab a ball or Frisbee," said the ES counselor responsible for DAR, "and there are some students for whom that's not their thing. They need to be able to sit around and chat or engage in creative activities. There's a place now at ISB where they can do that."
February also saw a significant social-emotional safeguarding initiative at the other end of the school, in the shape of the latest Wellness Weekend. On these occasions, High School students are offered a break from regular academic work to benefit their overall health. They had plenty of constructive ideas for how to best use the few days.
March 2022
Spring is when students in ISB Grades 8 to 11, and those signed up to join the High School, get excited about courses on offer for the following year. Sign-ups opened for a menu of courses that was once again unparalleled in its range, flexibility for students, and combination of traditional subjects and innovative programs. This article profiled Action Research, one of the High School courses that best exemplifies ISB's values in modern, interdisciplinary learning and inspiring young thinkers and leaders to serve others.
Action Research engages Grade 10 students in cross-curricular conversations on real-world issues by analyzing divergent perspectives. Students who opt for Action Research look at a chosen location through political, economic, and geographic lenses. This year, they did their learning through getting involved in a charity project benefiting a village not far from campus.
"My classmates and I might have to research about a science-related subject but also the history of it, while simultaneously incorporating aspects of economic theories like supply and demand," explained one Action Research student. "It's going to be really useful in our university and professional careers after ISB. This course helps us with base skills to build off," added another.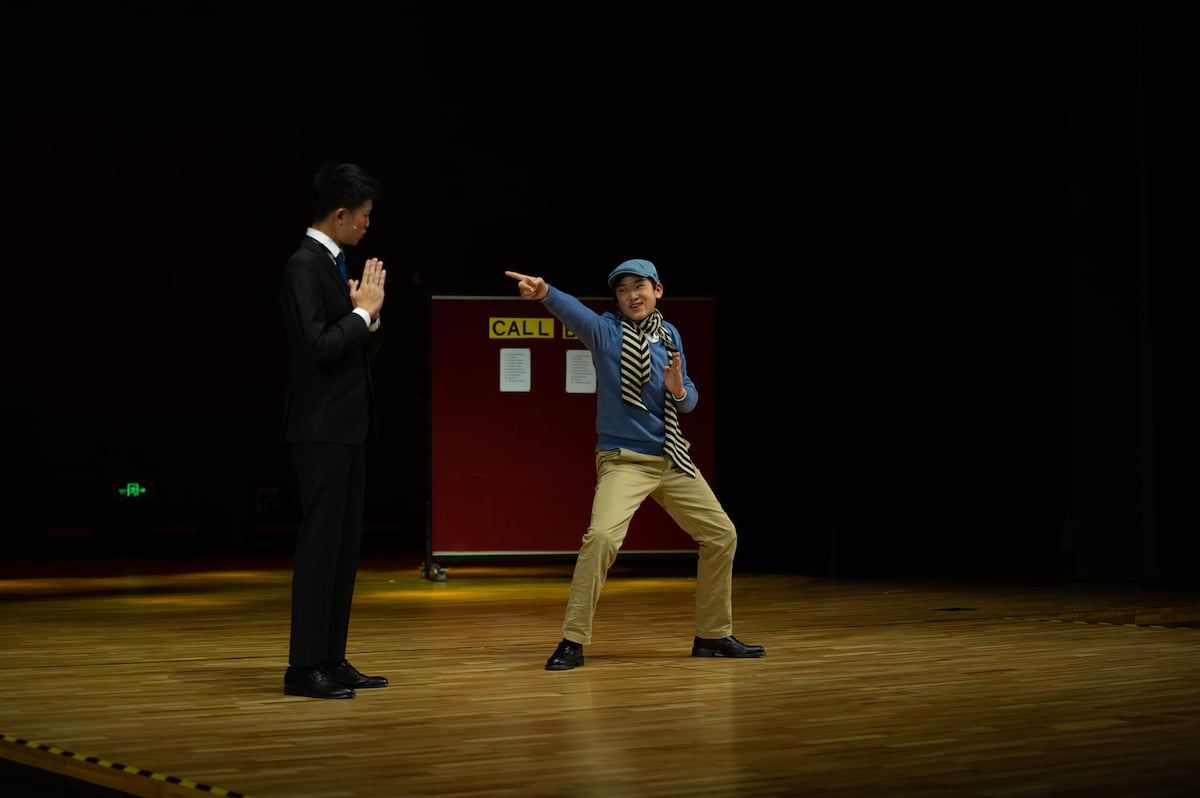 ISB's performing arts students were busy with plenty of productions in 2021-2021
Helping ensure more such high-quality teaching and learning, faculty and support staff spent a March afternoon learning from each other and sharing tips and best practice in one of ISB's regular Teachers Teaching Teachers (TTT) sessions. Teachers and ISB's many specialists in areas like technology, languages, and inclusivity offered workshops in their areas of expertise.
TTTs are part of ISB's program of on-campus and off-campus learning for faculty, full-time coaches on staff, and regular visiting experts working with teachers. Around three-quarters of ISB's school-fee revenue is reinvested on personnel, including funding professional development for them. While ISB recruits highly qualified, experienced, and passionate teachers, it is also almost unmatched in Asia in terms of the resources it puts into training and development for its world-class faculty.
ISB is forging towards having its quality verified through independent accreditation by the Council of International Schools (CIS) and the New England Association of Schools and Colleges (NEASC). Accreditation has long been recognized in international school circles as a way of demonstrating alignment with a set of global, publicly stated standards. A school's own claims of excellence, however well justified, will always be open to question in the absence of an objective verification of quality.
As ISB has been reflecting on its strengths and areas for improvement, community members including students, families, staff and alumni were invited to take part in a consultation in March for the reaccreditation process. CIS had recently commented in a report that "ISB is a high-performing school committed to high standards and supporting all students to be successful learners by addressing their individual needs, interests, and abilities with a focus on student-centered holistic education. There is strong evidence of purposeful teaching and learning that is research-driven led by dedicated, caring, and supportive staff."
The month ended with the second ISB Fringe Arts Festival, a celebration of all the performing arts at ISB in Kindergarten to Grade 12. A fringe festival is a multi-day performing arts event involving diverse smaller-scale productions and concerts, open to anyone to perform. The format is perfect for this era, when Covid-19 disruptions have had a heavy impact on theater everywhere. The ISB Fringe Festival was a welcome opportunity for artists here to shine.
It was also a great example of how ISB values performing arts, seeing it as part of a balanced education alongside traditional academics. The world-class campus has dedicated theaters and recording spaces that are perfect stages for a whole troupe of ISB curricular and co-curricular programs in the arts.
April 2022
The second ISB Sustainability Impact Report was published in April, continuing the school's pioneering work in sustainability. ISB has a long-term plan managing the school's impact on people and the planet. It was drawn up in a process led by a dedicated sustainability manager on staff, with a lot of input from students, and inspiration from organizations around the world including Harvard University and Unilever that have done likewise. The annual Sustainability Impact Report fulfills the roadmap's commitment to be open and transparent about progress made. Give it a read to find out about some of the ISB community's many successes in sustainability and work still to be done.
Grade 10 students enjoyed a fair on April 20 with ISB alumni sharing their experiences since school. It was the culmination of a series of Alumni Pathways events this year taking advantage of the High School's new alumni mentor network to guide current students in their options for further education and careers.
And what options they have! April 22 was a day for celebrating achievement at ISB as the annual High School Awards recognized graduating students who best honor the school's Mission and Vision and the three focuses of the new Strategic Plan. Awards were given out for academic performance as well as community contributions and social-emotional and cultural competency.
April also saw ISB's first Chinese Panda Reading Week to promote literacy amid a busy period for the school's Chinese-language students. They are studying in one of the region's leading Chinese and dual language programs in an international school.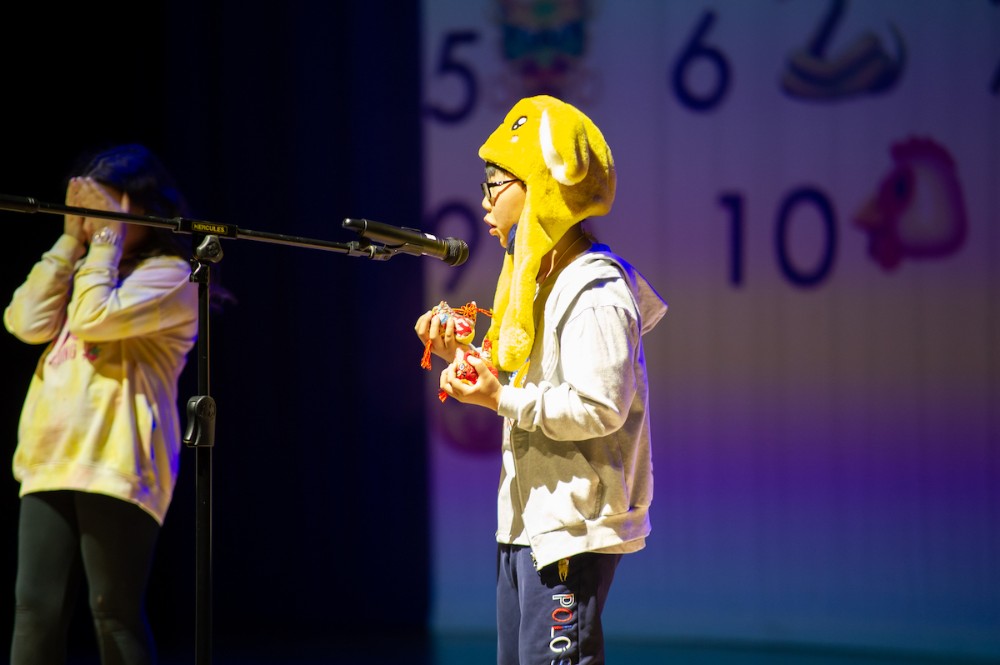 An activity for Chinese Panda Reading Week
May 2022
ISB seeks out the world's best teachers for its students. From new recruits to ISB veterans, the school is happy to have a full complement of excellent educators lined up for the 2022-2023 academic year. A surprising number of ISB's teachers just so happen to have been members of ISB classes themselves a few decades earlier. Click here to meet a couple of these alumni teachers and find out why they returned to campus to lead more challenging and joyful learning like they enjoyed.
And who knows how many of the newest crop of alumni will follow in their footsteps! The Class of 2022 graduated on May 21 with exciting futures ahead of them after discovering their passions, excelling academically, and growing socially and emotionally at the school. College acceptances from around the world had been flooding in for these graduating students.
June 2022
In any international school, summer is a time of renewal, of exciting beginnings for new students and staff members, and fond farewells for those leaving. Some stay longer than others. One ISB veteran is about to retire after an incredible 35 years helping make campus the modern and welcoming place that it is.
Housekeeping supervisor Xiu Mei Zhang (pictured) joined ISB in 1987 as a clerk. She progressed through the ranks to her current senior position managing the facilities, and her story is one of personal fulfillment and giving back to a community she has always loved being part of. In this international setting, Xiu Mei has learned English and developed as a global citizen, just like the school's students.
She has certainly earned a break. Who hasn't earned a break after everything that has happened this year? ISB wishes Xiu Mei and everyone else a great summer!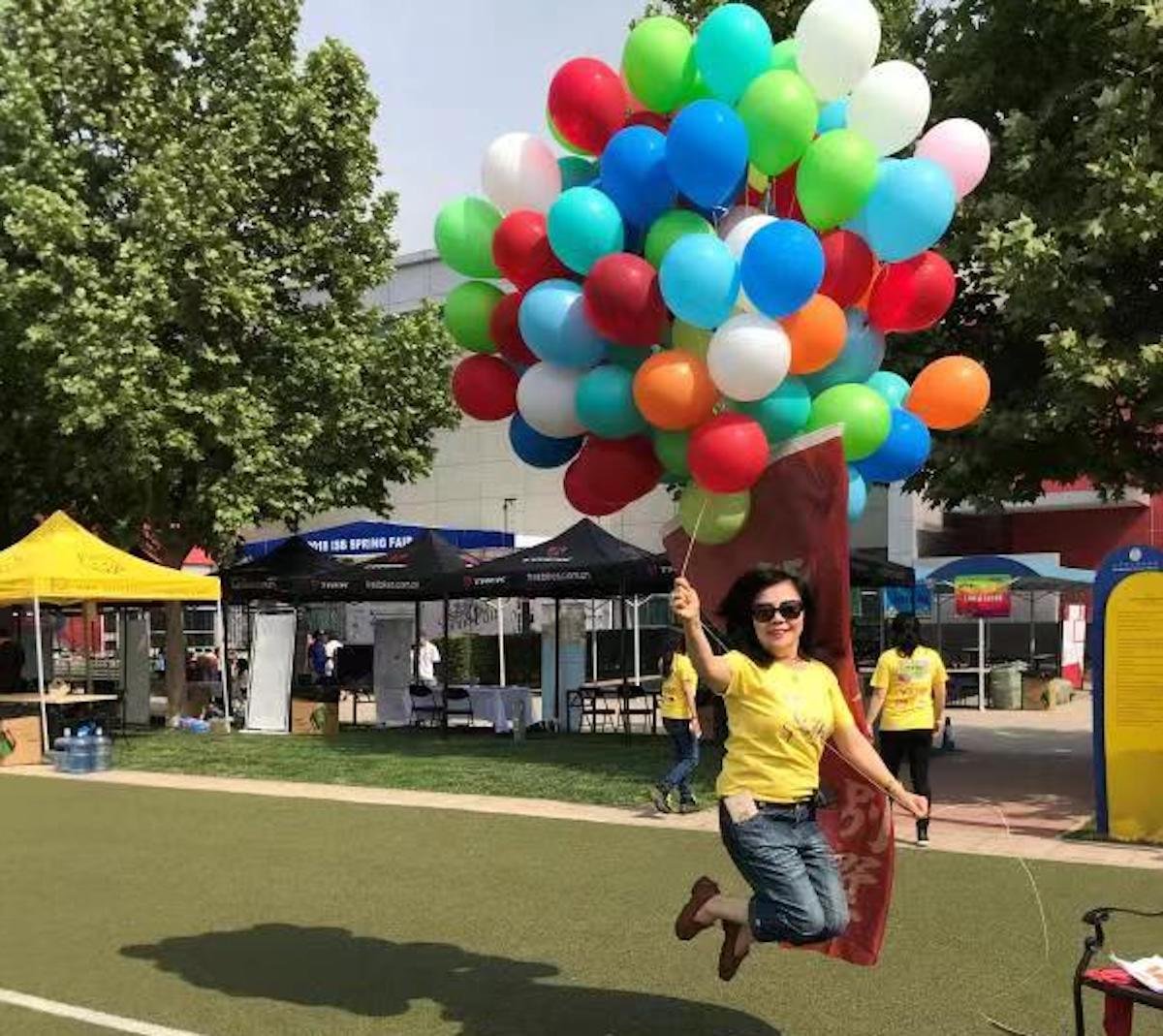 ISB is an extraordinary school, made so by a tradition of educational excellence spanning 40 years. Establishing, nurturing, and growing such an exceptional learning community has been and remains intentional; we work hard to build strong relationships so our learning is at its best.
Back