35 years serving an international community
By Nick Yates, ISB Communications
Published on Friday, June 10. 2022
In any international school, summer is a time of renewal, of exciting beginnings for new students and staff members, and fond farewells for those leaving. Some stay longer than others. Next week, one International School of Beijing (ISB) veteran will retire after an incredible 35 years helping make campus the modern and welcoming place that it is.
Housekeeping supervisor Xiu Mei Zhang joined ISB in 1987 as a clerk. She progressed through the ranks to her current senior position managing the facilities, and her story is one of personal fulfillment and giving back to a community she has always loved being part of. In this international setting, Xiu Mei has learned English and developed as a global citizen, just like the school's students. She is ISB's Mission statement brought to life!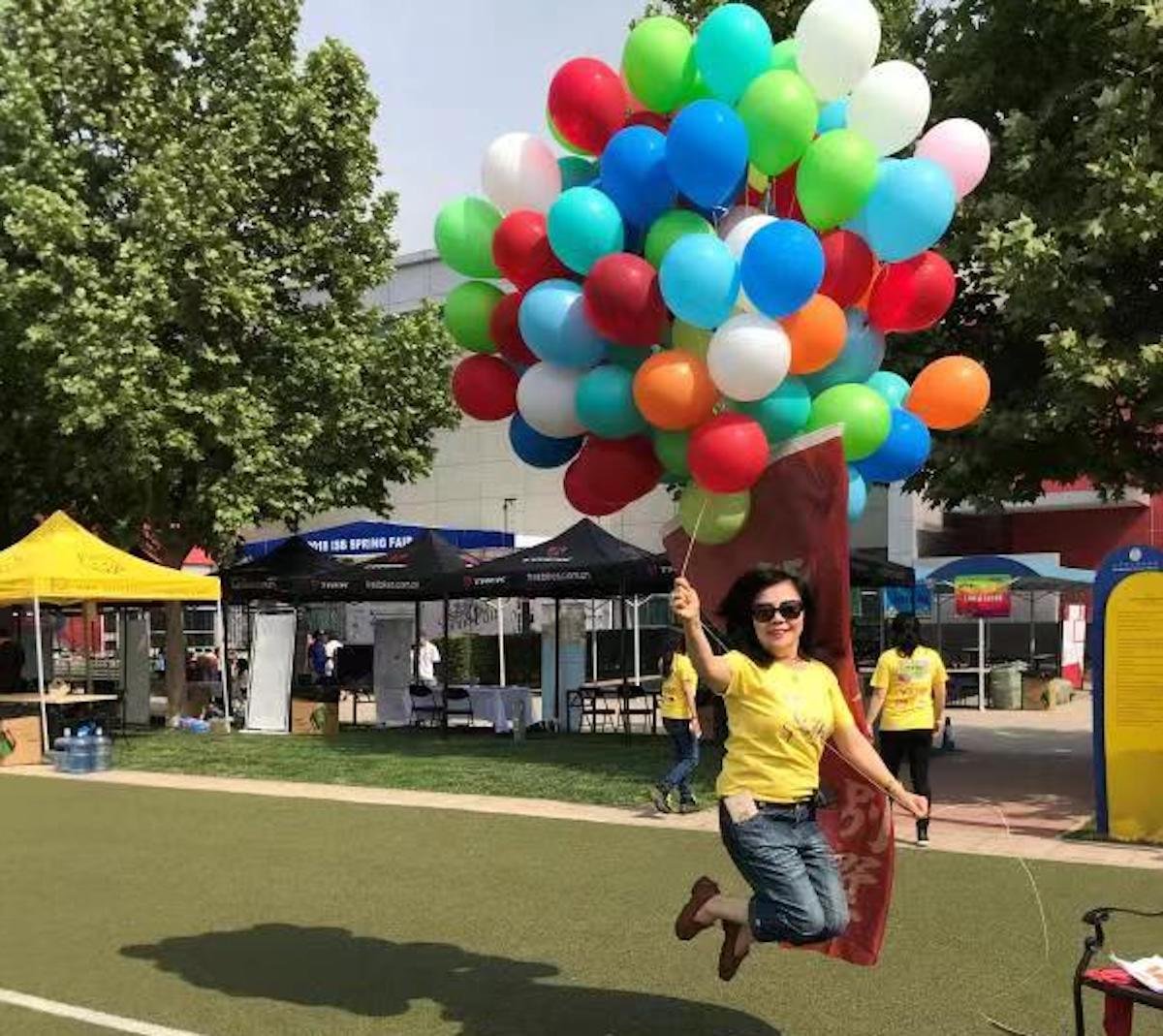 Xiu Mei enjoying herself at the ISB Spring Fair
Teachers and principals are surely the most high-profile members of a school's team, but support staff like Xiu Mei do very important work. She and her facilities colleagues ensure the campus is well maintained, that classrooms and learning spaces have the resources they need, and that big events like graduation ceremonies can go smoothly.
ISB management have always valued investing in the facilities because they know that the best schools are purposefully designed to promote student achievement. Xiu Mei's three and a half decades at ISB have seen her move with the school from the former campus in Beijing's Lido district to the current site, and she has been heavily involved in implementing numerous renovation and construction projects.
"ISB has always been committed to providing students with a first-class educational environment," said Xiu Mei, citing the stadiums and theaters plus the award-winning Elementary School Arts Center, Middle School (MS)/High School (HS) Performing Arts Center, Early Years Learning Community, and MS/HS Design Center.
"I am very glad to have been able to help provide students with more and more perfect services. When new facilities are put into use, my role is to quickly bring them from construction sites to an immediately usable state and normalize their soft maintenance. This gives me a great sense of achievement. We need to constantly update the campus with new facilities to ensure we can continue to provide students with the most advanced learning platforms and services."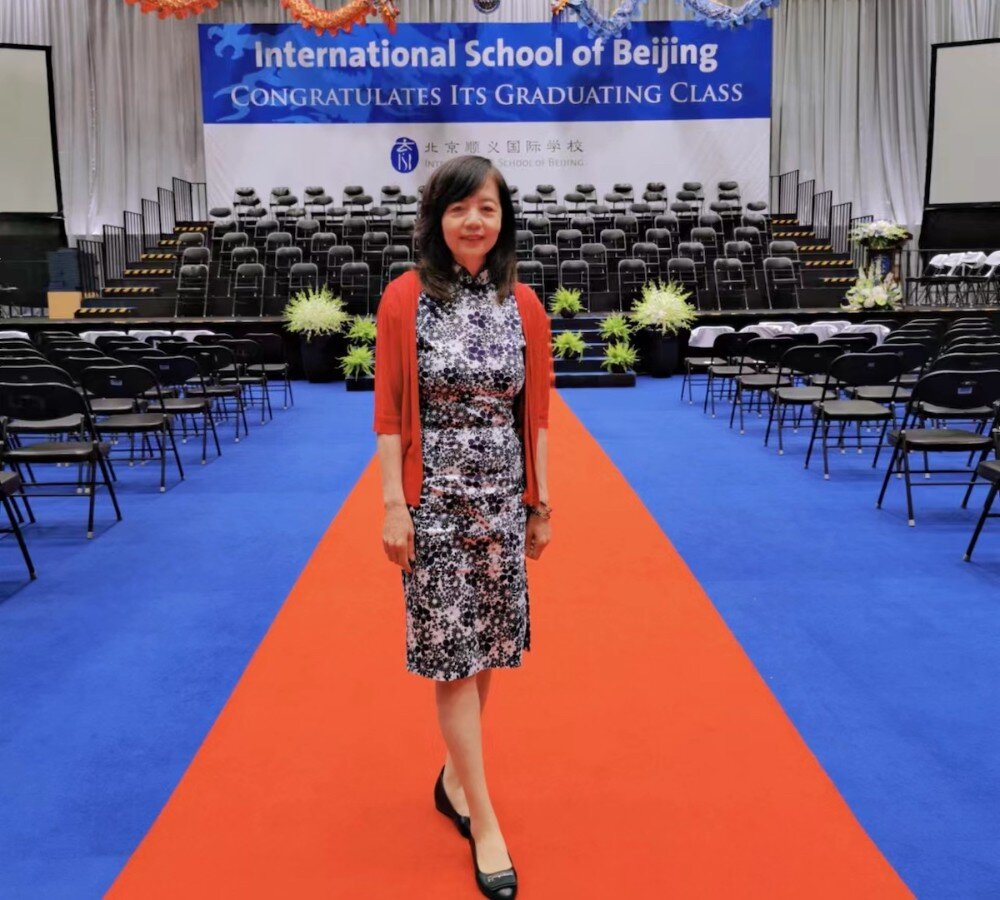 Xiu Mei in one of the many ISB Graduation Ceremony venues she helped set up
Just as the International School of Beijing has benefited from having Xiu Mei as part of the community, so has Xiu Mei benefited from ISB. "Communicating with people from different countries and backgrounds has broadened my vision," she explained. "I can think from different perspectives and handle problems better. My thoughts are also keeping pace with the times… I have newer and more scientific ideas on family and education. The impact ISB has had on me is far-reaching."
Xiu Mei is planning to travel after retirement and to spend time with her daughter in Canada. She will take a lot of memories with her. "Countless moments at ISB have made me who I am today. At the end of every year's Graduation Ceremony, I would be excited with tears in my eyes and feel gratified. The activities I have experienced, large and small, include International Day, the ISB Spring Fair, performances, sports meetings, festivals. I've been very busy preparing carefully for each of these. But instead of feeling overworked, I enjoy the sense of achievement they have brought to me.
"I have given full play to my ability and sense of responsibility, made the school spotless with lush flowers and plants inside and out, which has filled ISB with warmth and love. I am also very grateful to all the people who have loved me over the years – the school leaders, teachers, parents, and colleagues have motivated me to work harder. Thank you all!"
As usual for any expatriate community, other staff are leaving ISB next week after years of service. ISB is grateful to all of them. And as usual, more excellent educators and specialist support staff will replace them. To discover more about employment at ISB and read more insight from professional members of the community, click here.
ISB is an extraordinary school, made so by a tradition of educational excellence spanning 40 years. Establishing, nurturing, and growing such an exceptional learning community has been and remains intentional; we work hard to build strong relationships so our learning is at its best.
Back