Meet the alumni who returned to ISB as faculty
By Nick Yates, ISB Communications
Published on Thursday, May 19, 2022
The International School of Beijing (ISB) seeks out the world's best teachers for its students. A surprising number of these recruits just so happen to have been members of ISB classes themselves a few decades earlier!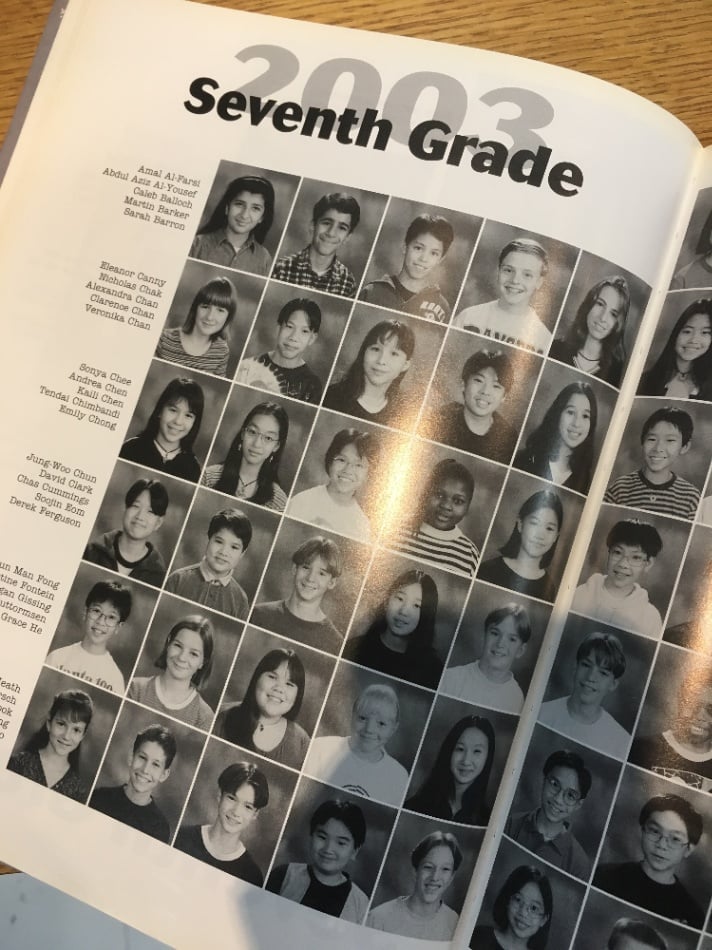 With ISB established as Beijing's first international school over 40 years ago, alumni have come back here to work as teachers in more recent times. Current faculty members Veronika Chan, Rebecca Chen, Owen Fidler, and Chikae Yamatin were all students at the school. ISB alumni include senior diplomats and economists, top sportspeople, respected academics, acclaimed authors and journalists, prize-winning scientists, and plenty more. Veronika, Rebecca, Owen, and Chikae know that teaching is just as rewarding a vocation.
Having been inspired by their experiences at ISB, these highly qualified members of staff are motivated to give back to the community that helped make them the capable, worldly people they are today. Significantly, Veronika, Rebecca, Owen, and Chikae's learning continues. As employees, they benefit from a professional development program of workshops and visiting experts designed to make ISB's teachers even better.
It's all an example of how ISB's strong alumni network serves current students while providing opportunities for former Dragons. Here, in their own words, is how Owen and Veronika came full circle and what ISB means to them.
After studying at ISB as a student, what made you want to come back as a teacher?
Owen Fidler (OF): "My time at ISB was during my early teenage years and shaped a large part of my identity. My parents stayed on in Beijing when I left, so it is as much home as my childhood was back in Australia. Coming back to Beijing was a decision to return to one of my two homes. Listening to my parents talk about their work at ISB… [there were some] really exciting initiatives that made ISB a really dynamic place to enter into back in 2014."
Veronika Chan (VC): "As a child, I never thought that I'd be a teacher. After a decade in the United States, I realized that I wanted to experience working abroad and in doing so, switched careers. I went back to school and received a teaching certification. I knew I always wanted the opportunity to work abroad, and I heard a lot about ISB and the amazing opportunities that were provided to the students. Having previously worked in IT, I was also enamored by the Design Center at ISB. I've always aspired to becoming a tech facilitator and was excited that ISB valued technology."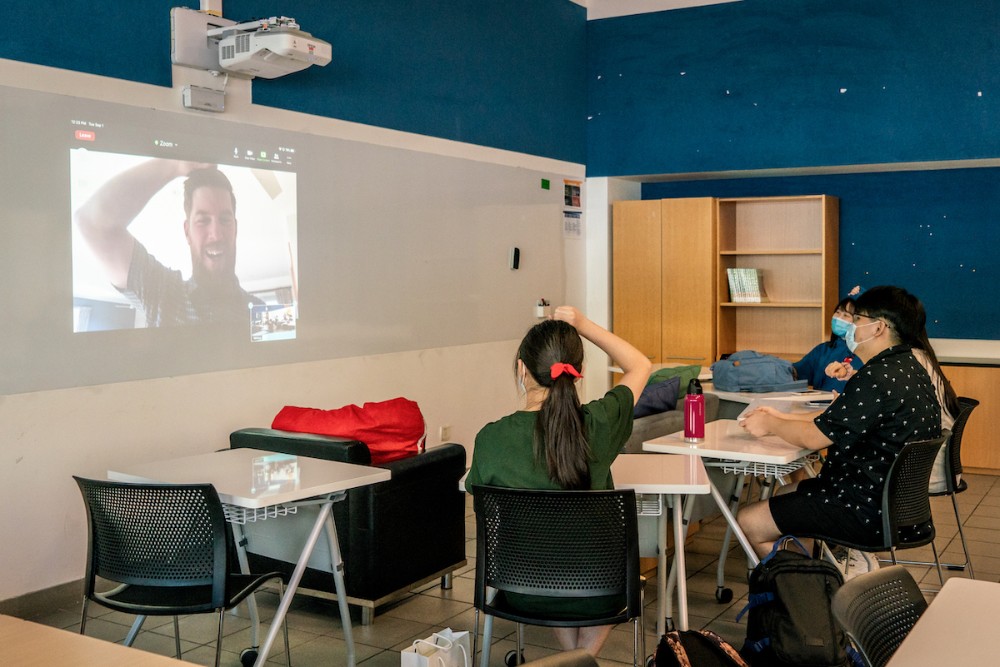 Owen Fidler on screen talking to his students
How well has your time here as a teacher met your expectations?
OF: "There are few places as incredible to teach in as ISB. We are very well resourced and have an engaged student body. I am very proud to have been a part of our past innovations as a school. Maintaining that edge of innovation during the Covid-19 era has presented challenges and I'm very grateful for the team I work with and support of administrators to create learning such as exemplified by the Civic and Social Entrepreneurship students in Grade 9."
VC: "Over my few years at ISB, my professional goals shifted. Instead of looking for opportunities in technology, I wanted to stay in the classroom. Thus, when an opportunity arose to apply for a dual language position, I was very interested. This past year was my first year as a Grade 4 dual language teacher. If this opportunity was available when I attended ISB, I wish my parents would have put me in it."
What do you think to ISB's Mission statement? Does it resonate with you?
OF: "The Mission statement resonates with me, especially the drive for challenging and joyful learning with the freedom to explore. This encapsulates much of my own personal philosophy of education."
VC: "The part that resonates most with me is 'where thinkers and leaders find their place in the world and serve others.' ISB provided me the foundation and skills needed for my life."
How would you say your experience at ISB and as an international student equipped you for your job now?
OF: "Valuing diversity and leveraging the strengths that diversity brings is integral to being an international teacher, especially regarding language use in classrooms. My Chinese language teachers at ISB were phenomenal and my life in China is much richer and more diverse due to my high proficiency in Chinese."
VC: "ISB and my experience growing up overseas has taught me how to be flexible, manage my time, and how to adapt to a variety of situations."
What would be your advice to any ISB alumni considering coming back here to teach?
OF: "Bring your A game and be ready to grow as a professional. ISB is a top-tier school that for many years has attracted the world's best, so you're in great company to create fantastic curriculum, make a big impact on your students, and grow as a professional."=
VC: "Beijing has changed dramatically over the years and so has the school. Be flexible."
What have been some of the reactions from your students and ISB families when they learn that you also studied here?
OF: "The reaction to my Chinese language skills is always my favorite."
VC: "They are pleasantly surprised and thrilled to know that their child's teacher has experienced the same things that their children are experiencing."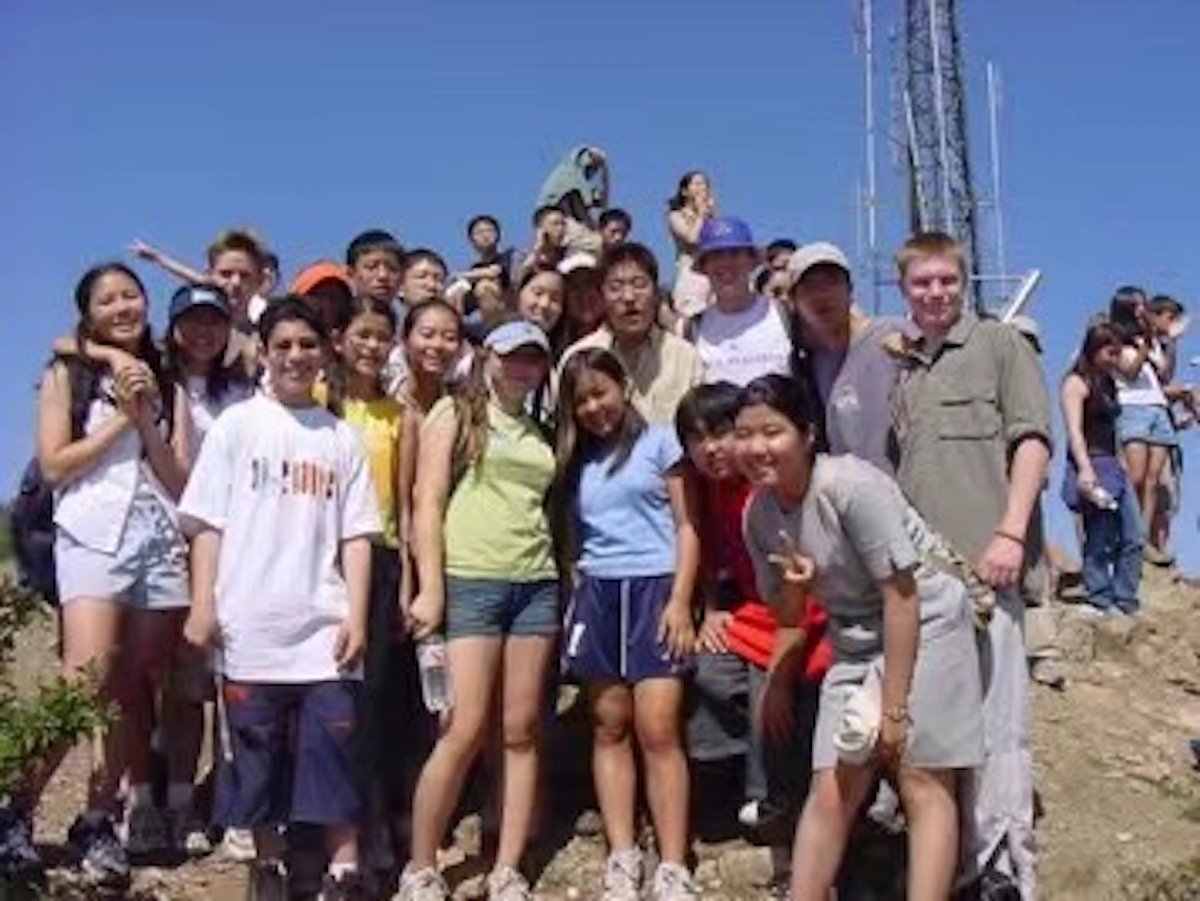 Mr. Fidler in the blue hat during his time as a student
How has ISB changed since your time here as a student?
OF: "It is far more homely these days. I started my time at ISB in the Lido campus. Since we moved into our current building here in Shunyi, the facilities team have done an incredible job over the years to create a building with feeling and character – the living wall near the main entrance is a great example of that."
VC: "Having attended ISB when it was in Lido downtown, I never saw the completed Shunyi campus. My first time visiting the campus was when I attended the ISB Job Fair in 2019. I was amazed when I was taken on a campus tour. I loved how the school incorporated traditional Chinese paintings in the library and on the different walls around the school. I am also amazed by how many different programs are offered by the school – both academic and social."
What are some of your favorite memories of ISB?
OF: "As a student – my trips outside of Beijing are by far the standout. The trip to Inner Mongolia in Middle School was the first time I really began to understand the diversity of China's natural and cultural characteristics. I remember that trip involving Mongolian-style wrestling, yurts in grasslands, and seeing stars."
VC: "Going on China Studies trips. I remember in Grade 7 riding an overnight train to Inner Mongolia. This was my first time traveling outside of Beijing. One distinct memory on the trip was spending a night in a yurt in the grasslands."
What has been your experience of professional development at ISB?
OF: "I've been able to follow my professional interests at ISB. I've attended IB workshops in Singapore and very niche PD on interdisciplinary learning in Hong Kong. We've had a few standout visiting experts who are leaders in their field. [Dual language coach] Jose Medina has had a very significant influence on my teaching and made operational many values of our school."
VC: "As a Dual Language (English) teacher, I felt that Jose Medina's C6 Biliteracy training was essential in helping me understand what a dual language classroom looks and sounds like. I am reminded daily of the importance and the need for students to trans-language and access the information in both English and Chinese.
"I've also just recently completed Harvard Project Zero: Making Thinking Visible. This course provided me with new insight on what it means to think."
Anything else you think readers of this article should know?
OF: "Gratitude. No school is perfect and Covid-19 has presented many challenges that were not anticipated. But our school remains well resourced and teachers are still offered very attractive packages. Working away from home is hard in the Covid-19 era, but I have my place here and that makes being away from home a little bit easier."
Interested in employment at ISB? We have an almost full complement of excellent educators for the 2022-2023 academic year. Click here for the few vacancies that are still open for next year and remember to keep checking back for future openings.
And here's one job opening that's of particular interest to International School of Beijing alumni! ISB is looking for a new Alumni Relations Manager. Someone who studied at the school would be a very strong candidate.
ISB is an extraordinary school, made so by a tradition of educational excellence spanning 40 years. Establishing, nurturing, and growing such an exceptional learning community has been and remains intentional; we work hard to build strong relationships so our learning is at its best.
Back