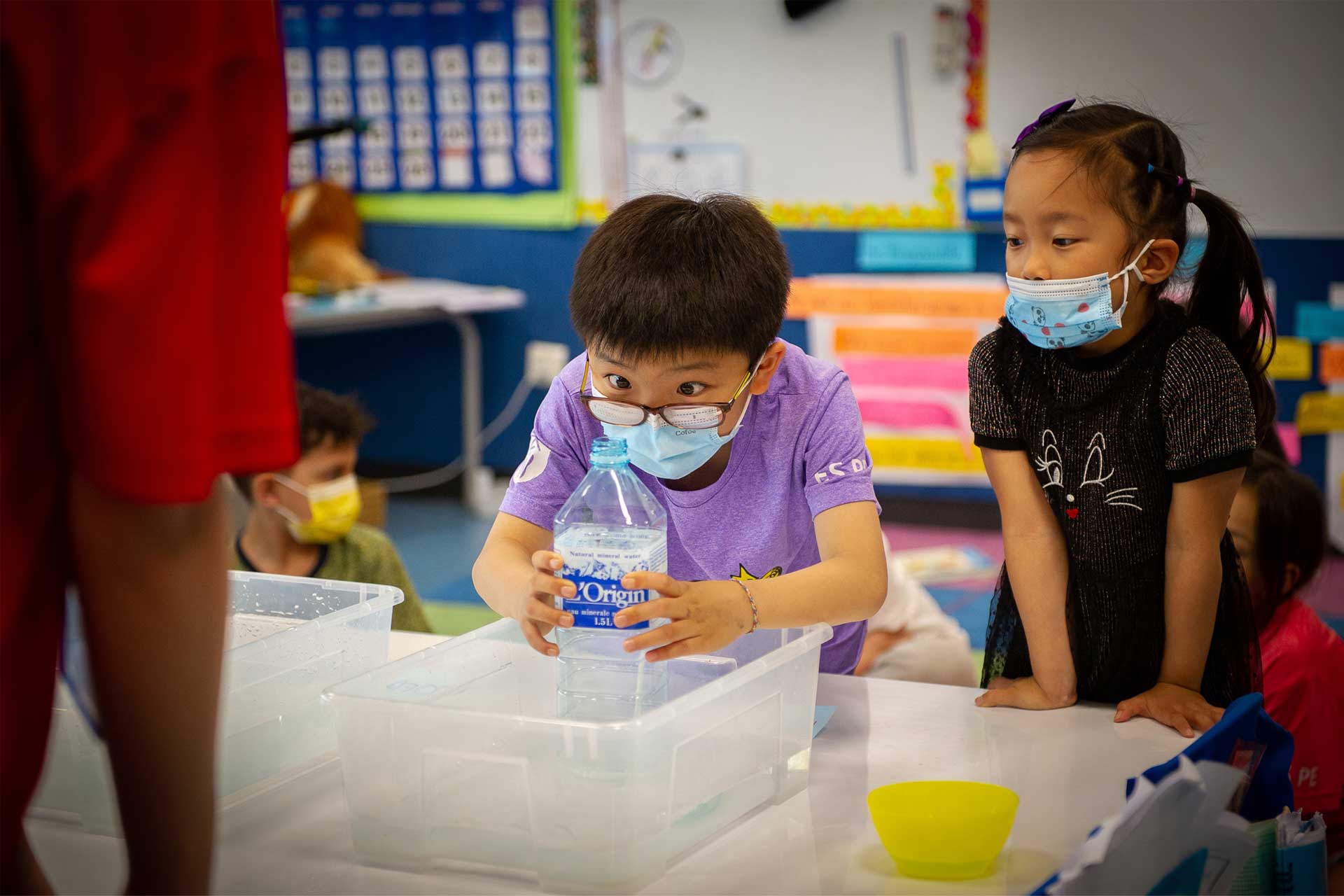 What will my child's school day look like at ISB?
Selecting a school for your child is a pivotal decision..
The school you select should give your child the opportunity to discover and follow their passions – whatever those passions may be. Find out more about the six characteristics that make ISB the best international school in Beijing, here.
One of the factors that come with making this decision is actually understanding what a typical school day will look like for your child. How much time will they spend learning languages? How much of the day will be spent on challenging academics? Will there be time for my child to establish joyful connections and feel part of the community?
To help answer these questions, we spoke with Nicole Washko, Director of Admissions at the International School of Beijing (ISB).
The beginning of the school day
If parents opt for our extensive and sustainable school bus service, the comfortable mode of transportation will pick up students at the predetermined location that is most convenient for them. Alternatively, parents have the option to drive their child to the front doors of the school.
At ISB, a typical school day begins at 8:15 am. Whether arriving by bus or getting dropped off by their parents, students arrive and excitedly walk to the first block of the day.
Joyful learning
We deliver our curriculum in a way that inspires joy in learning across all grade levels in our international school. Learn more about ISB challenging and joyful learning.
Elementary School students
For Elementary School students, a typical school day is spent mostly in their homeroom ensuring they can establish deep relationships with classmates and their teachers.
It's only for specialist lessons – including Art, Design, Music, and PE, where children walk as a class to different classrooms around the ISB campus.
Middle School students
For Middle School students, the day is organized into six blocks on an eight-day rotation. The blocks are divided equally, with social studies and language arts subjects combined as humanities.
Teaching in these blocks is approached differently than in a traditional classroom. At ISB, teachers work to maximize collaboration and communication by putting students in pairs or small teams.
"By teaching social studies and language arts together, it gets the kids to actually learn grammatical skills, writing skills, and presentation skills, within the context of a social studies lesson," said Ms. Washko. "We also get them to do their own research, to work in groups and present back to the teacher."
The teacher then gives immediate feedback, outlining the ways students can improve.
"It's a lot of teamwork and very interactive," said Ms. Washko.
This technique helps students discover intrinsic abilities that they may never have even realized they had, it helps instill initiative and ensures students are honing their teamwork skills.
After this first block, classes can include science, math, languages, PE, and enrichment classes. To ensure students receive the best, each class is taught by a specialist teacher.
For students in Grade 6, enrichment classes are scheduled on a rotation so students have the opportunity to try design, art, and drama. By spending time in each of these areas, students can see which they enjoy most. Once they reach Grade 7 and 8, they select one to pursue full-time.
High School students
Depending on if your child is in Grade 9 and 10 or 11 and 12, a typical school day can look quite different. For the younger High School students, the curriculum is based on the same Common Core as the two other Schools. Then there are additional electives students can take to add throughout their day as well. To help students make their schedules something they will love, ISB Counselors are there to help. Learn more about how ISB's college counseling programs and services works.
For Grades 11 and 12, students have two options for courses. First, there is the full IB Diploma, which includes the Extended Essay, service hours, and has a certain requirement for the number of courses they need to take at both standard and higher levels. Second, there are the ISB pathways, which students take to earn an ISB High School Diploma. The latter is based on ISB course and IB Diploma courses, but it doesn't follow the same structure.
In addition to the regular classes, all ISB students also have flex time during the day to ensure they have time to finish up work or get extra help if they need it.
"Kids can actually go into the class and say, 'I need some extra help,' or, 'I didn't understand the lecture,' or, 'There's something missing from my homework,'" said Ms. Washko.
To see how our unique approach to learning helps set students up for success, click here to read the story of Austin Li. He graduated in 2021 after attending ISB for over 10 years and is now studying Arts, Technology, and the Business of Innovation at the Iovine & Young Academy within the University of Southern California (USC).
Lunch break
This 45-minute break is the perfect time for, talking with friends, enjoying the beautiful campus, and giving the body the nourishment it needs to maximize post-lunch learning.
There are two cafeterias at ISB – one for our Elementary School students and one for Middle and High School students. These spaces have many options including a, deli, sandwich bar, pizzeria, noodle and dumpling station and more.
Take a look at the video below to see the work that goes on behind the scenes to ensure the healthiest – and most delicious – food for our students.


After School Activities
Imagine walking into a classroom and hearing students singing along to a song, learning to play Chess, learning how to write code, or playing games with their friends and teacher – this is what you can expect with our After School Activities (ASA).
Our ASAs are part of our extensive Co-Curricular Program – be it sports, performing arts, clubs, etc. There are a variety ofactivities to choose from, depending on the age of your child, and there is something for everyone. .
"In Elementary School, however, we don't want the kids to be too exhausted, so there's a scale," said Ms. Washko.
The younger students can only sign up for one or two ASAs. A typical ASA for this age group will meet for one hour once a week ensuring your child can finish off their school day doing something they love.
As students get older, learners can stack their school days so that they are participating in an ASA five times a week.
The ending of the school day
After a packed day of joyful learning and their ASAs, children board the school bus and will be taken to the drop-off location.
It's not only the way we organize your child's day that helps maximize learning, it's also the way we approach our innovative curriculum. Intentionally designed to provide optimal learning at any age, the academic program at ISB is inspired by curricula from around the world, instills a deeper understanding in students, and ensures Social and Emotional Learning.
ISB is an extraordinary school, made so by a tradition of educational excellence spanning 40 years. Establishing, nurturing, and growing such an exceptional learning community has been and remains intentional; we work hard to build strong relationships so our learning is at its best.
Back