Your summer, your choice!
By Katherine Maloney of ISB's Online Summer Program Team
During the month of July, International School of Beijing (ISB) students are having the exciting opportunity to participate in the school's first ever Online Summer Program and Summer Music Institute.
According to Stacy Stephens, ISB's Director of Learning and Strategic Planning, the purpose of the program is "to provide engaging, dynamic online educational experiences to our ISB community in the areas of academics, wellness, visual and performing arts, design and creativity where students grow as individuals, develop relationships, and experience joyful learning."
Organized into two sessions, each lasting two weeks from July 6 to July 17 and July 20 to July 31, a total of 55 different courses have been offered, along with music institutes for Elementary School (ES) Choir, ES Strings, ES Band, and Middle School Strings – all completely free of charge.
Approximately 450 students registered for each session, along with about 250 students per session for a music institute. More than 60 ISB faculty members have been involved in putting on the program, plus some ISB alumni offering special courses to High School students on the topics of current events and career planning.
The range of course options available to students during the summer session is truly inspiring. Students from Elementary through to High School have been able to opt to read, draw, take photos, make a movie, cook, dance, debate, develop their mathematical mindsets, create a budget, design a video game, learn a language, write creatively, learn more about Chinese history, the history of feminism, or the science of happiness, carry out research, carry out hands-on science experiments, or get in shape.
Teachers have designed their courses to include regular synchronous Zoom sessions with their students, focusing on maximizing opportunities to have fun, be engaged, and build relationships.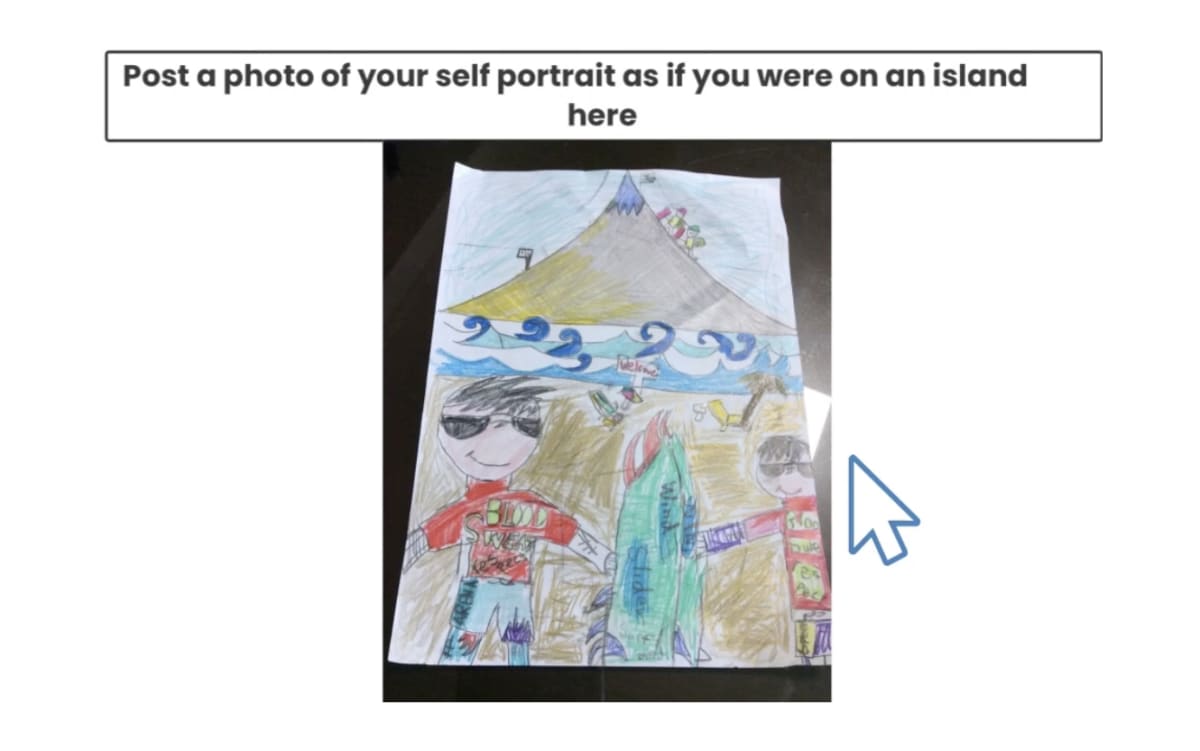 Student artwork from the Grades 2/3 "Island Hopping: Art from Around the World"course
Music teacher Tony Yu, who facilitated one of the Elementary School music institutes, said, "The level of engagement of students in this online learning experience was beyond my initial expectations. Students were keen to send video recordings using the Seesaw platform."
Elementary art teacher Jennifer Eveland said, "I really enjoyed that I could choose a topic that I am really passionate about. Also, only children who wanted to sign up for this kind of class did, and so we had a great time together."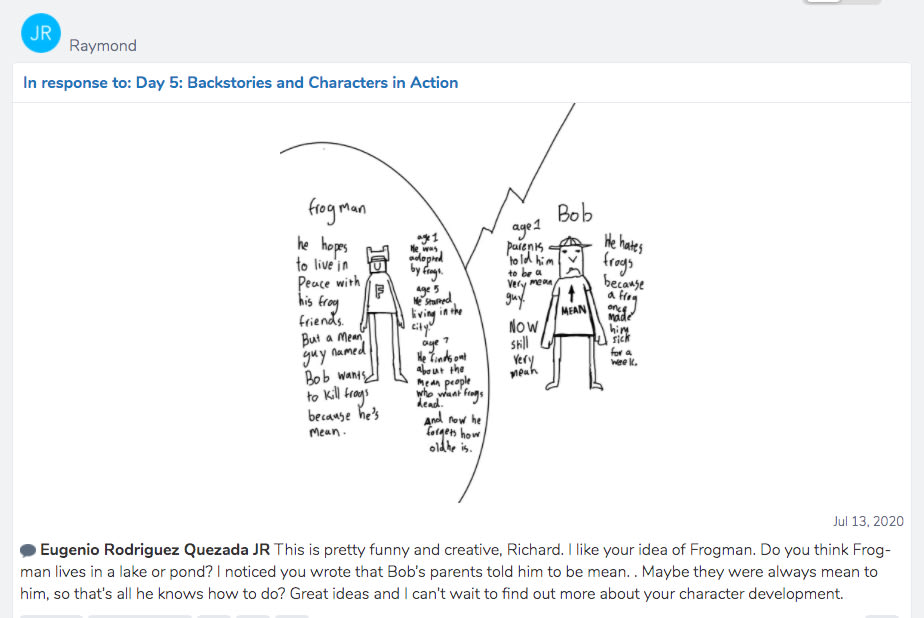 Student artwork and teacher feedback from the Grades 4/5 course "Wham! Pop! Bam! Explore and Create Graphic Novels"
Feedback from students and parents following the first session of the Online Summer Program and Summer Music Institute has been overwhelmingly positive. One student said, "I liked that we were able to do things in our own time and that there were multiple things to try." Another commented, "Topics were interesting; classes were well organized."
Here are some more examples of the positive feedback that students shared:
· "I liked that my teacher was really engaged in the course himself."
· "I learned a lot about budgeting and Excel, which is really useful."
· "I learned about chemical and physical reactions in food, and also about different kinds of food allergies."
· "I liked how we got the freedom of choice for our final project."
· "I liked how we could collaborate and share ideas in teams."
· "I liked how we challenged ourselves with different pieces of music."
One parent of a Grade 3 student said, "I love the way the teacher delivered the lessons and led the discussions in the breakout rooms. The content/games of the course were also interesting and fun. I appreciate the teacher's effort."
"This was a great hands-on class for Elementary students. We would definitely sign up for another class like this again!" according to another Grade 3 parent.
Parents also really appreciated the thoughtful, detailed, and timely feedback that teachers have provided to students on their work.
If anything, the feedback from students and parents suggests that they want even more – more course options, more Zooms, longer sessions, and more sessions. This has been extremely heartening feedback to receive, and we would like to thank the students, staff, and families of ISB for their outstanding support of this new initiative.
ISB is an extraordinary school, made so by a tradition of educational excellence spanning 40 years. Establishing, nurturing, and growing such an exceptional learning community has been and remains intentional; we work hard to build strong relationships so our learning is at its best.
Back