Online learning highlights
By Nick Yates, ISB Communications
Published on Friday, December 9, 2022
Three weeks into this period of restricted campus access, the challenging and joyful learning is continuing at the International School of Beijing (ISB). Online education will never match what goes on in classrooms at good schools, but ISB teachers are using their expertise and diligence to provide the best possible virtual lessons, and ISB is so proud of its students and their supportive family members for their engagement and resilience.
Here are some highlights of ISB online and some of the techniques and technology that faculty and classes have been enjoying these past few weeks. As you'll see, ISB's online programs showcase a lot of the school's values, including research-based teaching, inclusivity, and personalized learning.
Fun team, assemble!
Learning is better together. The weekly Elementary School (ES) and Middle School (MS) assemblies are important occasions each week, when all students from the two divisions gather for activities, announcements… and fun. The two mass assemblies have been replicated online to help maintain students' peer relationships and social-emotional health. Costumes and props are strongly encouraged, and family members and pets are welcome to join in on screen!
An ES assembly isn't an ES assembly without the three funny faculty below. The Elementary principal team have been leading the more than 600 young learners who log into the assembly every Friday morning to join in with songs, stories, and jokes — the team even have their own laugh track!

From classical to rap, last week's MS assembly had it all – wonderful student musical performances, the principal's standup comedy routine, and cats galore! Student voices were amplified through video productions by the Student Council about norms for online learning, as well as a meme contest and various polls. This is all a result of MS assembly staff and students collaborating to think creatively about how to engage an audience.
Hearing you loud and clear
ISB is committed to an inclusive school environment, believing strongly that diversity in student profiles enriches and strengthens the whole community. Student support services at ISB cover counseling, English as an additional language (EAL), learning support, and beyond. This support has come to the fore during online learning.
Periods like the one we're in now bring challenges for all learners. However, those with slower processing speeds, reduced working memory, attentional issues, or language support needs often face additional difficulties. One area that can be particularly tough for students is following instructions. This requires the child to attend to detail in spoken language, to sequence the information, and to seek clarification if they have trouble remembering or recalling. If a child struggles with following instructions, this impacts their ability to reach the desired 'purpose' or 'outcome' and complete tasks effectively.
ISB's student support specialists have therefore been encouraging colleagues to use some simple, yet high-impact, strategies for providing instructions to learners online:
Write directions in the chat and/or embed them in presentations.

When working in breakout rooms, have students repeat/paraphrase the directives to a partner.

Provide instructions in the form of a checklist or number and highlight actions.

Supplement verbal instruction using flashcards with icons: write, read, speak, listen, mute, unmute, raise your hand, etc.
Objectify
MS humanities teacher Chelsea Peak upped the engagement with her students by using physical objects to get them all responding and active in class. When shown an example of either a primary or secondary source, students had to hold up a red or blue object they had in their house to represent their answer. Shoutout to MS EAL teacher Azucena Ramirez for the idea!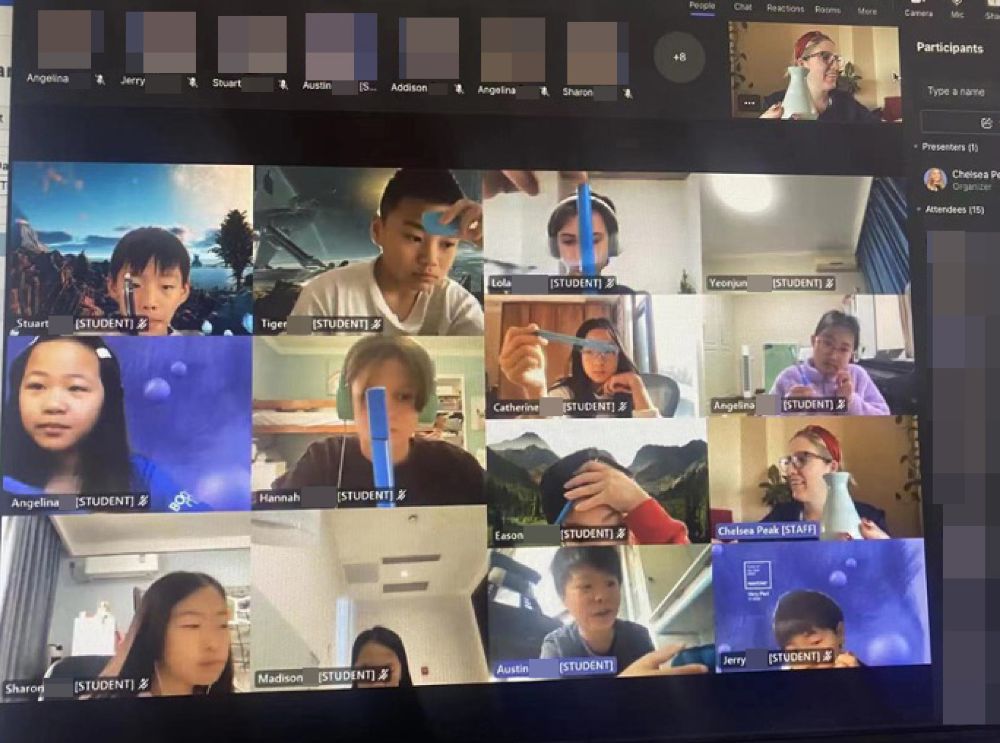 Micro-routines
Micro-routines are short thinking routines that can be done virtually or in person. They are no more than three steps and should take less than five minutes and they are used to synthesize learning.
Grade 8 science teacher Tiffany Stephens has used a micro-routine in her class. She wrote, "I tried the LOOK routine in class today, and it worked so well. I showed [the students] an image of glucose, starch, and fiber molecular structures. Today was our first lesson on food molecules, so it was a good way to focus the attention on the fact they are made of atoms (they first started talking about atoms generally in Unit 1 this year) and for them to see patterns across the molecules. It got a lot more action in the chat and it didn't take a ton of time waiting, waiting, waiting for people to contribute."
Joe Stewart has also been experimenting with micro-routines in High School art.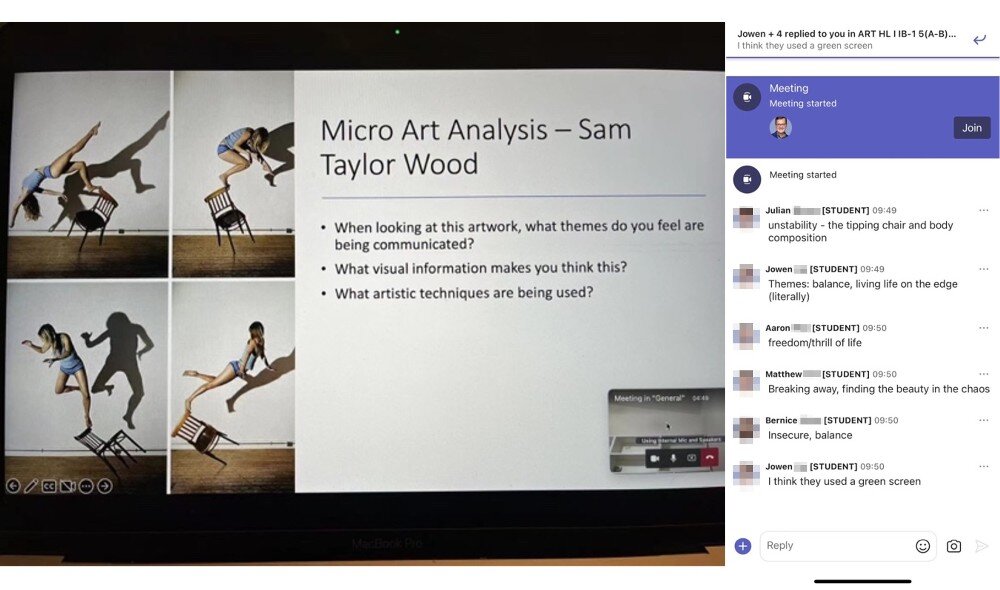 Music brings energy
Spotlight on High School biology teacher Caroline Chow, who has been using music to welcome students into her Teams calls and start class off on a positive note (literally). Especially in this era, we all know how awkward it is waiting around for other people to trickle into conference calls. Try playing some catchy tunes on your next Teams, Zoom, or WeChat meet-up to improve the mood.
ISB is an extraordinary school, made so by a tradition of educational excellence spanning 40 years. Establishing, nurturing, and growing such an exceptional learning community has been and remains intentional; we work hard to build strong relationships so our learning is at its best.
Back