Meet and greets, Back to School Nights, and delicious coffee mornings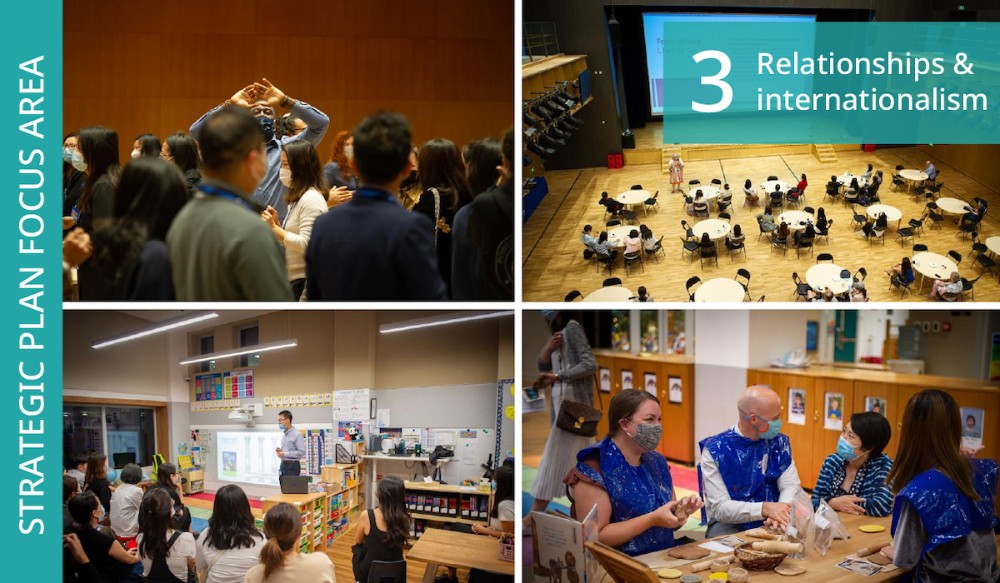 By Nick Yates, ISB Communications
Published on Friday, September 16, 2022
Communities are defined by relationships. That's why the International School of Beijing (ISB) places so much value in helping its people form and maintain strong, lifelong peer relationships across national, linguistic, and cultural lines. For students, parents, faculty, and staff, ISB is an inclusive school built on how its people get along and understand each other.
With the 2022-2023 academic year just a few weeks old, ISB parents have been enjoying a host of school events and occasions designed with this in mind. These coffee mornings, workshops, and socials have been organized to maintain strong ties between the school and home, to get parents together to share experiences, and to keep ISB families informed on their children's learning.
Kicking off the social calendar
It was a beautiful autumn morning for a first parent meet and greet on September 6. New ISB parents, veterans of the school run, and everyone in between could stop for a coffee, a snack, and a chat right after the start of the day's classes. For families of students in all grades, this was a casual event in which to meet fellow parents and faculty and make friends.
The Parent Teacher Association (PTA) and Booster Club were heavily involved in running the September 6 event, and many new friendships were formed among those who attended. ISB hopes to have spurred a lot more socializing among the parent body through this event. The PTA is already in the process of organizing several more breakfast get-togethers for parents in a local restaurant.
James Thompson, who has three daughters enrolled at ISB, said he came to the meet and greet as he wants to be active in the community. "I was pleasantly surprised at the size of the crowd and enjoyed some beautiful conversations with people I had never met before," he said. "As a new ISB parent, it was great to meet some of the parents who have been here for a while and are already very active."
PTA and Booster Club leaders had great feedback from their constituents. "Our parents were excited to be back and seeing each other, exchanging ideas. Meeting [just outside] school definitely brings us all much closer. Thank you!" said Booster Club President Cherry Wu.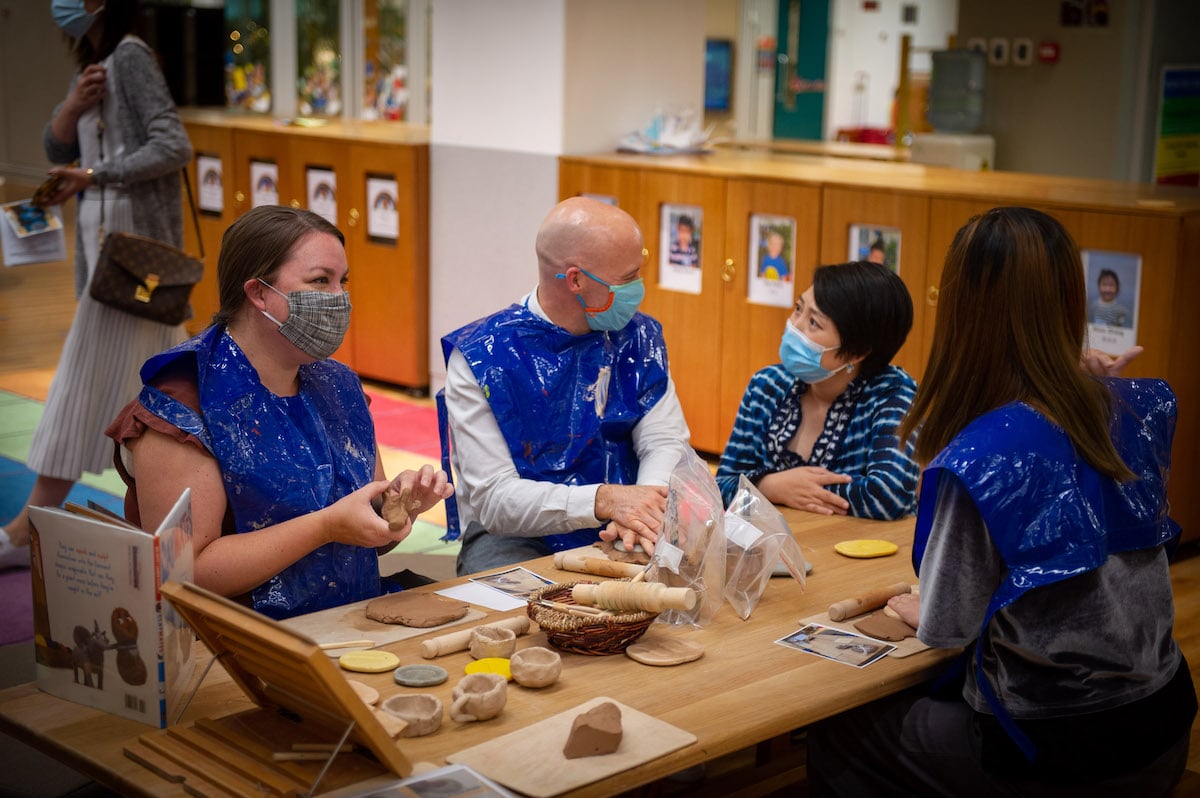 Parents enjoying the 2021-2022 Back to School Night
All back to school
Parents are about to get a great chance to discover more about what their children are learning at Back to School Nights (BTSNs). The annual BTSNs are all about helping parents engage with and understand ISB's careful education philosophy.
From academics to co-curricular activities to counseling, guests at these events are briefed on how this school is an inspiring international community in which students are given plenty of opportunities to explore, discover their passions, and serve others. BTSNs provide parents and teachers with a face-to-face opportunity to discuss objectives for the year ahead and the principles behind a quality modern education.
To hear from parents about what their main takeaways were from a past BTSN, click here.
The 2022-2023 BTSNs begin on Tuesday, September 20, for High School parents. The Upper Elementary School BTSN is on Thursday, September 22. Parents of Middle School and Lower Elementary students get their turn on Tuesday, September 27 and Thursday, September 29 respectively.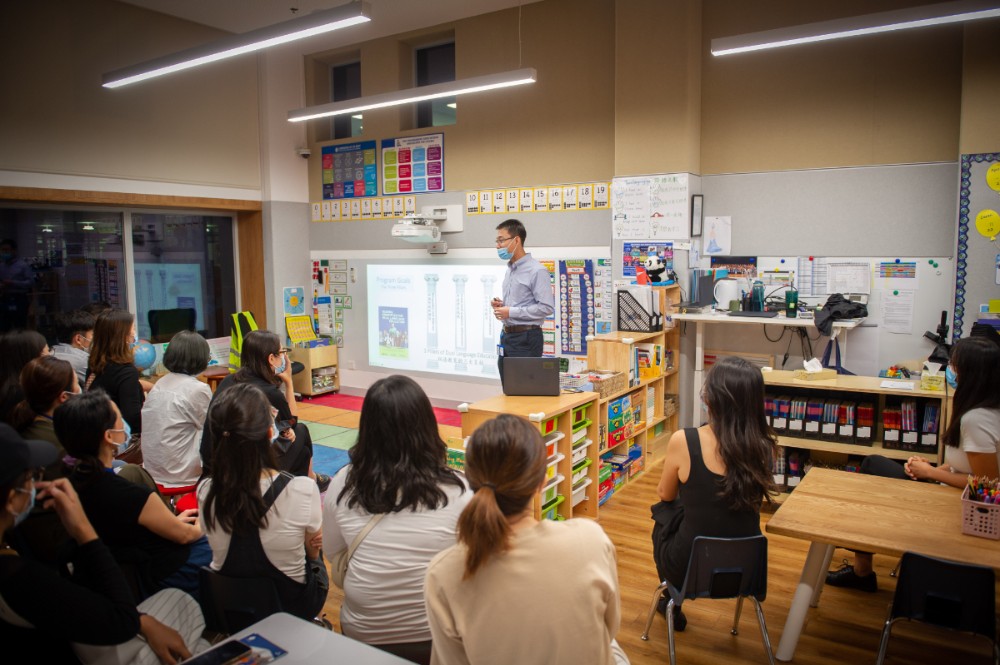 The 2021-2022 Back to School Night
Adapting for challenges
Around the world, one of the big challenges of the pandemic has been social distancing and formal limitations on crowds. Humans are social animals! In Beijing, Covid-19 regulations have kept parents off school campuses and restricted in-person gatherings for long stretches of the past three years.
However, ISB has adapted its practices and the school community has shown resourcefulness to maintain togetherness. In-person meetings have been held whenever possible, either on campus or off. In its classrooms, corridors, theaters, entranceways, and car parks, ISB has special safety measures in place to provide for community safety. Meanwhile, faculty, students, parents, and alumni have made the most of a difficult situation by holding virtual meetings when circumstances have not allowed conventional ones.
Events like BTSN play a huge part in ensuring the relationship between school and home is strong. The same goes for the Parent Education Series of talks and workshops. Led by experts from ISB's faculty and outside the school, these are held to explain how ISB programs are carefully put together based on the latest research and best practice in pedagogy.
The 2022-2023 Parent Education Series is already up and running, with family and faculty members coming together to discuss topics including executive functioning skills, English language development, and some of the technology used by ISB for students' learning.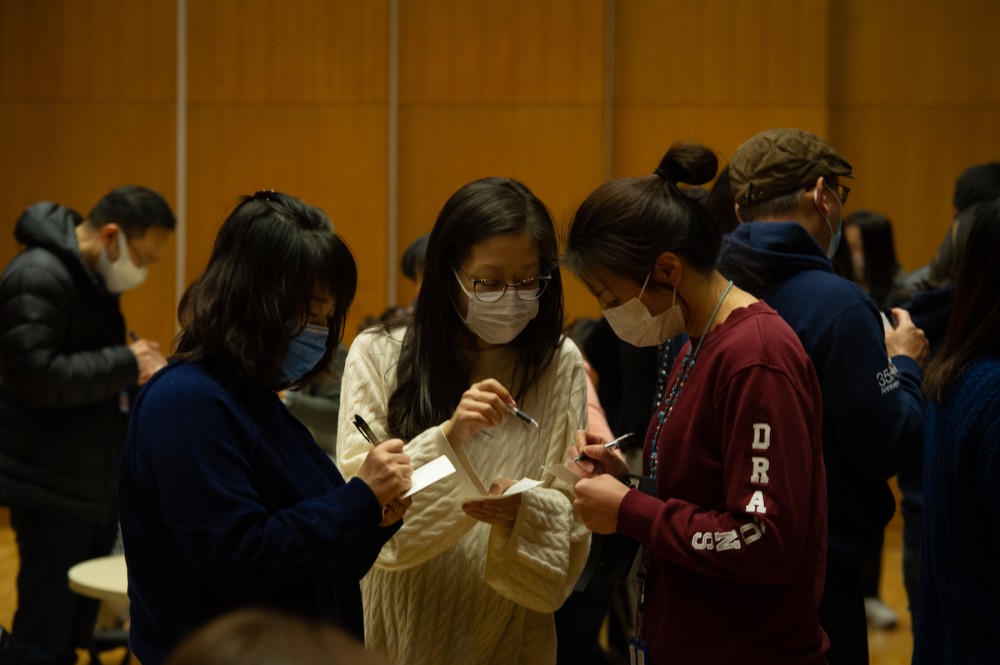 An activity at a Parent Coffee
Coffee and snack time
Similarly, ISB holds coffee mornings to brief parents on the most important goings-on in their children's grade levels. September, for example, has a series of briefings with the High School's Counselors and University and Careers Advisors on what to expect in the last few years before graduation.
High School is an exciting time for students, but – with decisions to be made about life after ISB – it is also a time of some stress and anxiety that can strain family dynamics. Tailored for Grade 9, 10, 11, and 12 families, the September Parent Coffees have been designed to help families navigate the year successfully and with a healthy, positive outlook.
Lots to look forward to
Parents of Elementary, Middle, and High School students can expect lots more of these coffee mornings and other events to ensure strong relationships. ISB will continue to adapt its approach and hold events in person or online according to local regulations and practicalities.
Peer relationships is one of the three main focus areas for ISB under its new Strategic Plan being implemented from 2022-2023. All ISB news articles this year will look at an aspect of ISB that's an example of one of the three areas. To find out more, click here.
ISB is an extraordinary school, made so by a tradition of educational excellence spanning 40 years. Establishing, nurturing, and growing such an exceptional learning community has been and remains intentional; we work hard to build strong relationships so our learning is at its best.
Back