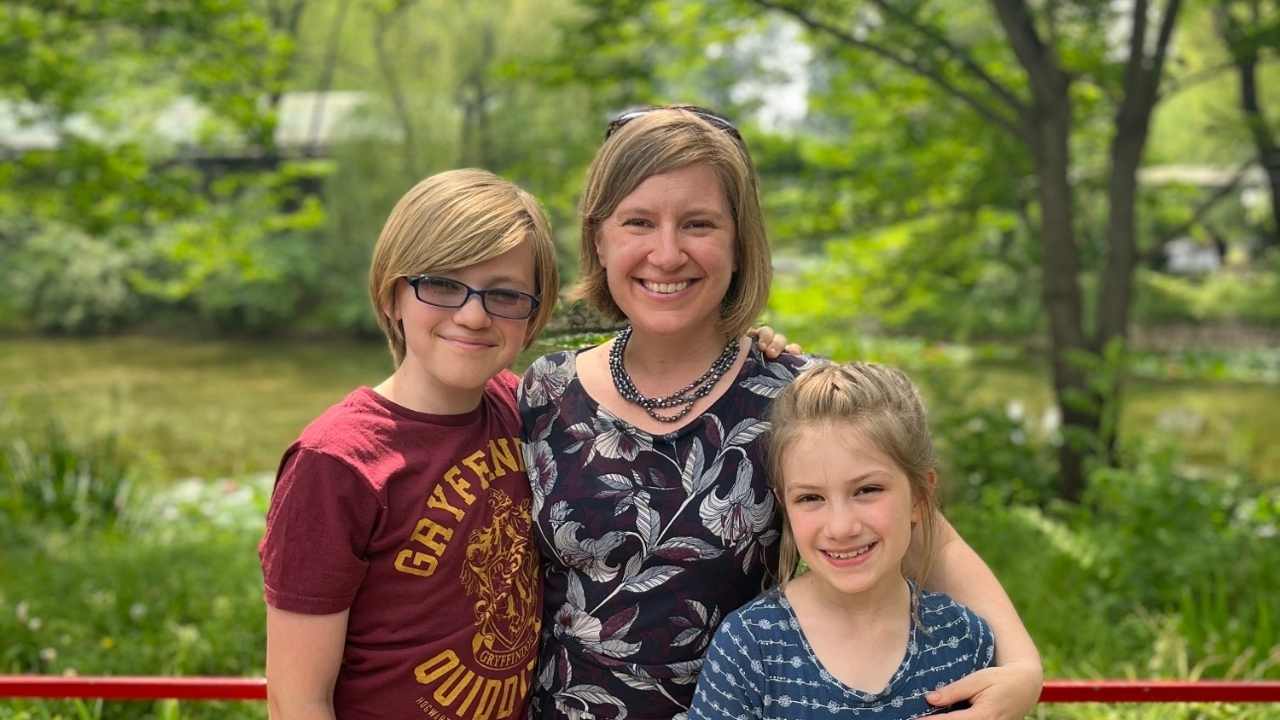 How this ISB legacy cybrarian spends her weekend in Beijing
The decision to change your place of work is all-encompassing – especially when it includes a move. From ensuring the new location has weekend activities for the whole family to understanding exactly what expat family life in Beijing can look like, there are many areas to look into before signing your new contract.
Through the story of one ISB faculty member, we hope you'll discover possibilities for weekend activities in Beijing, and to get a better understanding of what expat family life in Beijing can become.
Learn more about employment at ISB here.
Discover expat family life in Beijing
For Rebecca Taylor, a Cybrarian (think librarian meets ed tech facilitator) at the International School Beijing (ISB), the decision to move from Australia to Beijing with her husband and two children was actually made early on – before their son Will and daughter Charlie were even in the picture.
"My husband and I decided very early in our career, before we even graduated university, that we wanted to be abroad," said Taylor. "We wanted to be abroad forever."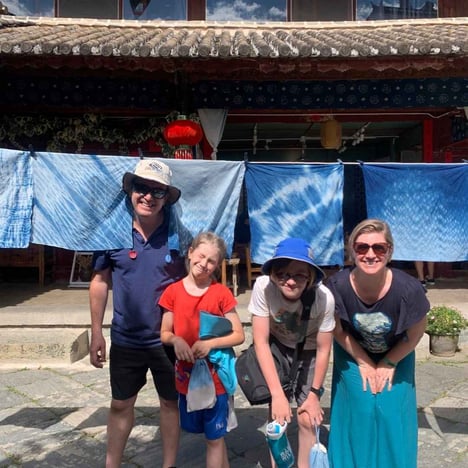 Rebecca and Doug alongside their children, Will and Charlie.
But with kids in the mix, Taylor and her husband still had a lot to figure out, asking themselves questions such as:
How do you raise Australian children when you're not in Australia and you don't plan to raise them in the country?
What does Australian culture mean?
What does it mean to be Australian?
How do you be Australian apart from maybe carrying an accent or having a passport?
What does expat family life in Beijing look like?
Are there enough weekend activities in Beijing to keep my whole family happy?
Will I be able to give my children the life I want for them, but in a wholly different country?
Taylor's childhood consisted of what she compared to "stereotypical '80s kids [like what you see] in Stranger Things" with her and her friends riding bikes around the neighborhood.
This was an area of great importance to her and her partner, wanting to give their children what they had while also having the opportunity to live abroad.
So the duo selected a home with a big yard in suburbia in China.
"We play street cricket outside," said Taylor with a chuckle. "We try to give them a bit of that normalcy of growing up in a western suburban culture, but within a second or a third culture."
And it's no wonder Taylor opted to work at ISB, with both her parents working at the school for 22 years, she is now a legacy.
"People joke and call me a legacy. And I'm like, 'Yes, I am.' I love it and I'm proud of it."
"We needed to be in this system," said Taylor. "It was amazing. Just took us a few years to actually get here. Most people don't walk into ISB straight out of the gate. You have to work yourself up to this tier of awesomeness."
Learn more about why ISB is the best choice for teachers in China here.
While Taylor's weekend isn't necessarily loaded with all the excitement and fun weekend activities in Beijing has to offer, it highlights how educators can have the "traditional" life they would back home, but while teaching at one of the world's best schools. Her life as an expat family in Beijing doesn't look too different from what it would have been back home in Australia.
To bring this to life and help those still in the midst of weighing the pros and cons of making the move to ISB and searching for what exactly this exciting city has to offer, here's a look at Taylor's typical weekend in Beijing.
Friday
Friday's hold a specific tradition in the Taylor family with only one differentiation depending on whether or not it's Australia Football League (AFL) season.
"When it's football season, we come home [and] it's pizza and football," said Taylor. "If it's not football season, it's pizza and a movie."
Either way, the beginning of the schedule of weekend activities is set aside for family and it's a tradition Taylor is extremely fond of.
"We look forward to it and the kids count on it," said Taylor.
Saturday
In direct opposition to the night before, Saturday mornings are a kids-free zone until 9:00 am. During this time, the kids entertain themselves. "My son usually reads [or] listens to podcasts…Charlie will build Lego."
Taylor and her husband, however, get to slowly wake up and enjoy their coffee – with Taylor usually treating herself to a delivered Starbucks.
Once the family is ready for the day, they head outside to enjoy their newly renovated garden and a refreshing dip in the pop-up pool.
"We haven't had a bad air day in years, it's amazing," Taylor says. "And the weather is perfect right now; it's about 20 degrees [in the mornings]."

By 10:30 am, the family is ready to leave the house, either opting for a bike ride together down by the river that runs from their house to ISB or having the kids run to their friends' homes in the neighborhood and asking if they'd like to come out and play.
"It's one of the biggest selling points," said Taylor, outlining how there's a debate for newcomers deciding between a cool apartment in downtown or Capital Paradise.
"[In Capital Paradise] you can open your door and your kids go away. And they come back at some point later in the day. And there's not a lot of traffic within the compound so you can feel really safe [when they're outside]."

It's usually at this moment when Taylor watches her kids running around the neighborhood with friends that she's hit by a wave of gratitude.
"We've lived in a couple of other cities in China and other countries, and nothing is like what we [have here]. A place like this, it's super special."
And when the family opts to head downtown for the afternoon, "It's always food," said Taylor with a laugh.
"It's Craft Beer because they have lovely atmospheres, my husband loves beer, and there's a menu that suits all of us and they're usually family-friendly with outdoor and indoor seating."
A trip downtown usually includes brunch or a visit to the Great Leap for a brew.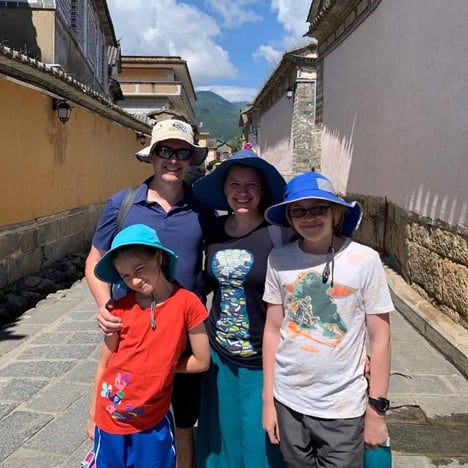 The family may also fill their Saturday with a class at Hutong Cooking School or do a cultural walking tour through Beijing Postcards.
Discover more weekend activities for expat families in Beijing with these fun family activities.
And Saturday nights, well those are for friends. "It's a carousel of eating and drinking and playing," said Taylor. "It's wonderful." She has a group of friends who spend the evening together where they have delicious meals and play board games – they're currently obsessed with Mahjong.
Sometimes the neighborhood even has street parties – including for every holiday – where families host progressive dinners at the homes of ISB families. "All we do is eat and drink," Taylor said giggling. "There's a reason the hips happen."
It was this group of people – in addition to her brother and his family – who helped her, her partner, and the kids get through the pandemic.
"When it feels like the world is falling around you when you are tens of thousands of kilometers away from home and everything that you know; when you have your chosen family around you and your compound's locked down, but you are still allowed to leave your house and you can walk down the street and you've got your friends there, it was the thing that kept people going."
Learn more stories from faculty at ISB, including a teaching couple who met at the Great Wall and have made Beijing their home.
She looks at her weekend activities in Beijing as her family's own version of fun. "I compare it to my brother [and his wife] who are crazy athletes and go on 300-kilometer bike rides with their children who are five and eight. I feel very boring."
Sunday
Sundays are pretty similar to Saturdays – full of family, friends, and food.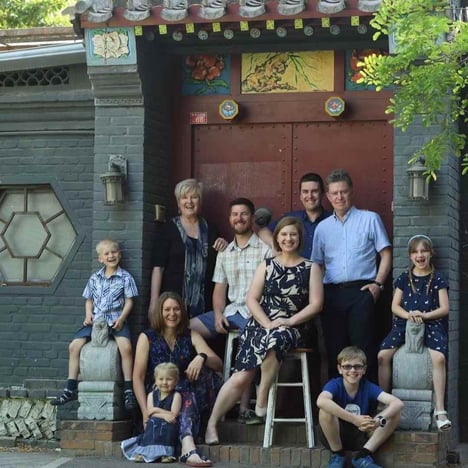 Since her children haven't expressed an interest in sports, the last day of the weekend includes a quiet morning, a trip out for lunch, and at least two football games – during AFL season.
Then, in the afternoons, the kids do their chores and Taylor gets on meal planning, heads out to the supermarket (either to a foreign market or Sam's Club which is similar to Costco), and also texts her fruit and vegetable lady. "This is what happens in Beijing, you have a lady or a man on WeChat for everything." She texts her the meal plan and she delivers it on Monday morning.
Ultimately, the day is used to get ready for the week.
ISB covers most of the expenses, all teachers have to pay for is food and fun – making it so they have a lot of discretionary income. So Taylor sometimes uses the day to get a massage or her nails done – "things you never would do at home".
"You don't ever earn as much money as a teacher as you do here," said Taylor.
Though this was a typical weekend for an expat family in Beijing, in a couple of weeks Taylor and a group of friends with their kids are heading up to a big house in the mountains right next to the Great Wall.
Since most of them aren't going on bigger trips because of Covid-19, ISB families have made an effort to "fill up their cup" in smaller ways – be it a five-star hotel for the evening or a weekend wellness retreat.
The challenges to expat family life in Beijing
Aside from the adorable family traditions that make Taylor's expat family life in Beijing so special, she was also open with the barriers she had to overcome to truly be happy in the city.
For instance, she shared that if you're not fluent in Chinese, you will never access "true" China.
"Unless you make the effort to really commit to Chinese, you have to know that you will always be in a bubble and you will sometimes be treated differently."
But ISB is committed to creating a safe campus emotionally and physically. "The school's dedicated a lot of time, money, effort, and personnel to try to improve in this area so that we are truly an inclusive community."
The biggest consideration though? The travel restrictions.
Though changes are moving in the right direction, travel has been challenging to Beijingers in the Covid-19 era. Travel restrictions have existed for the last two years as a tool to protect those living in China, specifically the most vulnerable. Thanks to the advancement of vaccines, China is now moving towards opening up and has made changes to travel restrictions in the ensuing months.
Taylor is quick to end on a positive note encouraging people to be open-minded about making the move to the city.
"Beijing has evolved to such a point now with technology that you find your people easily, and constantly. There is something for everybody here, whether you're a homebody like me, who loves to watch football or just have a drink, or if you're someone like my brother who wants to ride 300 kilometers, you've got people."
ISB is an extraordinary school, made so by a tradition of educational excellence spanning 40 years. Establishing, nurturing, and growing such an exceptional learning community has been and remains intentional; we work hard to build strong relationships so our learning is at its best.
Back