Peak moments and Dragon Spirit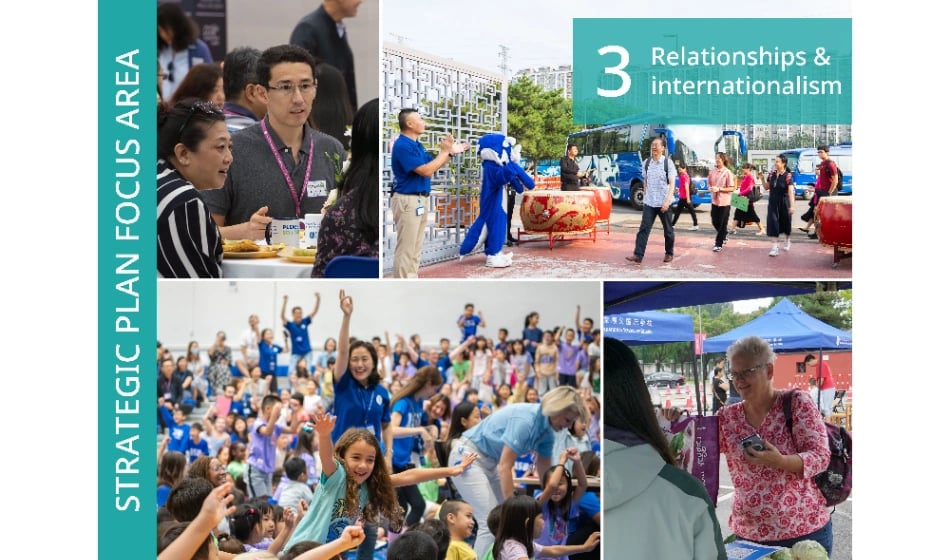 By Nick Yates, ISB Communications
Published on Friday, September 1, 2023
Communities are defined by relationships. That's why the International School of Beijing (ISB) places so much value in helping its people form and maintain strong, lifelong peer relationships across national, linguistic, and cultural lines. For students, parents, faculty, and staff, ISB is an inclusive school built on how its people get along and understand each other.
With the 2023-2024 academic year just weeks old, ISB parents have been enjoying a host of school events and occasions designed with this in mind. Coffee mornings, workshops, and socials have been organized to maintain strong ties between school and home, to get parents together to share experiences, and to keep ISB families informed on their children's learning.
And there's plenty more to come! This is the first full academic year since 2018-2019 when schools and organizations in Beijing are not expecting any interruptions to their operations. It's a chance to start afresh, and the leadership of ISB intend to reestablish the school as a hub of the international community in Beijing.
Experiences to remember long after graduation
ISB has always been not only a provider of a world-class education but a place where international families can enjoy peak moments and a sense of togetherness with a group of people over shared values. Upon enrolling, families and ISB commit to a student-school-family partnership. It's a recognition that education is a collaborative effort, that a child's growth and development take coordinated effort from all three parties.
The plan this year is to strengthen and elevate this partnership and to ensure family members are being provided with an experience they will remember long after graduation. The goal is to unleash the potential of this institution and make hearts grow stronger for ISB.
How? Through continuing to provide excellent educational programs grounded in research on the science of learning. Through fostering the ISB Dragon Spirit including inclusivity, resilience, and joy in learning in the school's students, families, staff, and alumni. And through hosting more events to bring people together and celebrate the community.
Events, you say?! Here's some of what ISB community members have been treated to already this academic year…
New Family Orientation – a day-long program of events for those new to the school.

The first day of school, featuring dragon dances, theatrical drumming, and the ISB mascot, Long Long the dragon, for a crackling atmosphere.

Welcome breakfast for new families.

Inaugural meeting of volunteer Alumni Ambassadors helping coordinate ISB's activities for alumni of the school around the globe.

Parents joined the Elementary School's opening assembly. They'll be invited to more of these occasions throughout the year. The assemblies are important community events and celebrations of student learning.

An organic farmers market. These will be held regularly on campus this year, in partnership with a local social enterprise and in keeping with

ISB's pioneering commitment to sustainability.
The school's annual program of talks and workshops for parents

has kicked off.
And here's a taste of the many more community events coming up in the next couple of months…
Resuming the tradition of International Day at ISB. There are roughly 60 countries and regions represented in ISB's student, parent, and employee body. They will all once again be invited onto campus to host stalls with food and entertainment from their own culture. As has been the case in years gone by, ISB will also invite representatives from Beijing's embassies.

Back to School Nights (BTSNs) for the Elementary, Middle, and High School. BTSN is a great opportunity for parents to connect with their children's teachers and learn more about their classes and ISB programs.

A Parent Meet and Greet for all families.

The Parent Teacher Association's barbecue for new ISB families.

Club Fairs for the Middle School and High School. The leaders of ISB's many student-run clubs will introduce what they do and sign up new members.

Elementary School Book Week and a program of visiting authors.

Fall Spirit Week for the whole school. Spirit Week is a community-building initiative common in North American schools.
Strong relationships are one of three main Strategic Focus Areas for ISB. This news article is part of a series looking at aspects of ISB that are examples of the three Focus Areas. To find out more, click

here.
ISB is an extraordinary school, made so by a tradition of educational excellence spanning 40 years. Establishing, nurturing, and growing such an exceptional learning community has been and remains intentional; we work hard to build strong relationships so our learning is at its best.
Back