Congratulations to the Class of 2023, ISB's newest alumni!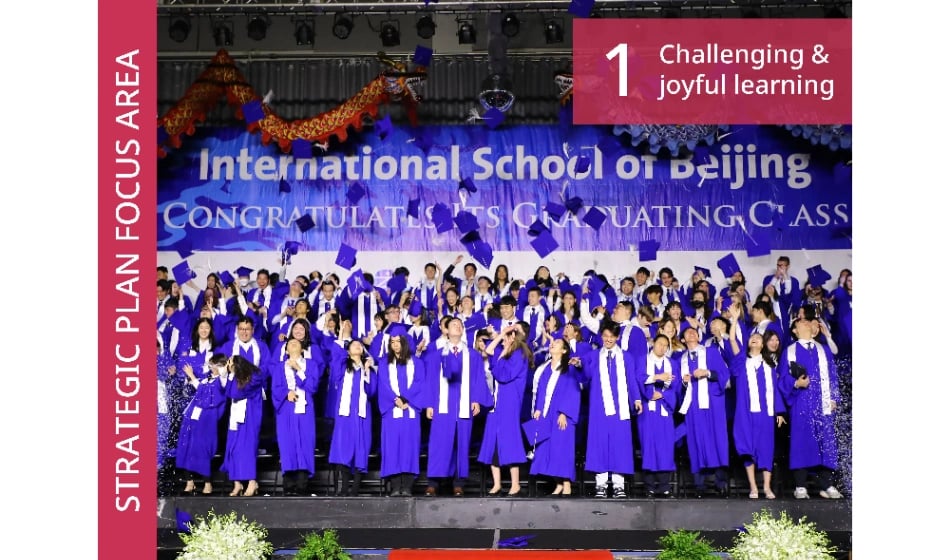 By Nick Yates, ISB Communications
Published on Thursday, June 1, 2023
Congratulations to our students who graduated last weekend! The International School of Beijing (ISB) is proud of its newest alumni, who have exciting futures after discovering their passions, excelling academically, and growing socially and emotionally at the school. These students have received offers from universities worldwide, having identified the best-fit courses for them, while some are looking forward to other options including gap years and military service.
Late spring is a momentous time of year for ISB students eyeing graduation. They enjoyed the usual Seniors Parade around campus on April 21, with younger classes, faculty, and staff lining the corridors to celebrate their achievements. Over the past few weeks, the Seniors have taken International Baccalaureate (IB) tests, the culmination of a prestigious two-year program resulting in a diploma recognized by universities worldwide.
On Saturday, they celebrated with their families and friends upon graduation. The ISB Graduation Ceremony was livestreamed for the whole community to enjoy, and a recording is available here.
Graduating with purpose
This Class of 2023 have had to contend with disruption from Covid-19 restrictions in all four of their High School years. High School, including preparing for the IB, is a demanding enough experience without this. But this cohort of students have been assisted to develop the maturity, integrity, and skills to withstand the challenges and achieve impressive outcomes.
While IB exam results are only posted in July, college acceptance notifications have been flooding in for the Class of 2023. They have received offers from a wide range of institutions.
ISB prides itself on ensuring its students find the option that is best for them after school. If applying for further study, they will be attending the college and course that is most appropriate for them based on their passions and talents. The wide scope of university offers and the subjects ISB graduates will be studying signals that our students are pursuing their passions at many of the world's finest educational institutions.
Members of the Class of 2023 have been awarded $US2.1 million in merit scholarships, with one graduate receiving a Division 1 U.S. athletics scholarship. Students have been accepted to prestigious dental schools, art, design, and architecture programs, and far more, as detailed in the graphic below.
ISB's High School Counseling Department is structured to maximize student access to social-emotional services while simultaneously providing support for career and university planning. The Counseling Department is split into two complementary teams of School Counselors and University & Career Advisors. ISB students looking for their perfect college have benefited from working with a dedicated University & Career Advisor, and the Counseling Department runs a range of activities to instill life skills and help students start to consider their professional options.
Celebrating exciting futures
"I've been lucky to know a lot of these graduating students since they started Grade 6, the year I also joined ISB," said High School Principal Julie Lemley. "I've been a class mentor, got to know them on softball teams and working in the Design Lab, and watched them dance, act, and compete at sporting events. Whether overseeing them solve a math problem or enjoying them celebrate a team win, I've witnessed them grow so much and become the immensely promising young adults they are today.
"At ISB, we are committed to understanding each student, how they learn best, and what their passions are. Our University & Career Advisors and faculty work to help students and families identify their best options for after school, considering academic, cultural, and geographic factors. Our students are going to a lot of amazing universities and programs around the world. Well done to the Class of 2023!"
Head of School Daniel Rubenstein added, "High School is a formative time – socially, emotionally, and academically – and these students have done it all through a global pandemic. With the strong relationships in our community, they have been provided with the support they need to surpass these challenges and thrive. Thank you to our parents, faculty and staff, School Counselors, University & Career Advisors – and above all, the students themselves – for making this success possible.
"This cohort of students have some amazing times ahead of them, and we can't wait to see what their futures hold. At ISB, as we transition to a post-pandemic world, with more certainty and ability to plan long-term, we will keep building on this tradition of excellence and providing a leading all-round education like the Class of 2023 have experienced."
The challenging and joyful learning experienced by our successful graduates is one of three main focus areas for ISB. ISB news articles in 2022-2023 have all been looking at aspects of ISB that are examples of the three areas. To find out more, click

here.
ISB is an extraordinary school, made so by a tradition of educational excellence spanning 40 years. Establishing, nurturing, and growing such an exceptional learning community has been and remains intentional; we work hard to build strong relationships so our learning is at its best.
Back