Why ISB has the best teachers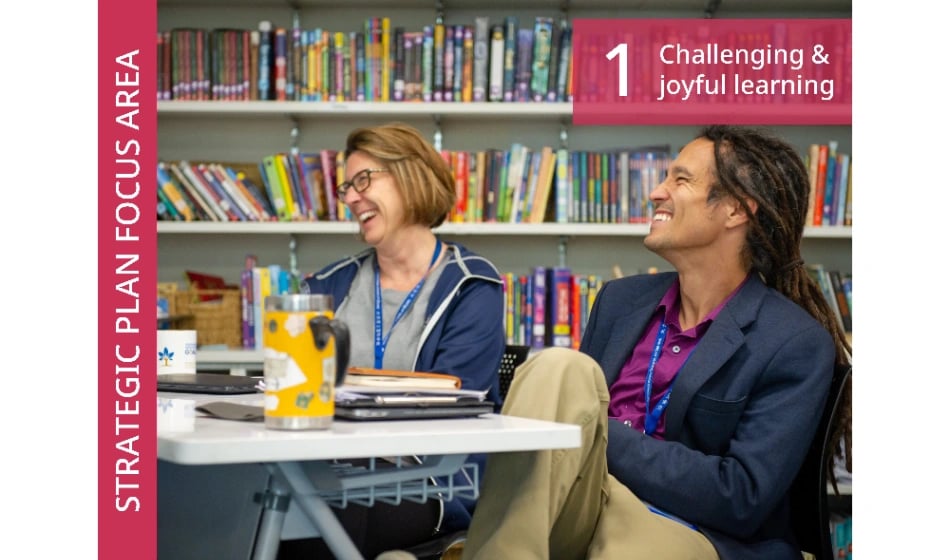 By Nick Yates, ISB Communications
Published on Tuesday, January 10, 2023
The International School of Beijing (ISB) has been broadening its recruitment practices as it continues to seek out the best teachers for its students.
Among the school's strategic priorities is continuing to provide challenging and joyful learning, through quality academic programming and a strong pipeline of qualified and passionate teachers. There are many veteran faculty members who have been teaching at ISB for as long as decades, and they are joined at the start of every academic year by highly experienced new colleagues.
The leaders of ISB put a lot of effort and resources into faculty recruitment, development, and retention because they know how important good teaching is to parents. ISB enjoys an excellent reputation among the international teaching community. Teachers are attracted here for many reasons, including:
A chance to work with a curriculum and programs that are highly regarded around the world. Once here, teachers love working with ISB's bright students and within the warm ISB community.

Being a non-profit organization, ISB pours its income back into further improving the school. It is able to provide attractive compensation packages to staff, and it is famous among teachers for its professional development opportunities. ISB recruits the best, but new arrivals also know that the school will support them to keep getting better.

Beijing itself. This has long been one of the world's most exciting cities! As China gradually reopens to the world after three years of entry restrictions, the ISB community is excited to see both visitors returning to the country and greater ease in securing work permits for foreign hires.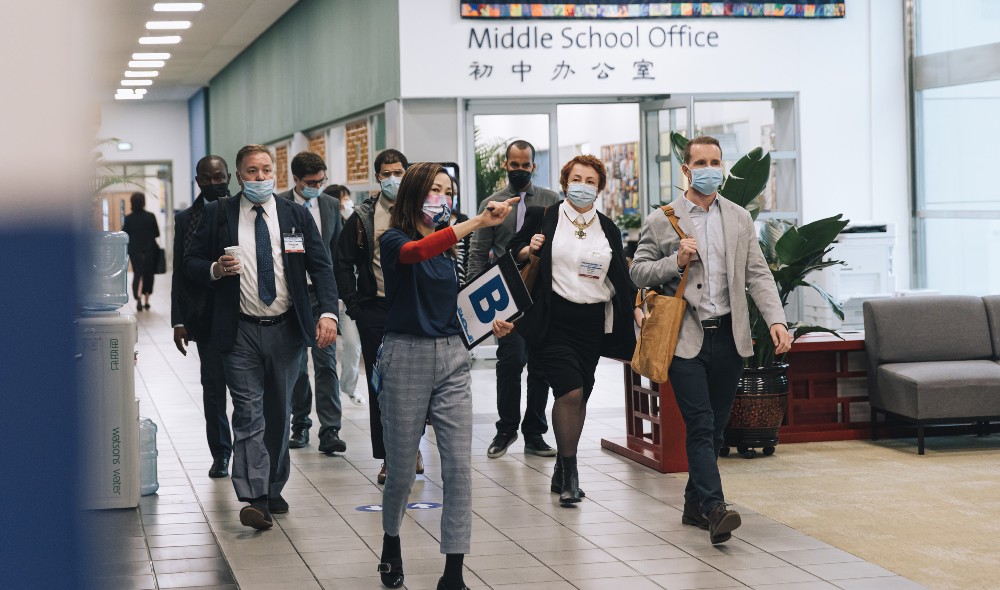 Candidates enjoy a campus tour during ISB's Teacher Recruitment Fair
Azucena Ramirez is a Middle School EAL (English as an Additional Language) instructor who has been at ISB a couple of years. "I felt like I needed to be refreshed. I needed to be pushed, to be stimulated," she said of her move to ISB from a for-profit school. "After being in China for three years, I felt like I was going to work at ISB or I was going to go home.
"As an educator, I think ISB is a top-notch school, based on how we are treated… not just financially but in the growth you can achieve here."
Recruiting people internationally has undoubtedly been more challenging the past few years, but – thanks to ongoing innovation in recruitment – ISB students will always enjoy learning with high-quality teachers from around the world. Here are a few examples of the lengths to which ISB has been going in recruitment.
Virtual coffee mornings for candidates
Throughout the key September-January recruiting season, ISB has been scheduling regular virtual coffee mornings for great teachers looking for employment. They meet via video conferencing with current ISB faculty and staff, who share their experiences of working at ISB and living in Beijing. These coffee mornings were designed to reach candidates in China and overseas while travel and meeting face-to-face were restricted.
Up to 2020, ISB leaders and human resources specialists were racking up a lot of air miles joining education job fairs around the world and seeking out talent. ISB is once again considering which job fairs to attend, as these travel restrictions have finally eased. However, even during periods in which it was difficult for Beijing employees to leave the city, the ISB leaders and specialists used initiatives like the virtual coffee mornings and virtual job fairs to tell job-hunters that we can bring ISB to them!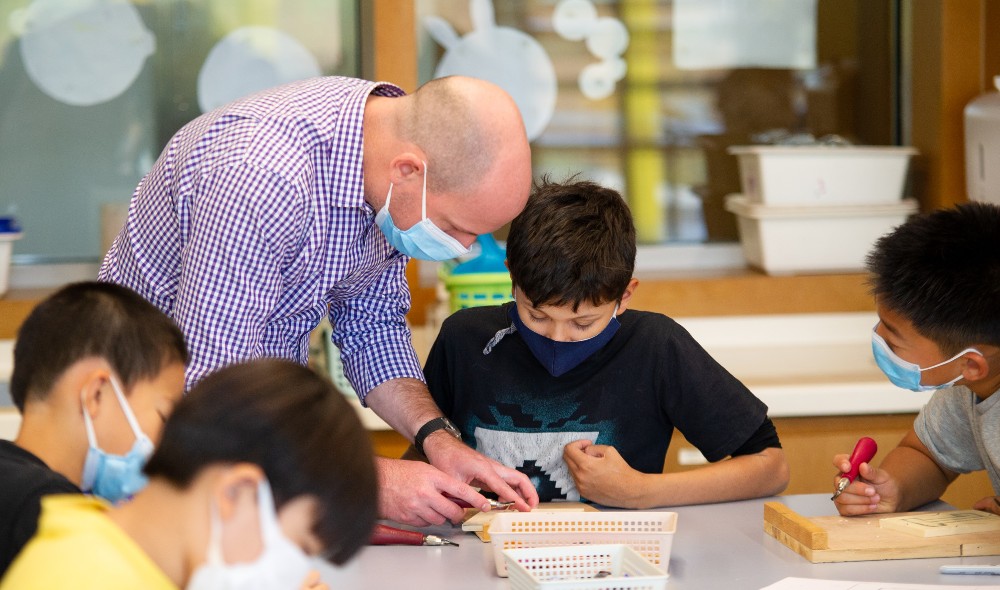 An ISB teacher enjoys working with the school's students
Ambassadors around the world
Every year, education job fairs take place in cities around the world to connect teaching talent with international schools. They're important platforms for recruitment. Lately, many of the big names in international education have been unable to send staff to these events and their booths have gone unoccupied. But that's not been the case with ISB.
In early January, a retired ISB teaching couple represented the school at the Search Associates Melbourne Fair in Australia. Aussies Karen and Jim Fidler spent a collective 38 years in senior positions at ISB, so they make perfect ambassadors to tell teachers at the fair how rewarding it is to work there.
This is one of the benefits of the strong alumni network built up by 42-year-old ISB. Former students and staff remain dedicated to ISB long after leaving its corridors. From Bangkok to London to San Francisco, professionals who have known ISB are ready to recruit their successors. ISB made plans for more additional representation to attend the world's job fairs. And now that eased travel restrictions have made return trips from China significantly easier, the school is sending two of its principals and a recruitment specialist to attend fairs in the U.S. later this month and in February.
The 5th ISB Teacher Recruitment Fair
ISB held its own dedicated Teacher Recruitment Fair on Saturday, October 8. Hosted on campus and virtually, this was the fifth of these annual fairs. It included a tour of this ideal workplace, a panel discussion with ISB administrators and teachers, and a preview of the professional development opportunities that ISB is known for in the teaching community.
Referral program
Many of the school's most successful hires come from current staff recommending former colleagues and professionals they know personally. Through a referral program, ISB faculty and staff are encouraged to help identify available talent who would be a good fit.
With China being very restrictive on entry after the pandemic, ISB focused on recruiting from within the country for 2021-2022. With a lot of expertise in securing work visas, it is now able to recruit internationally with no restrictions for 2023-2024.
ISB has already filled over 82 percent of faculty positions for next academic year. Hundreds of current staff have chosen to renew their contracts, and they will be joined by dozens of new faces. All members of the ISB administration and faculty have qualifications in their respective fields from externally recognized authorities.
"We're keeping up the momentum in our recruitment, using lots of different ways to keep finding the best and brightest educators for our students," said ISBRecruitment Specialist Christine Yan. "Even in the past few years, we have maintained the highest standards in recruiting. At a time when many schools have been struggling for staffing, ISB families can be confident that all our classes, trips, and activities will always be led by highly qualified, international professionals who are truly dedicated to their students and further building their careers."
The kind of challenging and joyful learning that comes through quality teaching is one of three main focus areas for ISB under its new Strategic Plan. ISB news articles in 2022-2023 are all looking at an aspect of ISB that's an example of one of the three areas. To find out more, click here
ISB is an extraordinary school, made so by a tradition of educational excellence spanning 40 years. Establishing, nurturing, and growing such an exceptional learning community has been and remains intentional; we work hard to build strong relationships so our learning is at its best.
Back