Top violinist Lu Siqing helps launch ISB's 40th anniversary
By Nick Yates, ISB Communications
On September 1, the first day of the 2020-2021 school year, the International School of Beijing (ISB) hosted an opening ceremony for celebrations to mark the school's 40th anniversary.
This was the inaugural event in ISB's new Elementary School Theater. While many students and teachers were able to come together and celebrate this momentous occasion in person, many more enjoyed it via livestream.
The ceremony on Tuesday morning featured moving speeches from Senior May L. and Head of School Patrick Hurworth and concluded with a spectacular performance by world-renowned violinist Lu Siqing. Scroll down for the full speeches and a video recording of the ceremony, and check out the Celebrating 40 web page for more details on the anniversary festivities set to light up 2020-2021.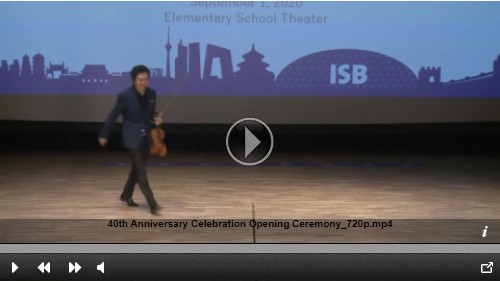 STUDENT SPEAKER:
Good morning ISB,
I am May L, a student at ISB since Elementary School. It is my pleasure to be standing here today in honor of the International School of Beijing and its 40th anniversary.
In 1980, ISB became the first international school in Beijing, and today it is recognized as a leading learning community. Initially, our school was made up of only eight students and two certified teachers. But blessed with ample time and faithful nurturing, the school has flourished. Today, our school celebrates its diverse community, housing approximately 1,700 students, with around 45 different nationalities represented in our student body.
Over the years and the decades, thanks to the dedicated staff, supportive parents, and the Mission and Vision team, the school continues to expand and innovate. Generation upon generation of students have graduated from ISB, and they, in turn, have become illustrious alumni and fulfilled young adults, finding their own place in the world. I firmly believe, this year, my Class of 2021 will be no different despite the challenges that we are facing today.
The year 2020 has been challenging for everyone from around the world, and this continues to be one of the most challenging years in the history of our school. It is easy to feel buried by our circumstances. However, we can paint a picture of a farmer planting a seed. Did the farmer bury the seed? Well, yes, but she also planted it. Instead of feeling buried by our situation, we must realize that the soil piled on us during this unprecedented time is not meant to bury, but to plant us in a way that will allow us to grow and flourish. And when we come back from this difficult situation, we will become stronger than when we had started.
In Chinese, there is the saying "三十而立,四十不惑." At 30, you stand firm. At 40, you are without doubt. Today, we celebrate ISB's 40th anniversary, a decade that will reaffirm our Mission, Vision, and Core Values.
Again, my congratulations to ISB, our faculty, staff, teachers, students, alumni, and parents for your relentless support and dedication that now spans 40 remarkable years. Together, we are hopeful for the future, and we are poised to embrace brighter years ahead of us.
Thank you very much.
May L, Grade 12
HEAD OF SCHOOL:
Good morning, and good evening to our students, their parents, our teachers and support staff who are in different time zones and to many of our alumni who are watching this event from their own place in the world. It is with a sense of great gratitude and privilege that I welcome us all here today.
Before I offer a few thoughts, join me in thanking Jerry Oldfield and the 40th anniversary planning team for today's arrangements and for their large part in the celebratory feel here on campus this morning.
Distinguished guests, students, ladies, and gentlemen. This morning, we gather for three reasons of great celebration. First, to mark the start of our 40th anniversary year celebrations. Second, to formally open this extraordinary Elementary School Theater. Our third reason is to recognize the resilience of our community, working collaboratively through the challenges which 2020 has presented.
None of the individuals who were present at the inception of our school could have possibly imagined what the ensuing 40 years would have brought to that small, fledgling school established in an apartment in diplomatic housing in 1980.
The world is close to unrecognizable, such has been the rate and magnitude of change since 1980.
And ISB would be (in its physical sense) similarly almost unrecognizable to those educational pioneers who took a good idea and brought it to reality.
If ISB's physical appearance and location would surprise every one of those who founded the school, I do hope that the 'feel' of the school has been safeguarded; its values, commitment to community, its warmth and sense of belonging.
I sense that feeling here now in our theater, and our shared commitment should be to ensure that every child and adult of today and tomorrow knows their place and role in keeping ISB as a special, community school.
A school is so much more than great facilities. Without that sense of community, great facilities can be less impactful. And yet ISB has, since its inception, been committed to providing learning for each child in the best possible facilities.
Two years ago, construction began on our four new projects, following years of planning by our community.
So many people need to be thanked and appreciated for the work that has been done on our projects, not least my predecessor, Dr. Tarek Razik; Dr. Gerrick Monroe; Jason Wang, our Head of Facilities, and his team; Clarissa Sayson, and her team in the Elementary School; and Mrs. Nadine Pettman, Chair of the Board of Trustees at the time the decision was made to begin these constructions and renovations. Their collective courage, persistence, vision, and leadership are an example to us all. We will have a chance to have other ceremonies this year to formally open our other new spaces and share stories of their origin.
This morning, for now, let's just say "thank you" and enjoy this incredible new space together, in the company of Lu Siqing, one of the world's most accomplished and renowned musicians and an ISB parent. We thank you, sir, for your time today and for the gifts that your music brings us.
I'd like to pay tribute to absent friends – our students, parents, and my colleagues who cannot be here on campus to enjoy this moment. Don't worry – this is the first of many such celebrations to revel in our 40th anniversary, our beautiful campus and then, what will be the greatest reunion imaginable. 2020 has been stormy and has presented us with more than our share of anxiety and surprises.
To continue the storm metaphor, one of the favorite and most well-known songs from my home country (You'll Never Walk Alone) includes the phrase "At the end of the storm, there's a golden sky and the sweet silver song of the lark…"
The storm of 2020 seems not to have fully calmed yet, but today with school back in session and that wonderful whole school reunion now in our sights, we are offered this morning a moment of calm. And we are about to hear not the song of the lark, but something much, much sweeter and finer…
My thanks to you all for your support of this wonderful school whose future is brighter even than its glorious past.
I look forward to more special community moments this year as we celebrate 40 years of ISB.
Happy birthday ISB and a wonderful day and school year to us all!
Patrick Hurworth
Head of School (2017-2021)
ISB is an extraordinary school, made so by a tradition of educational excellence spanning 40 years. Establishing, nurturing, and growing such an exceptional learning community has been and remains intentional; we work hard to build strong relationships so our learning is at its best.
Back