Top High School courses
By Nick Yates, ISB Communications
The menu of High School courses that the International School of Beijing (ISB) has put together for next academic year is unparalleled in its range, flexibility for students, and combination of traditional subjects and modern, interdisciplinary programs. With the sign-up period open until March 26, students are busy browsing the course guide and looking forward to some exciting opportunities in 2021-2022.
In High School, ISB offers many different routes to graduation. Since ISB is able to develop its own curriculum from Early Years up, it has the flexibility to adapt and change its programs to best meet students' needs. While many High School students choose to pursue the full International Baccalaureate (IB) Diploma Programme (the world-leading college preparatory course), others take hybrid or personalized options. This versatility is designed to provide a best fit for individual students and equip them for success whatever direction they choose.
Here is a selection of what's on offer, along with some reflections from students who have already experienced these courses.
Music Studio Production
Grades 9, 10, 11, 12
Enjoy writing, playing, making music? Have you ever wanted to record in a professional music studio? If any student's answer to these questions is "Yes," then ISB's Music Studio Production course is for them.
On offer through Grades 9 to 12, the course takes advantage of the new Middle School/High School Performing Arts Center, which was purpose-built to create a space for the growth of ISB's dynamic performing arts programs. The center includes specially designed performing arts classrooms and practice rooms (band, orchestra, choir, drama, and dance) with consideration for acoustic, lighting, and flooring requirements.
For Music Studio Production, the Yo-Yo Mas and Daft Punks of the future will fiddle, rock out, and mix in a cutting-edge studio-classroom dubbed "3rd Floor Records." This is a hands-on class combining two elements of authentic music making that takes place in the real world: studio performance techniques, and sound engineering. Students who take this class will write, create, practice music, go into the studio to make a high-quality recording, and edit the final product.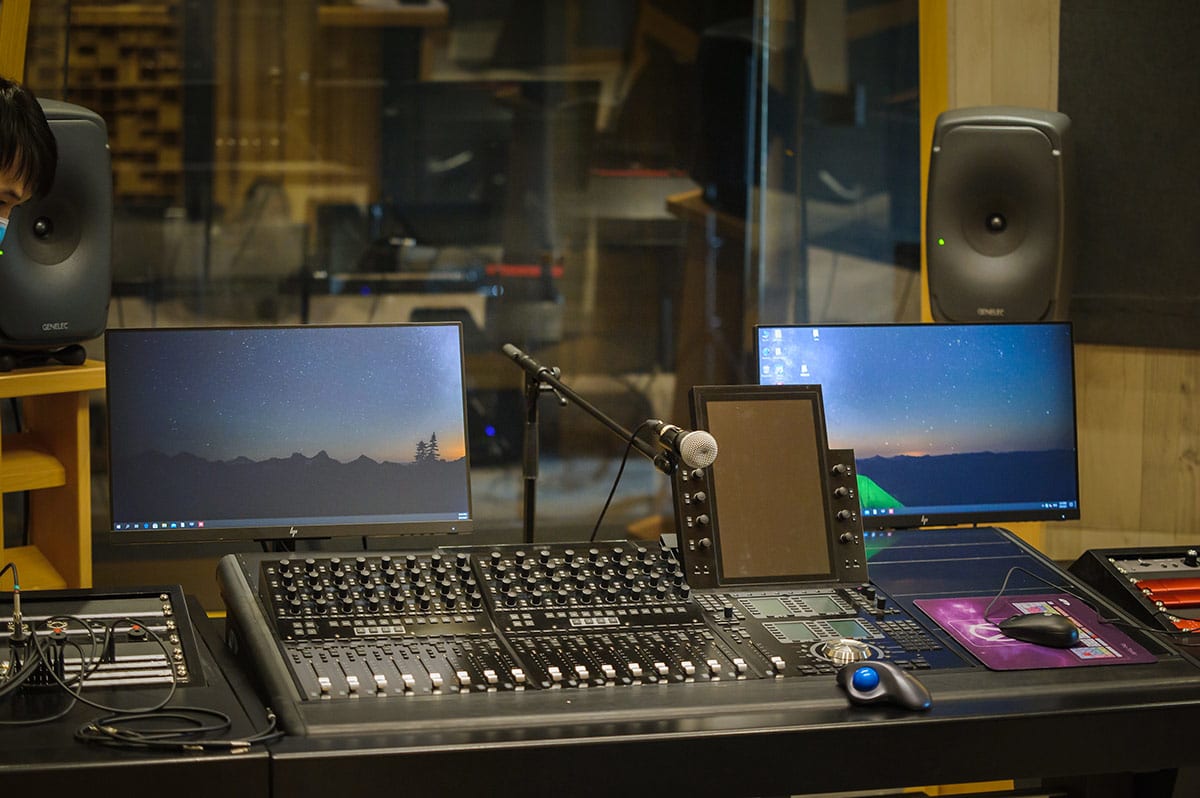 Eric C, a Grade 10 musician on the course, said he had always wanted to write music, and had explored composition as part of ISB's orchestra. Upon learning two years ago that the school was building a new studio, "I could not wait to record with the latest equipment," he said.
Music Studio Production is part of a huge range of performing arts opportunities that begin in Elementary School for students at ISB. From theater to choir to dance to film, faculty are fully in tune with the need for a balanced curriculum allowing learners to discover their passions in the arts alongside excelling academically.
Math: Introduction to Data Science
Grades 11 and 12, or as a Grade 10 elective
Math: Introduction to Data Science is designed to introduce students to the exciting opportunities available at the intersection of data analysis, computing, and mathematics. Math brains will focus on finding and communicating meaning in data and thinking critically about arguments based on such analysis. There will be a project-based approach using real-world data with a focus on practical applications and applicable skills. Students will learn to write code to enhance analyses of data, break large problems into smaller pieces, and to understand and employ algorithms to solve problems.
Science and Engineering
Grades 9 and 10
This course, introduced in 2018-2019, shows "how our school recognizes the need for a change in the curriculum, since standard schools do not prepare you for the outside world, they don't teach you how to be creative, they don't teach you how to manage your time," according to Westley L, who has been studying Science and Engineering in Grade 9 this year.
"Now that I have chosen this course, my time management is gradually changing ownership, from my teachers and parents to myself. I've learned that learning can actually be really fun," said Westley.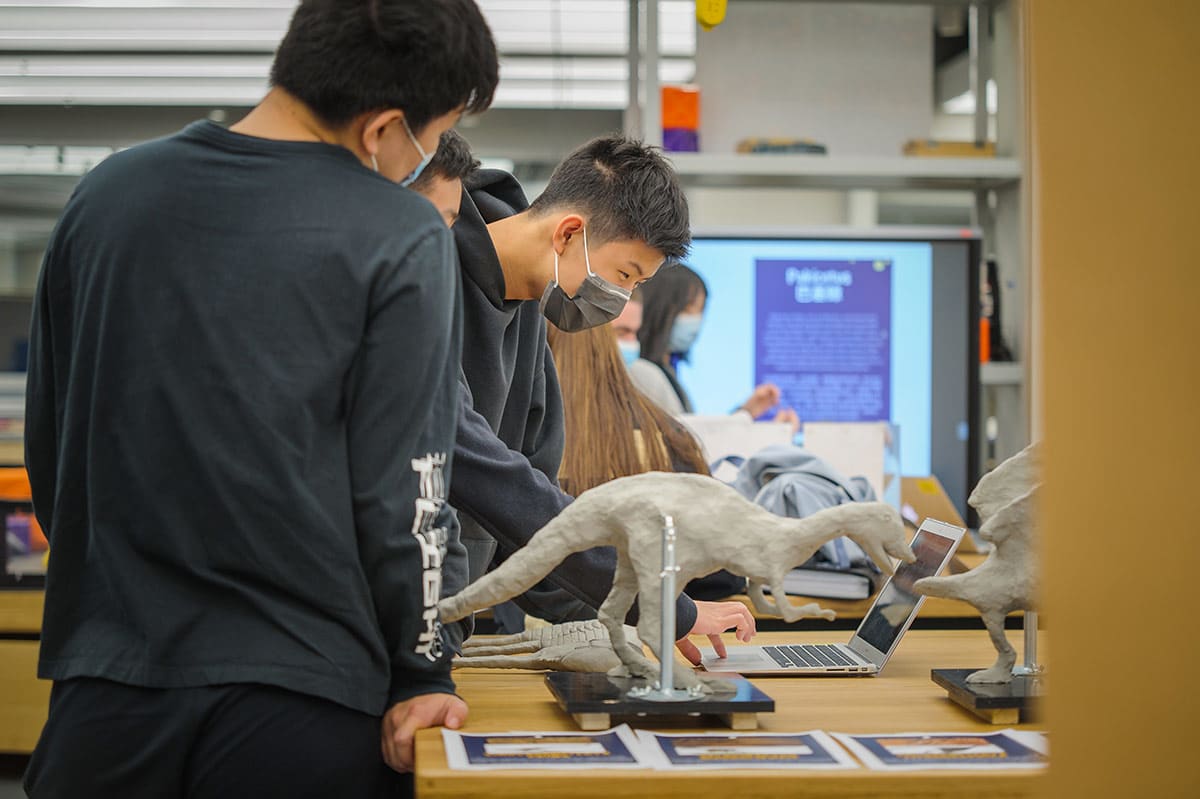 Design at ISB
Science and Engineering is part of the drive at ISB to give students real-world experiences and integrate different academic disciplines, rather than teaching them in isolation. The course's innovative, integrated approach to learning uses elements of design thinking, project-based learning, and personalized learning. Students will create experiments, build models, and engineer potential solutions to a variety of issues and phenomena. Additionally, they will have chance to choose areas of interest to investigate and design solutions beyond the standards.
Learning experiences are amplified by the fact that they take place in ISB's new Middle School/High School Art and Design Center, where students can access industry-standard equipment for 3D modeling, robotics, plastics recycling, and fabrication. (The Art and Design Center also includes three High School art classrooms and three collaborative spaces.)
This course is consistent with ISB's teaching of design throughout the grade levels. Typically, students start learning about design in middle schools, but ISB offers it from Kindergarten. Faculty here think it's good for even the youngest learners to be planning and building as they learn their ABCs and 123s.
Pathways Program
Grades 9, 10, 11, 12
The Pathways Program offers students a lot of choice especially in their final two years of the ISB High School Diploma. Students are challenged to explore their own ideas, learn beyond the classroom, and make a genuine impact. It's in this program that students can really start to shape their futures, building experience for post-ISB options from the Ivy League to a dream vocational college to charitable service to becoming an artist.
Pathways includes (but is not limited to) Work Experience and the Impact Project. Work Experience is done outside of school hours with approval. The intention is for learners to be involved in an authentic work environment. They will be evaluated by the workplace partner, check in with their ISB Impact Mentor, and receive a certificate of completion. The professionals-in-waiting document their experiences in their ISB blogs and maintain portfolios to reflect upon.
For example, one student who is interested in nursing has engaged in work experience with ISB's own nurses during the school day as well as at a local clinic during holidays and weekends.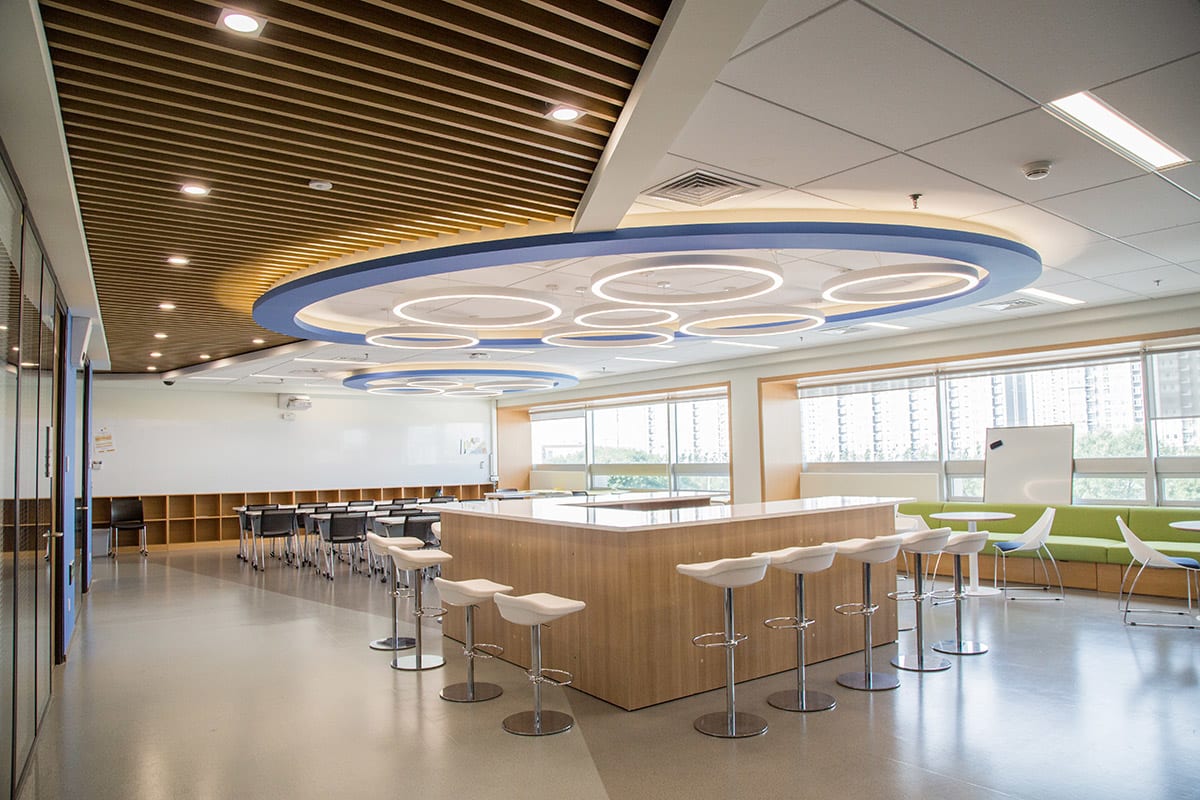 The Flex Space is designed to facilitate integrated learning in High School
The Impact Project is all about experiential learning. Students inquire into passions, problems, needs, and challenges when interacting with communities outside of the school with the aim of developing a globally minded approach.
For example, after learning different styles and perfecting techniques through art classes, one student wanted to delve deeper into illustration. For a recent Impact Project, this student connected with artists both locally and abroad. He sought feedback from illustrators and product designers. For weeks, he practiced and perfected some of his designs, before a local business was found to print his 2D designs on merchandise. He then put a pop-up shop in the ISB PTA Store and learned more about the business side of inventory, profits, and advertisement.
Action Research
Grade 10
For Grade 10 students, the year's most character-defining moment may well happen not in a classroom in the Chinese capital, but 3,000 kilometers away, in the Cambodian commune of Chan Sar. In recent years, Action Research students have been taking regular trips to Chan Sar, near Siem Reap, where they spend time in service, working closely with locals on needs assessment and assets analysis.
Over the course of a year, Action Research engages students in cross-curricular conversations on real-world issues by analyzing different global perspectives. Chan Sar is among the many opportunities at ISB to get out of the classroom and learn through service, as faculty at the school follow a Whole Child philosophy that values empathy and a sense of teamwork alongside attainment in tests.
They also value interdisciplinary learning. The first two Action Research trips came in the 2017-2018 school year, after ISB began a redesign of its High School curriculum to offer the best mix of traditional academic and interdisciplinary courses. Students who opt for Action Research will gain understanding of international relations and development by looking at Cambodia and Southeast Asia through political, economic, and geographic lenses. This course uses an integrated and experiential approach that draws upon elements of project-based learning, design thinking, and personalized learning.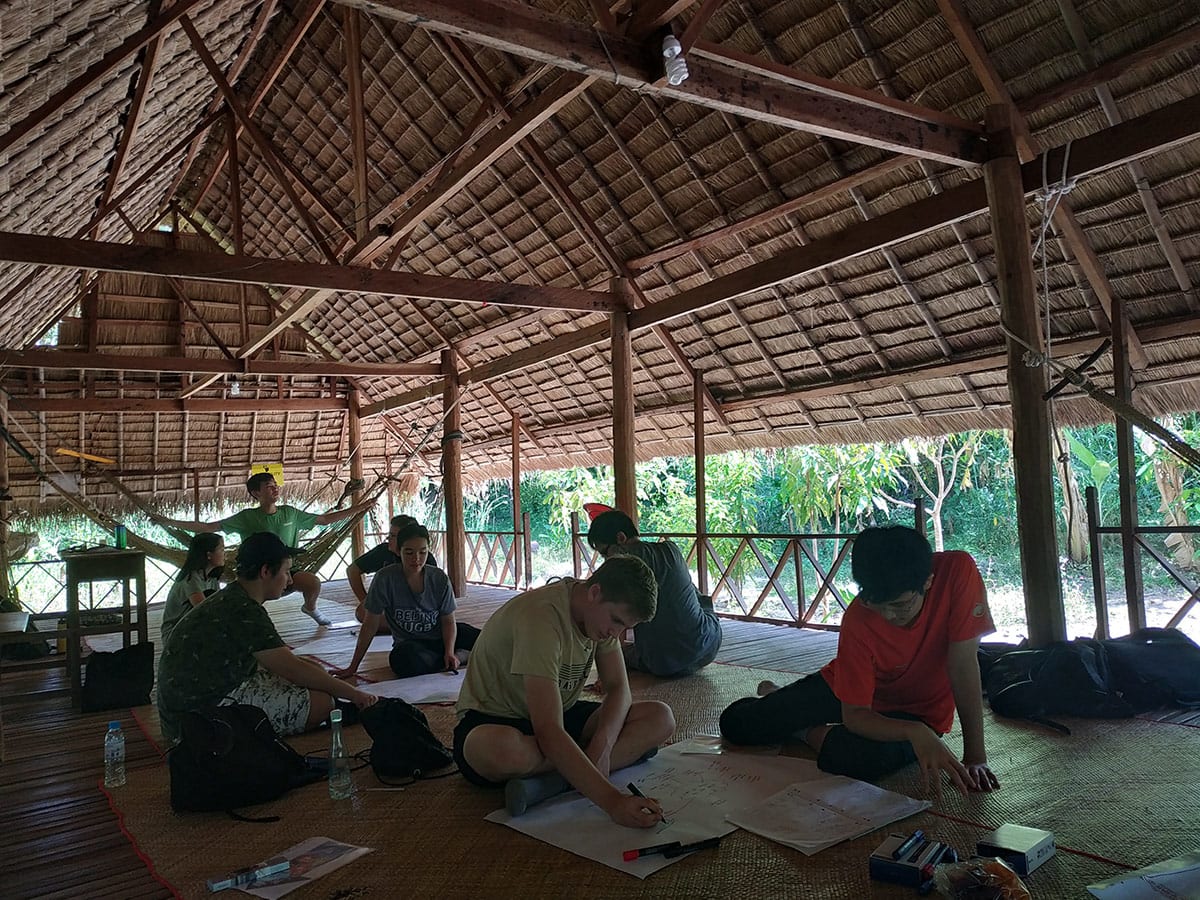 Students on an Action Research trip to Cambodia
Mayah S, now Grade 11, loved Action Research. "I was new at ISB, and a bit worried about starting with an AP class," she explained. "Still, the chance to study and do research in Cambodia sounded incredible, so I took the risk. As soon as I stepped into the classroom that first day, I knew I had made the right choice!"
Mayah added, "We learned a lot academically – the research, writing, and presentation skills you develop in the class are extremely useful and applicable. The cool thing is these have helped me in English writing, research, and analytical thinking for history, application of social science studies, and presentation in all subjects. We also learned a lot outside of academics – how to work with a team, consider assets, evaluate limitations, solve problems, and be kind.
"Our teacher taught us, but he also wanted to inspire us to learn more for ourselves, and then do more for others."
Mass Media and Journalism
Grades 11 and 12
This course is designed to provide an opportunity for students to examine the impact of mass media and journalism on the world today. The internet has fundamentally transformed the way that human beings produce and consume information, creating both tremendous opportunities and critical challenges.
Students will be equipped with the skills they need to successfully navigate this new and challenging information media landscape. Inquiring into a broad range of non-literary text types – from news and feature articles, to opinion writing, television news, photojournalism, social media, podcasts, film, and documentary – as well as selected literary works related to key themes, students will investigate how contemporary journalists, reporters, photojournalists, podcasters, and others use language and image to inform, persuade, and entertain and, conversely, in ways that can mislead, manipulate, and misinform.
As they further hone their critical reading, listening, viewing, and thinking skills, students will also have the opportunity to develop their writing and speaking skills in authentic ways through a variety of collaborative and individual projects.
Civic and Social Entrepreneurship
Grade 9
Civic and Social Entrepreneurship (CASE) puts social studies theory into action. And when we say action, we mean action! CASE students this year have been in contact with a Ugandan cycling club to help them plan a new clubhouse. This facility is currently taking shape, partly thanks to ISB students' efforts.
CASE involves study of history, geography, economics, design and more, and challenges students to think about socially and environmentally conscious solutions to real-world problems.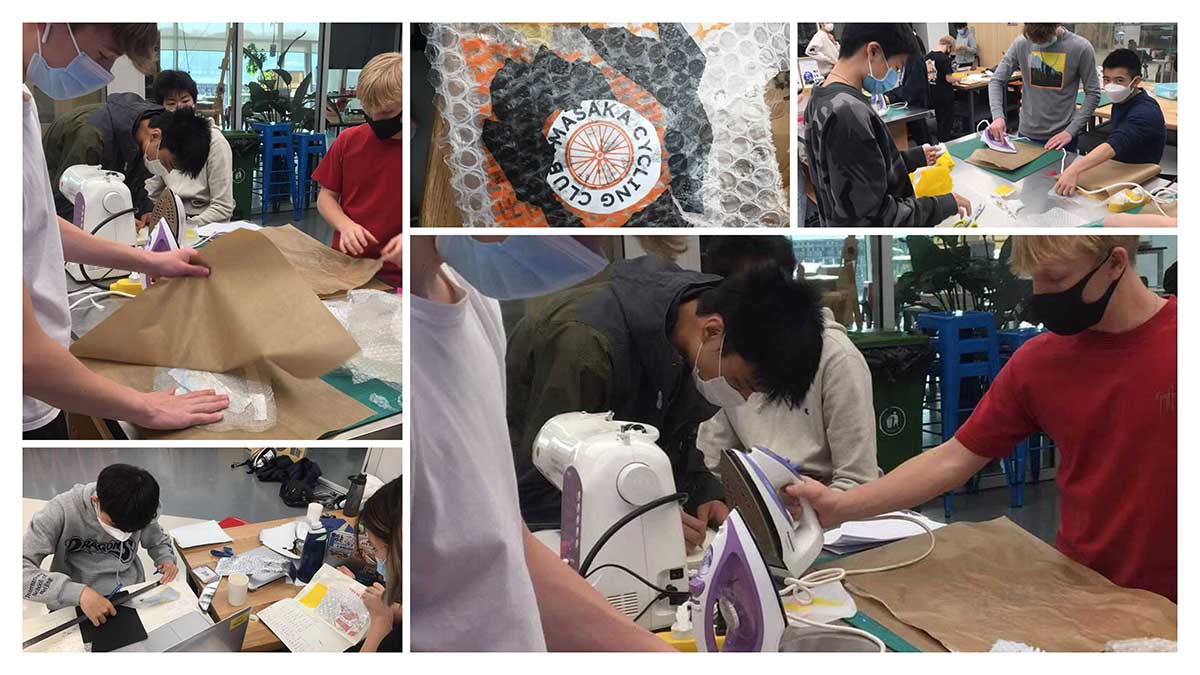 Civic and Social Entrepreneurship students making merchandise for a charity project
"I like the way CASE makes you think outside the box," said Grade 9's Mea M. "You can use your creativity while learning about ways to help people."
Mea noted how the course was structured to introduce students to the concepts then build more hands-on experience. A project at the start of the year saw Mea and classmates design homes suitable for different troublesome locations around the world. Then came first contact with the cycling club: "We were able to collect information and learn more about the club so we could help the members with what they needed. The unit we're currently working on is making products that will benefit the cyclists in Uganda to either make a profit or use themselves."
ISB is an extraordinary school, made so by a tradition of educational excellence spanning 40 years. Establishing, nurturing, and growing such an exceptional learning community has been and remains intentional; we work hard to build strong relationships so our learning is at its best.
Back