Rave reviews for ISB's amazing Instructional Partners
By Nick Yates, ISB Communications
The past few days and weeks at the International School of Beijing (ISB) have seen an outpouring of thanks from students and teachers for a special group of staff.
In August, almost 100 experienced and highly qualified Instructional Partners (IPs) joined the team to ensure high-quality teaching and learning could continue despite the challenges of Covid-19. ISB welcomed students back to school after Summer Break with a new Partnered Instruction model. Teachers unable to be in Beijing because of travel restrictions were assigned an IP on campus. These teachers and their IPs have since been working closely to deliver face-to-face and online lessons, activities, and projects as ISB has been providing for both the majority of students on campus and families still outside of China.
Now, with almost all of ISB's teachers back in Beijing and on campus, the school has bid farewell to most of the IPs. As IPs worked with students in classrooms while their teaching partners appeared via video conferencing, it's no surprise that a close bond was formed between classes and these temporary but highly valued staff members.
The IPs have made possible a model through which challenging and joyful learning, and a reassuring sense of something like normality, has been maintained for the community through a difficult time.
Students on their IPs
Students in Jenny Winkelman's Middle School art class praised their IPs' help with technology issues, translation, and maintaining focus. The IPs facilitated conversations between the class members and Ms. Winkelman. They kept everyone calm and helped quell any anxiety, these students said.
"Throughout my time teaching remotely, I have been extremely lucky to have Carina as my IP," said Middle School humanities teacher Patricia Follman. "From day one, she has intuitively assisted me in the classroom. Whenever I gave her instructions, she immediately would jump into action, which made for seamless teaching and directing of lessons. Students who were attending classes remotely have also benefited from her calm demeanor – she never forgot their presence, or mine.
"Carina has maintained a 'can-do' attitude throughout, always calmly holding together the classroom. Students have grown to love Carina and are begging for her to stay."
Ms. Follman's students compared the Partnered Instruction model to the online learning that had gone before it. "This was a real classroom experience with Ms. Carina and that wouldn't have been possible without her," one student said.
Feedback from Ms. Follman's class on Ms. Carina also included "she's amazing," "the Partnered Instruction was all very organized," "she keeps us on task," and simply "can we keep her?"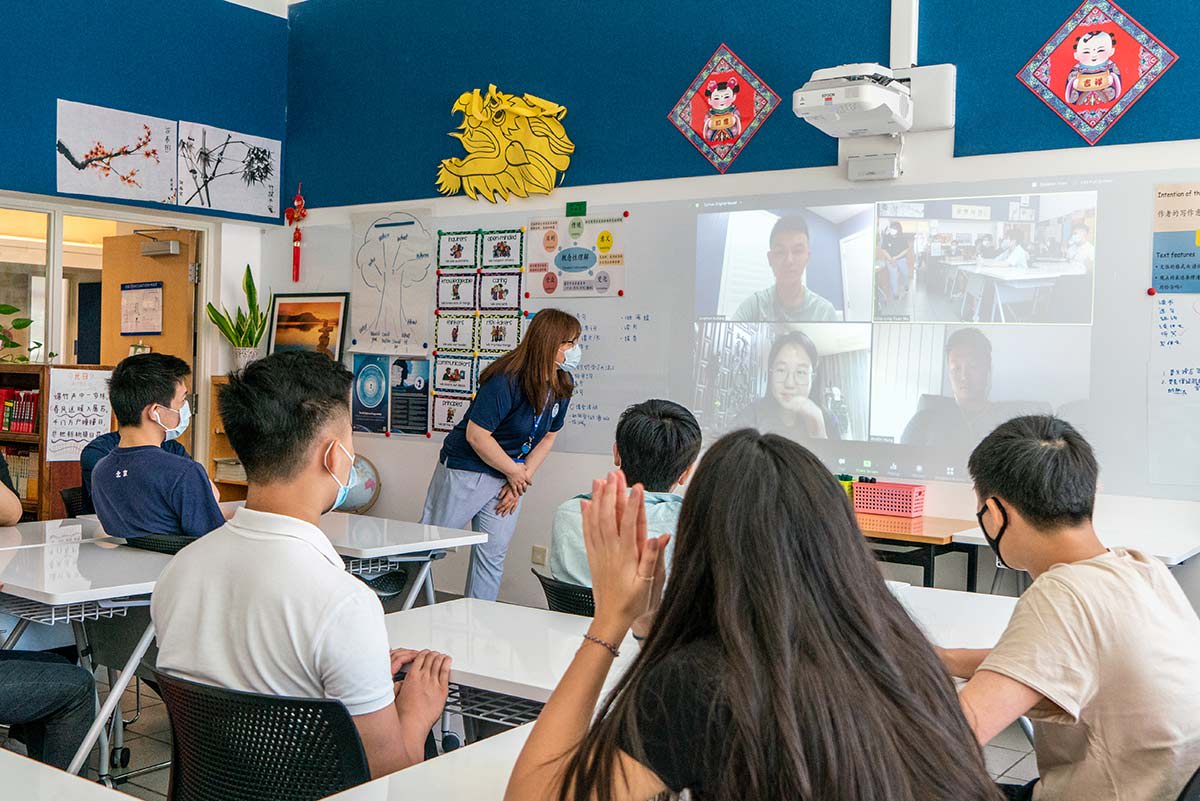 Building strong relationships for the best learning
Teachers and IPs settled into smooth working routines.
Elementary School classroom teacher Jennina Villano said, "I met [virtually] with my IP every day after school. We would debrief what happened during the day when I was offline and also reflected on the times that I was online and we were teaching in a team together. The model was effective in offering challenging and joyful learning because we planned our activities based on the students' interests and needs."
Such strong relationships between colleagues were necessary to overcome technical issues.
Jolene Brister, another Elementary School classroom teacher, explained, "Trying to facilitate whole class discussions was the biggest challenge because it was often hard to hear the students. To remedy this, I would introduce the lesson and have the IP take the lead on facilitating the discussion while I worked with students in small groups once the task was introduced. I loved working with the students [like this]. It was a fantastic way to give them immediate feedback. I also felt quite connected to them, so that when I arrived on campus, we could get moving with things right away."
The IPs were all personally interviewed by members of ISB's leadership team to ensure high standards and that they were a good fit for the school and its students. Hailing from all over the world, the IPs' resumes were packed with advanced teaching qualifications and backgrounds working for other prestigious education institutions. They were a diverse bunch. Many had past experience working at ISB, while others were new to working in an international school and hungry to learn how this style of education works.
According to exit surveys conducted with the IPs, two of the things they enjoyed most about their time at ISB were learning more about international schools and learning new teaching strategies.
"The IPs arrived very highly qualified and inquisitive. The energy they brought to ISB has been powerful," said High School Assistant Principal Julie Lemley.
With the connection made between ISB and these talents, some of the IPs will remain in the school's pool of substitute teachers.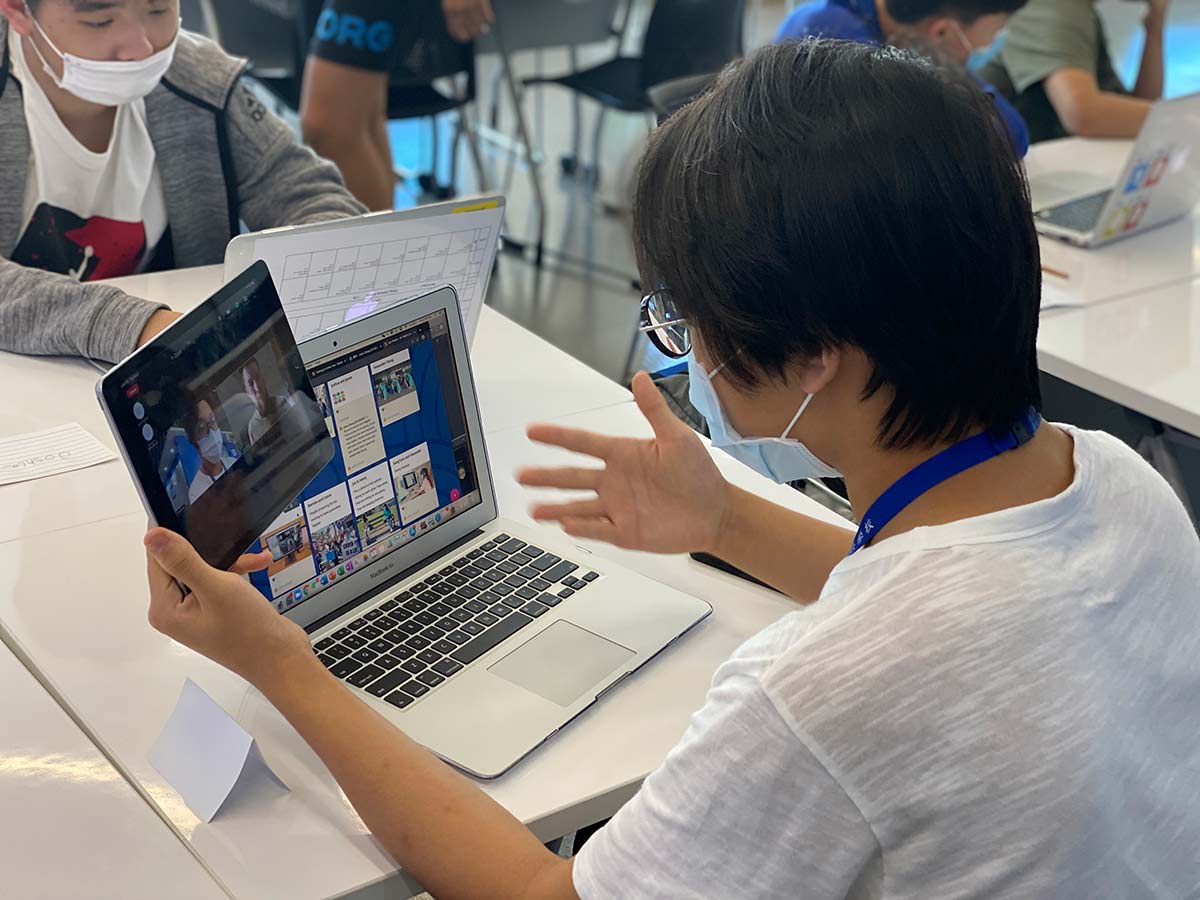 Ideas from Partnered Instruction
While students' experiences at ISB have been boosted by insights from a fresh influx of educators, ISB has always been prepared to share the teaching wisdom on campus through workshops and internship opportunities. This is a community of learning for all, and one of many ideas to come out of Partnered Instruction has been providing more internships for applicants ready to help strengthen ISB students' learning while learning themselves.
The IPs benefited from a comprehensive training and orientation process at ISB before the start of the new academic year. Another idea from this period is to adapt this training and orientation program that has now been established into something more regular for substitute teachers and new teaching assistants.
Since the coronavirus emerged, according to Ms. Lemley, ISB staff have developed a host of new skills as educators. "As a school, we have learned so much over the past 10 months and there are new platforms, instructional practices, and systems that we will keep in place in the future," she said.
Teachers have worked collaboratively in teams and with their IPs. Through online learning, High School students are able to self-pace and work through content in a new way, whether they're on or off campus.
2020 has been an exceptional time at ISB, one full of learning for all involved. This edited version of a video by an IP in the Elementary School is a great example of how Instructional Partners threw themselves into ISB life, and of the kind of student work they enabled. The video is about a global citizenship course unit in which students were introduced to the United Nations' Sustainable Development Goals (SDGs). The culminating activity was a choice of projects including creating a poster or game teaching about an SDG.
ISB is an extraordinary school, made so by a tradition of educational excellence spanning 40 years. Establishing, nurturing, and growing such an exceptional learning community has been and remains intentional; we work hard to build strong relationships so our learning is at its best.
Back