ISB 10: Happy and healthy in winter
By Nick Yates, ISB Communications
Visitors to campus recently may have noticed a particular glow in people's cheeks, a smile on their faces, and a bounce in their steps. The International School of Beijing (ISB) put its belief in wellness for the whole community into action in October and November with a host of activities benefiting the body, mind, and soul of students, staff, and parents.
It is tradition at ISB to celebrate women's well-being in October and men's health in November. ISB's programs value young learners' physical and social-emotional health along with their academic performance, with sports and awareness-raising initiatives taking place year round. The school's Employee Wellness Committee (Wellco) encourages staff to take a break from work and model healthy lifestyles, and parents are included through regular talks and workshops on related issues.
These things were all ramped up the past two months. Here, in no particular order, is a selection of the activity that took place:
High spirits
Spirit weeks are a community-building initiative common in international schools and embraced by ISB. Middle School Spirit Week took place at the start of November and High School Spirit Week at the end. The Middle School's saw games during lunch and five days of costumes. Faculty and students dressed up for Pajama Day, Twin Day, Formal Day, Student/Teacher Swap Day, and Walk on the Wild Side Day.
High School Spirit Week is organized by students with direction from a dedicated Student Life Coordinator on staff. A lot of the action revolved around ISB's annual Great Wall Shootout basketball tournament, which gathers huge crowds courtside for an electric atmosphere and real sense of togetherness. The week also featured an aerial group photo in which happy high schoolers arranged themselves in formation to read "2020."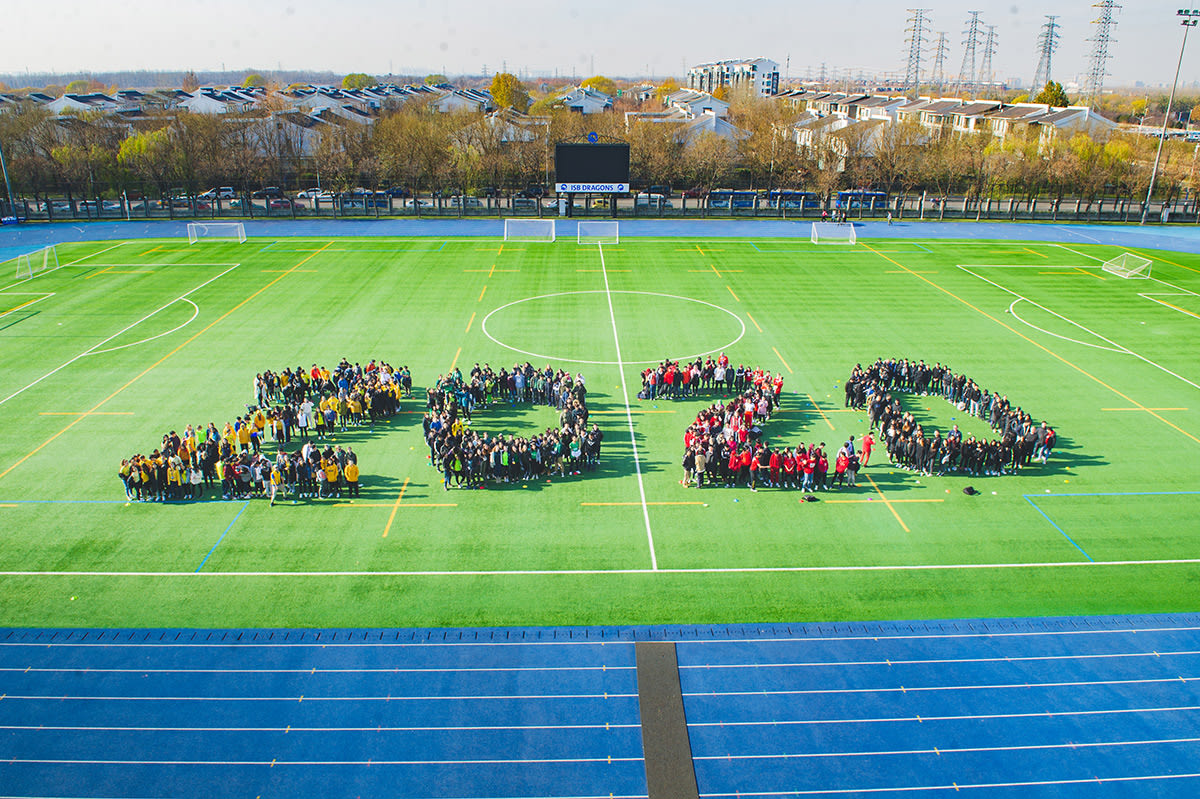 Let's talk about sex
How to talk about sex is an age-old question in education. Fortunately for the ISB community, the school had two experts on the subject come and give talks at the start of November. Carolyn and Ted Temertzoglou's sessions for parents took the stance that the development of our students' life skills is a shared responsibility and partnership among families and educators. The discussions covered healthy relationships, communication, and consent, and parents were guided through how and when to consider broaching these topics with their preteens and teenagers.
Mo' stubble, mo' smiles
Male teachers participated in Movember, the global initiative encouraging the growing of mustaches to promote awareness of men's health issues such as testicular cancer. A barber visited the Staff Lounge at the start of November for one last shave before the hairiness began.
Healthy activities for staff were not limited to the bearded. There was no school for students on November 14, a Staff Professional Development Day. It was mainly dedicated to training and refining the curriculum to optimize teaching for students, but staff were encouraged to go for a jog, dance, play board games, crochet, or pick from many other activities organized for Wellness Hour at lunchtime.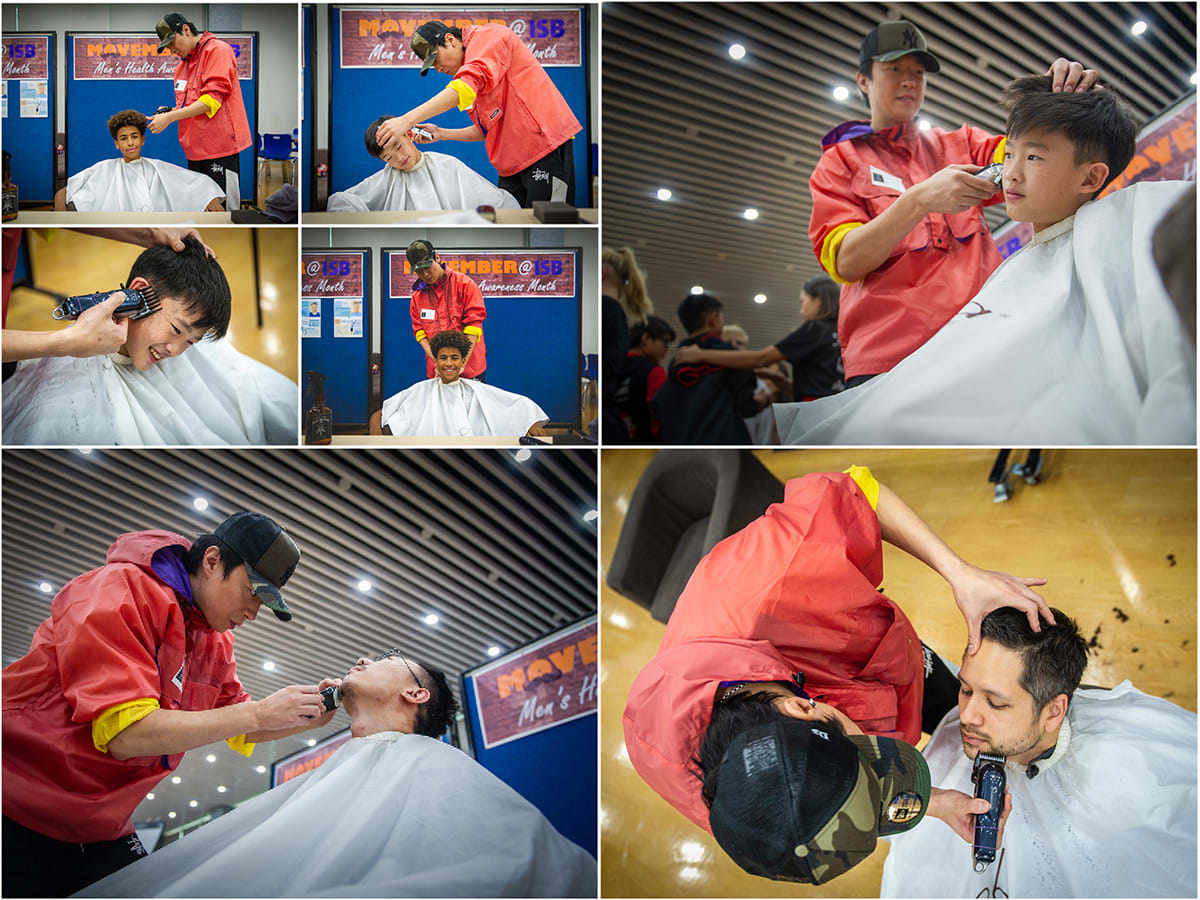 Passport to Healthy Habits
A Passport to Healthy Habits was handed out to Elementary School students to follow at home with their parents. This checklist encouraged the adoption of good habits such as washing hands with soap and water and cooking balanced meals.
Breast friends
Support of friends and family members battling cancer was another area of focus. The High School Student Wellness Council invited a specialist from an international hospital to lead a breast cancer self-examination workshop on October 21. While most of the activities in October and November aimed at inclusivity, this was one session just for the ladies.
Canines and caring
ISB got an unusual visitor on November 13, when High School members of the Psychology Club organized for a therapy dog to come to campus to help relax their fellow hard-working students.
Therapy dogs are trained to provide affection and comfort to people, typically in places of need like hospitals and nursing homes. They are thought to help reduce stress and anxiety. Arriving with an experienced handler, this special guest got tails and tongues wagging throughout school.
Hold the front page!
ISB students studying Chinese as an additional language gorged on new vocabulary and picked up tips on how to eat healthily during a journalism project probing a hot news story on campus.
Following recent regulation from Beijing authorities to enhance food safety in schools, ISB's practice of allowing restaurant deliveries to campus had to stop. It's been a big change and food for thought, as students and staff have had to get used to either bringing their own lunch or eating the meals prepared in the school's cafeteria.
High School Chinese teacher Chuyu Cheng was looking for a real story for her class to cover in a journalism assignment, and she found it in the delivery ban. The IB curriculum that ISB follows requires that students like Ms. Cheng's practice different styles of writing, including news reporting. Ms. Cheng asked her class to study examples of articles on food and health, then to interview Chinese-speaking peers and specialists including a chef, nutritionist, and a nurse working at ISB. Their final task was to write a news article in Chinese on their findings.
The beat reporters' readers learned about lifestyle choices, and recommendations derived from the project have been passed to ISB's catering provider. What a tasty treat in real-world learning!
Tutus in the age of #MeToo
Participants in the annual tutu walks in October were sponsored to parade through school in colorful ballet dresses. Why? To promote internal strength around body image, of course. The dresser-uppers had plenty of fun, and proceeds went to the China Women's Development Foundation.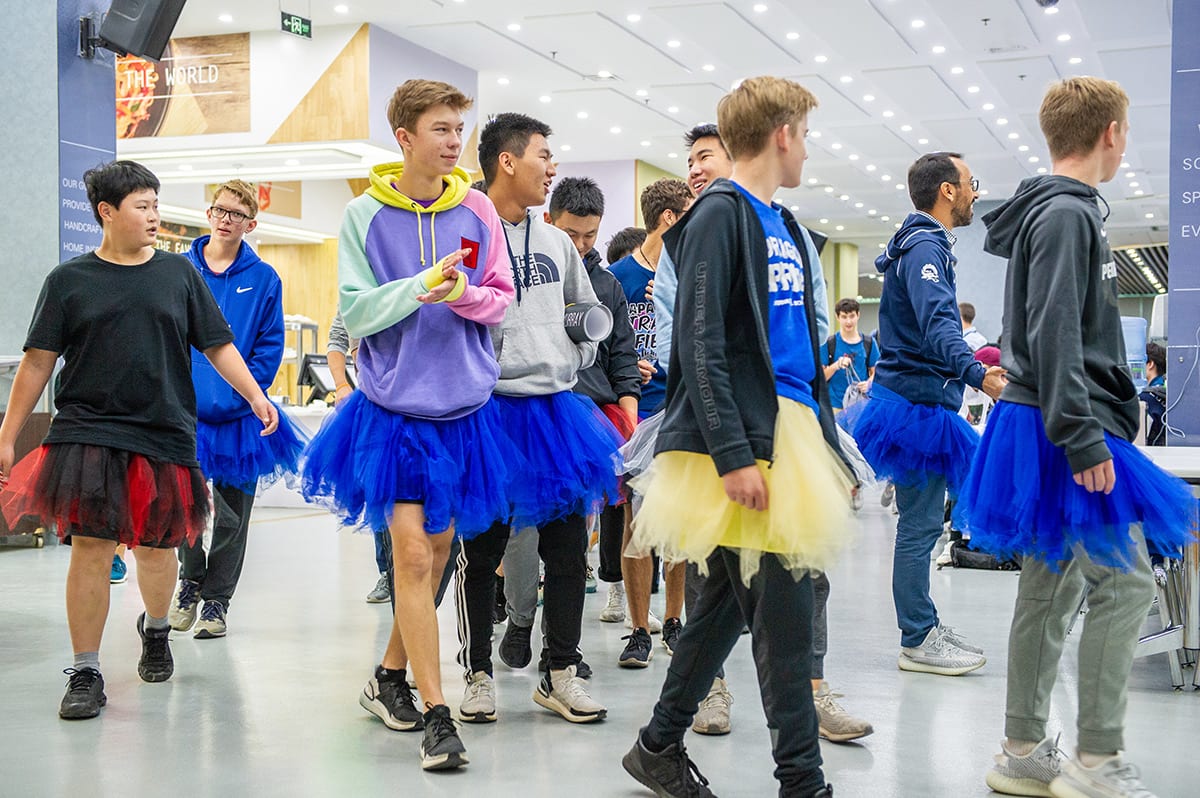 Keeping the you in youth sports
ISB's inclusive sports program and body-and-mind education got the backing of an expert who visited to talk about how to make sports a positive and rewarding experience for children.
John O'Sullivan, founder of the Changing the Game Project, is a well-known figure in athlete, coach, and parent education in the U.S. After two decades as a soccer player and coach, Mr. O'Sullivan feared that youth sports were often being taken too seriously, discouraging would-be players from taking part in an experience that can have a long-term benefit in all areas of their lives. He started Changing the Game to counter that trend.
"One of the great positives of ISB's sports program is that it's very inclusive," Mr. O'Sullivan said after running workshops for ISB students, parents, and staff on November 19 and 20. "The school works really hard to create as many opportunities in sport as it can."
All work, no play? No way!
Wellness Weekends, or Homework-free Weekends, give students chance to take a break, catch up on overdue work, and/or make progress on longer-term assignments. High School teachers were banned from assigning routine homework for the weekends of October 26 and 27, and November 30 and December 1.
Wellness Weekends are generally timed for when many students are busy keeping fit, having fun, and excelling in big athletic tournaments. The first saw Dragon sports stars play at home and around the region in competitions within the Asia Pacific Activities Conference leagues, and the second coincided with the Great Wall Shootout basketball tournament on campus.
These occasions were a perfect example of ISB balancing physical and mental health with academic achievement.
ISB is an extraordinary school, made so by a tradition of educational excellence spanning 40 years. Establishing, nurturing, and growing such an exceptional learning community has been and remains intentional; we work hard to build strong relationships so our learning is at its best.
Back