How do we know what we know?
By John Miller, ISB High School Social Studies Teacher
With college applications over and four months still left to prepare for high-stakes exams that determine where some will attend university, why is this a testing time for seniors at the International School of Beijing (ISB)?
One explanation: The TOK essay deadline is fast approaching.
TOK stands for Theory of Knowledge. It is a course requirement for the International Baccalaureate (IB) Diploma Programme, the world-leading college prep program offered by ISB. A good TOK grade can help students earn up to three extra points in their final IB tally.
But for even ISB's most competitive students, doing well on the TOK essay is one of the biggest challenges they will face in their two-year IB adventure.
"Writing the essay was something that, like any other IB experience, served as an excellent exercise in juggling," said Casper S, a Class of 2019 ISB graduate. "But whereas problems in math or science class may have a clear answer, the TOK essay is not so definite."
TOK asks students to explain how they know what they claim to know in their academic subjects and in everyday life. It's an example of the innovative, modern education that ISB embraces. There are no right or wrong answers in TOK, only strong or weak explanations.
The IB Diploma Programme is designed to force students to problem solve and think critically – but nowhere will they do this more than in TOK.
Rather than seeing knowledge as something that is certain and set in stone, TOK students are taught to see knowledge as a dynamic, ever-changing collection of things known to be true at the time, but subject to tweaking, modification or outright discarding later on, such as the flat earth theory.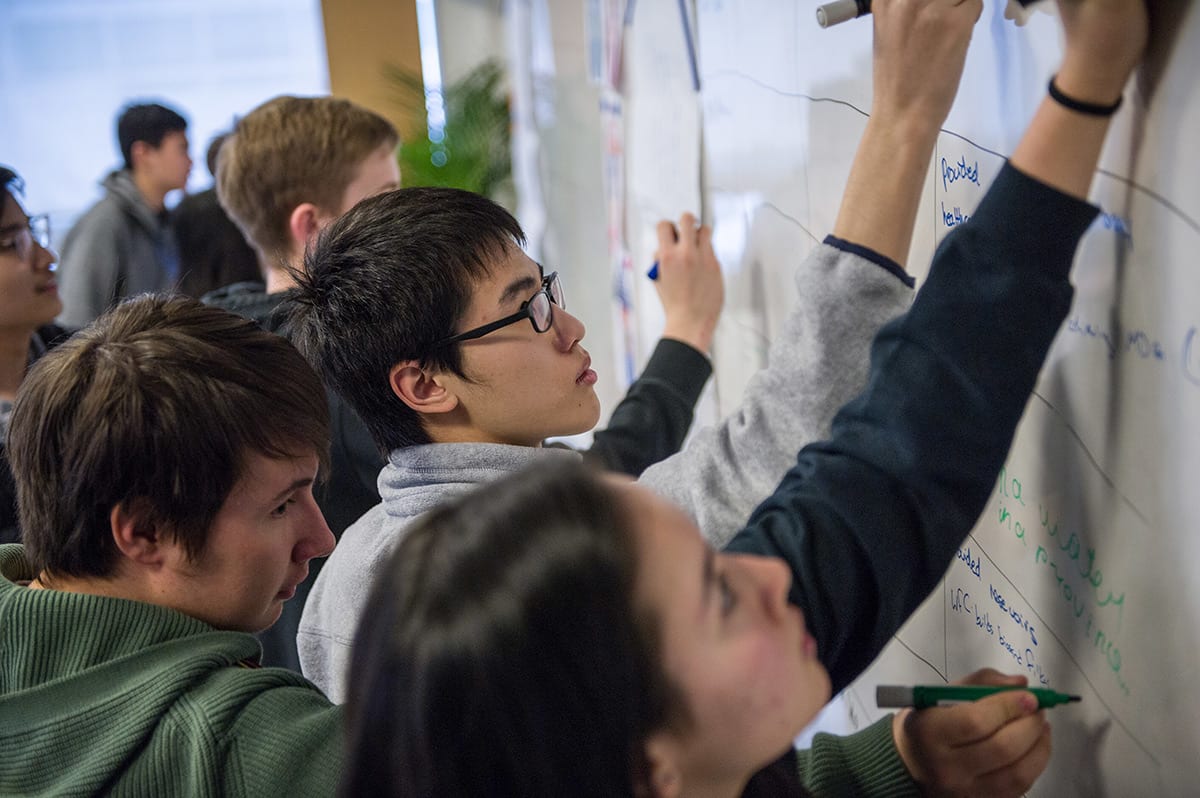 Many students love the open-ended nature of the course and the essay; it gives wordsmiths and debaters a chance to shine. Others find this characteristic challenging.
"It's not an essay you wind up satisfied with," said one student struggling to get through the final TOK draft. "You write it and end up covering the concepts, but you don't feel satisfied because there is no definite ending… it's all abstract."
Just before the Chinese New Year holiday, IB seniors will submit the 1,600-word TOK essay to demonstrate their abilities to explain how they know what it is they claim to know. They do this by responding to a prompt like:
- "Others have seen what is and asked why. I have seen what could be and asked why not" (Pablo Picasso). Explore this distinction.
Or
- "Present knowledge is wholly dependent on past knowledge." Discuss this claim.
Students who do well on the essay find a way to narrow their discussion without losing the big- picture essence of the topic – a task that is easier said than done.
"With a regular essay, you build up one argument and you're working toward that argument the whole way through," one senior remarked. "In a TOK essay, you debate yourself the whole way through."
Still, another defended the process, saying it helped students "develop the ability to alternate between the concrete and the abstract. I think this skill is something that very few students develop on their own."
Casper S, the recent ISB graduate, suggests seniors will see the benefits of TOK after they leave the high school environment.
"Looking back, I really believe that the TOK process is not unlike university. Many people tend to see TOK as simply a chore to be finished on the way to graduation – a passing grade is good enough," he said. "But for me personally, I believe that TOK allowed me to acquire a mindset that pursued learning for learning's sake… Many people like to say that university is what you make of it. I think TOK prepares you to make something out of your experiences."
Learn more about the International Baccalaureate (IB) Diploma Programme
ISB offers the International Baccalaureate program alongside a choice of courses tailored to individual students' interests. The IB is widely recognized as the world-leading college entrance exam – it's a challenging and highly engaging course of study that gives students the best preparation for further education anywhere in the world.
Still want to know more? ISB offers community members regular information sessions on the IB (and its many acronyms, including TOK!). The latest is on the morning of Tuesday, January 14. You can check the ISB Calendar for more information and to stay up to date on school events.
ISB is an extraordinary school, made so by a tradition of educational excellence spanning 40 years. Establishing, nurturing, and growing such an exceptional learning community has been and remains intentional; we work hard to build strong relationships so our learning is at its best.
Back