Game changer
By Nick Yates, ISB Communications
The International School of Beijing's (ISB) inclusive sports program and body-and-mind education has got the backing of an expert who was at ISB this week to talk about how to make sports a positive and rewarding experience for children.
John O'Sullivan, founder of the Changing the Game Project, is a well-known figure in athlete, coach, and parent education in the U.S. Mr. O'Sullivan started Changing the Game in 2012 after two decades as a soccer player and coach at youth, high school, college, and professional levels. He believes youth sports are often taken too seriously and that this discourages would-be players from taking part in an experience that can have a long-term benefit in all areas of their lives. He hosts the Way of Champions podcast on youth sports and coaching, and is the author of a number of books on the subject.
"One of the great positives of ISB's sports program is that it's very inclusive," Mr. O'Sullivan said after running workshops for ISB students, parents, and staff on Tuesday and Wednesday (pictured below). "The school works really hard to create as many opportunities in sport as it can. I spoke yesterday to 140 Middle School volleyball players, some of whom had played a lot, some of whom were in their first year of volleyball.
"That inclusivity comes with challenges, like coaching groups in which there is a range of experience, but the school is doing a good job of asking, 'How do we make our coaching better so the student athlete experience is as good as it can be?'"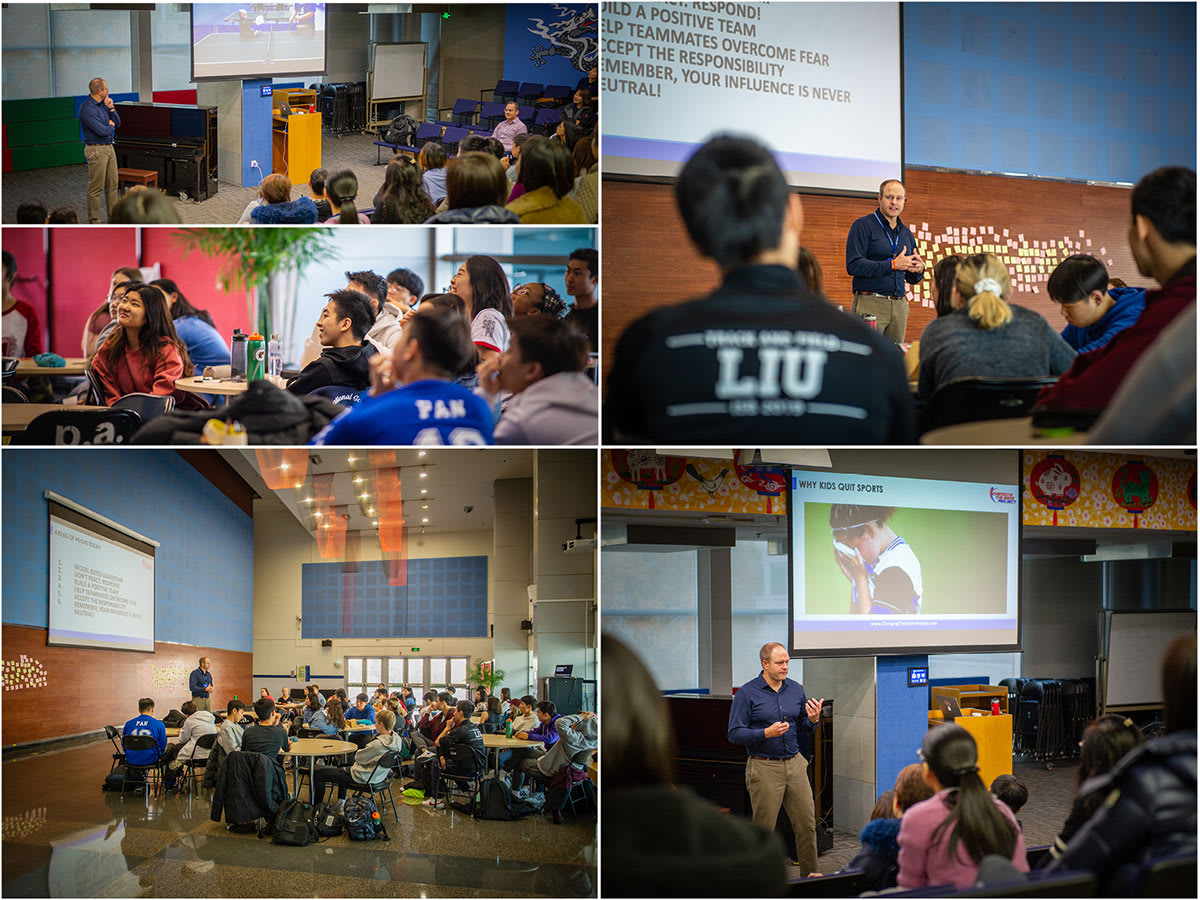 ISB's model values young learners' physical and social-emotional health along with their academic performance. As part of a balanced education aimed at producing well-rounded individuals, the school's students are offered plenty of opportunities to discover their passions in co-curricular activities as well as in the classroom.
Mr. O'Sullivan is also a big believer in sports' value in young people's overall development. He cites studies showing that children who are physically active in adolescence are far more likely to be physically active as adults; such people are one-tenth as likely to have obesity problems, they're more likely to excel academically and go to college, and they will face lower health costs. "Those who quit sports at young ages are more likely to be inactive and have all the opposite things happening. Sport is like fertilizer for a lot of other things that matter: It's character-building, it can boost your health, it can develop your mind," he said.
Problem is, a lot of children do end up quitting sports. According to a 2014 TED talk by Mr. O'Sullivan, 70 percent of the roughly 40 million children who play sports every year in the U.S. drop out by the time they are 13. The coaching guru thinks this is because too much emphasis is placed on winning from a young age and that a lot of youngsters are put off by excessive pressure from their coaches and parents.
"Children can have an amazing sporting experience and tightness as a team and think that playing in that sport was one of the best things ever, without winning a trophy. By the same token, they can win a trophy and have a terrible experience," he said.
There needs to be an age-appropriate focus on winning and inclusivity. "By the time you get to Varsity level, not every player is going to be selected for the same amount of time on the court, the coaches and team members are going to want to win the game. As a 16- or 17-year-old athlete, you should be able to understand that. But when you're coaching in middle school, the results matter far less than giving the kids playing time, getting the players ready for potentially being a Varsity player," Mr. O'Sullivan told ISB Communications.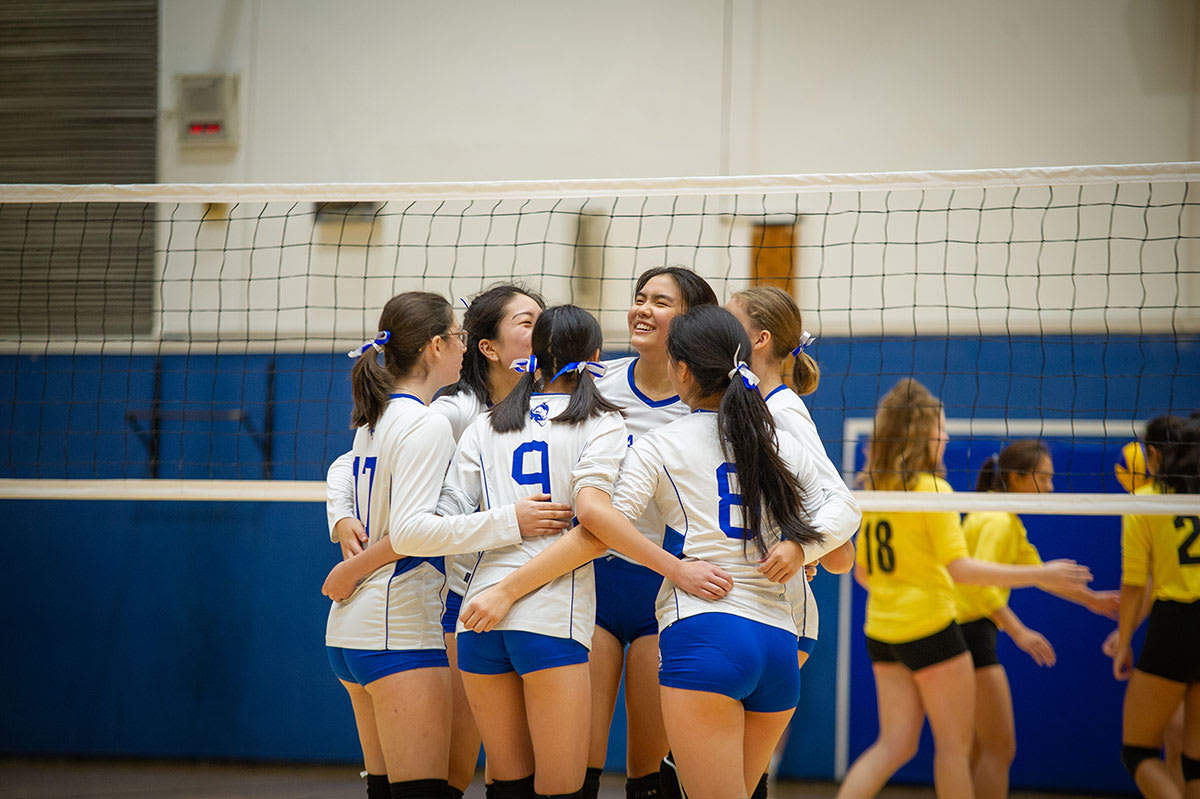 ISB's inclusive volleyball program got particular praise from John O'Sullivan
Mr. O'Sullivan was at ISB as part of a diverse program of visiting experts. The school is very open to hearing from non-teaching leaders in their field and puts a lot of resources into bringing in this talent to talk to students and parents and consult with faculty. Examples have included filmmaker Zhang Yimou, basketballer Yao Ming, acclaimed musicians, and researchers of the challenges and opportunities for cross-cultural children.
Grade 11 student Grayson M plays baseball and basketball at ISB and was at a workshop Mr. O'Sullivan gave on Wednesday. "It was eye-opening," he said. "I learned that talent is part of the equation but doing the little things is what's really important."
Referring to Mr. O'Sullivan's messages about responding to events and the power of positivity, Grayson said he could see how he could improve his leadership on the basketball court and, in turn, take his team to the next level.
ISB is an extraordinary school, made so by a tradition of educational excellence spanning 40 years. Establishing, nurturing, and growing such an exceptional learning community has been and remains intentional; we work hard to build strong relationships so our learning is at its best.
Back