Behind the scenes at The Hope and Heartache Diner
By Nick Yates, ISB Communications
Published in January 2022
The High School Theater Department and the High School Thespians club have continued the International School of Beijing (ISB) tradition of plays directed and produced entirely by students. More than 30 students were involved in everything from acting to design to running the lights and sound for one-act play The Hope and Heartache Diner.
About a young woman's final shift in her family-run diner before she leaves for university, this tale of hope, nostalgia, and finding yourself struck a chord with its audience during three intimate performances last week.
Theater around the world has been heavily impacted by Covid-19, and the Hope and Heartache team faced a lot of uncertainty over rehearsal time and whether they would be allowed an audience. They managed to pull it off and revive memories of the One Act Festival of student-produced plays at ISB in recent years. ISB's Fringe Festival last April had left the community hungry for more performing arts on campus.
ISB community members can click here to view a high-quality recording of The Hope and Heartache Diner.
And keep scrolling for a behind-the-scenes account from lead actress Mayah S (pictured) of what it took to put on the play: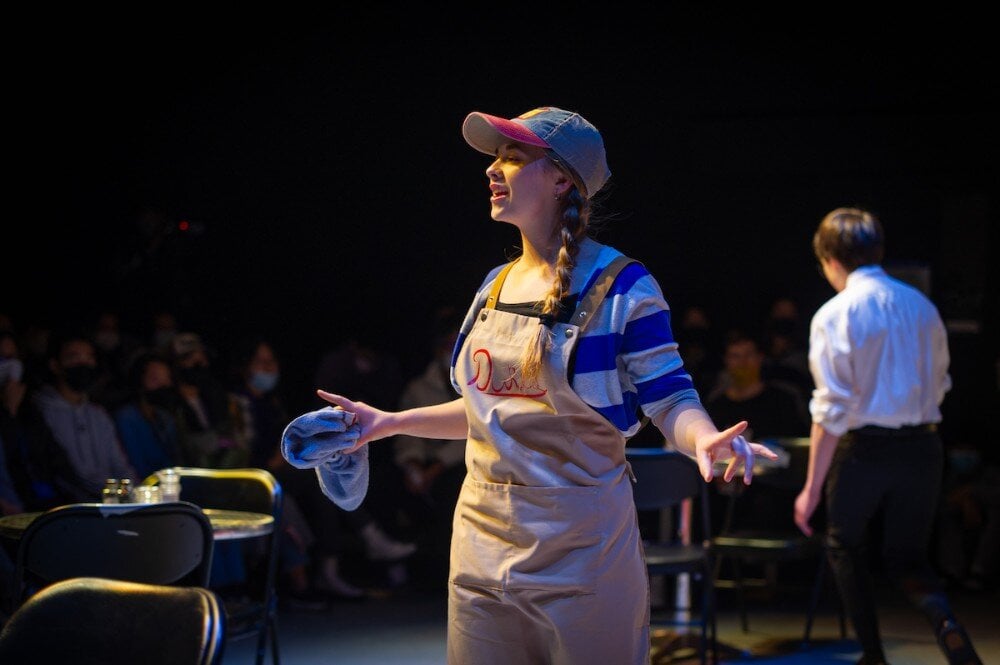 "I played the role of Felix. I am one of Mr. Redman's IB Theatrer HL students (Grade 12) as well as the vice president of Thespians. I have moved back and forth from Beijing a few times, but I most recently moved in at the start of Grade 10 in 2019, so this was my first High School production at ISB. In total, though, this is my seventh year at ISB. I was Little Red Riding Hood in my Kindergarten play at ISB (2009) and also in the Grade 6 production of The Seussification of Romeo and Juliet (2015)."
How did this project get started? How did you choose

The Hope and Heartache Diner

as the play to put on?
"Everyone had a lot of questions because of how much was up in the air with the prospect of… Covid restrictions on after-school activities. I asked Mr. Redman what chances we had at putting on a production this year (especially this being Senior year for several of us). He suggested that the Thespians could put on a play, during club times and after school. We didn't know how far along we would get in the process before a potential lockdown, but Mr. Redman encouraged us to just do what we could with the time we had, and hope for the best.
"In Thespians, the other execs and I proposed to put on a one-act play, also asking if any of the students were interested in a chance to direct. We were thrilled when McKenna D jumped up to volunteer for the role – her countless hours and energy dedicated to the production in the past few months have made this process possible.
"Students went home with different scripts to read and share with the group. We had elevator pitch proposals then talked about what would be a good fit for the size of our group. The Hope and Heartache Diner was one that stood out because of the entertaining characters and relatively large cast size. I didn't know how meaningful or impactful the play would be, but I thought, 'Hey, it's a fun show, there's a lot of characters, let's give it a shot.'"
How did you select your cast, rehearse, organize the lighting and do everything else required?
"I met with Vincent G (Thespian's president) to create a rehearsal schedule and select monologues from the script for auditions. Our initial goal was to perform before Winter Break, but we realized with mock exams and other assessments that we would likely get a better turn-out if we performed in January.
"McKenna D (director) and Harrison T (assistant to the director) held auditions open for any ISB High School students and arranged the cast, with a part for anyone who wanted to be involved. Several other Thespian members offered to work on lighting, backstage, costumes, props, set design, and stage managing. They are the magic that brought The Hope and Heartache Diner to life!"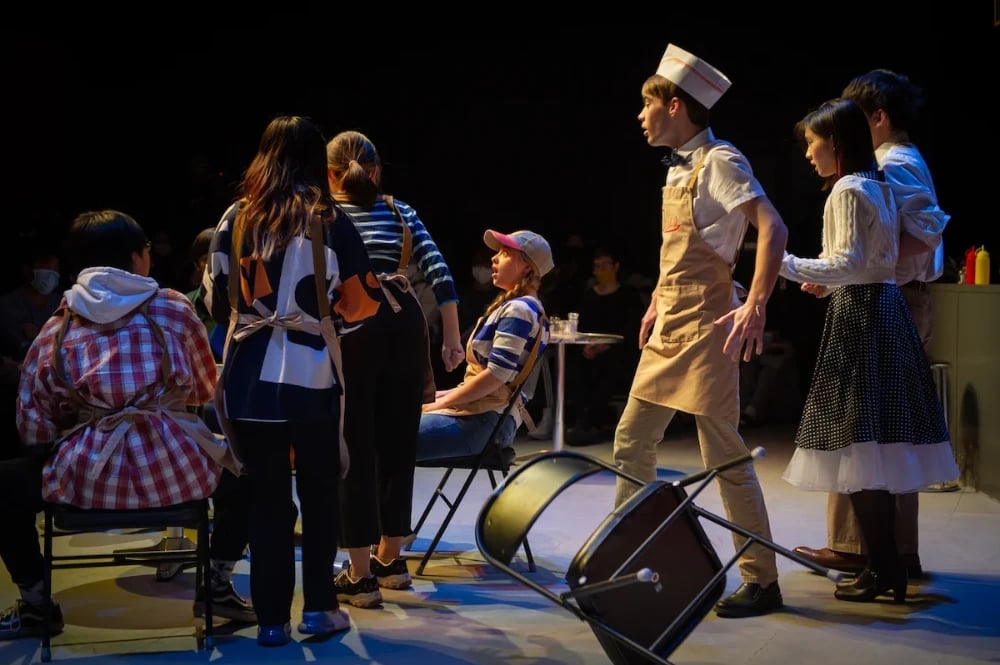 Any funny stories from putting on the show

?
"We all got a lot of laughs from the character Sam (played by Kim R). It started when we first read through the script, and every scene started with the stage direction "Sam enters." The party didn't start until Sam walked in! And as we moved towards the rehearsal process, we realized just how frequently Sam offers the other characters a sandwich, soda, or other food. It was cute; his way of trying to help and support. When Nell or Wiki yells, or really anything awkward happens, he is the first to respond, ready for any food requests. If there is ever an elephant in the room, I can guarantee there will also be a Sam standing by."
How did the performances go?
"I overheard many people saying how impressed they were. My younger sister (4) came to see my brother (15, playing Felix Sr.) and me perform each night. Each night, she cried.
"The Hope and Heartache Diner hit close to home for us. In the play, the character Felix is narrating her last day in the family diner before heading off to college, and as a Senior in high school myself, I am preparing to say goodbye to my family before I move on to university. My sister gave me a big hug after each curtain call and reminded me of all the reasons why I shouldn't go to college and can just stay with her instead. It was very sweet, and something I know many audience members related to.
"I think as we begin the second half of the school year, these emotions and thoughts are on the minds of many people at ISB. I am so grateful for the chance I had to work with so many talented and passionate students and with the help of [our teachers]. I know that I will look back on this production as a highlight to my final year at ISB!"
ISB is an extraordinary school, made so by a tradition of educational excellence spanning 40 years. Establishing, nurturing, and growing such an exceptional learning community has been and remains intentional; we work hard to build strong relationships so our learning is at its best.
Back