Back to School Night takeaways
By Nick Yates, ISB Communications
International School of Beijing (ISB) parents have just had a great chance to discover more about what their children are learning and ISB's careful education philosophy at Back to School Nights (BTSNs).
BTSNs were held for the Elementary, Middle, and High School between September 3 and 11, providing parents and teachers with a face-to-face opportunity to discuss objectives for the year ahead. From academics to co-curricular activities to counseling, attendees were briefed on how ISB is an inspiring international community in which students are given plenty of opportunities to explore, discover their passions, and serve others.
The evenings saw a huge turnout, demonstrating the strong relationship between school and home at ISB as the whole community pursues the best learning. BTSNs set out the rationale behind ISB's programs – the curriculum is regularly assessed and updated to remain based on best practice in pedagogy, and teachers ensure their classes' social and emotional well-being.
What were the main takeaway messages and learnings from BTSNs? Parents and teachers were keen to give us their impressions following these inspiring evenings:
1.) Constant evolution
ISB is a progressive school, prepared to make adjustments to its programs in response to new thinking. Just as ISB students are encouraged to be inquisitive, so are the school's teachers empowered to introduce fresh approaches in their classrooms. Remo Graviele Nogueira Albornoz, who has children in Grade 1 and 12, described ISB as an "adapting organization eager to constantly evolve."
2.) Independence in learning
Many parents agreed that the main difference between their own schooling and the modern education their children are getting at ISB is in having significantly more freedom to ask questions and be creative. "I particularly love how math is taught and how children are encouraged to think rather than just memorize random things," said one parent. "The best questions don't have an easy answer!" said another.
3.) Empathy
ISB teachers have thought long and hard about how to appeal to and understand young people in order to best teach them. Families came away from BTSN clear on the need for empathy. "Parents should learn how to think from a child's perspective," was one bit of feedback. Grade 11 parent Noh Hyesun noted how most presentations at BTSN ended with a message of how parents can support their children at home.
4.) Counseling support
A number of parents remarked on the high ratio of counselors to students and how students in the High School are guided through the college application process to choose appropriate further education.
5.) Literacy and libraries
"The librarians are doing such a great job in instilling literacy and how to approach reading vis a vis what I thought a library used to be," said Preeti Thomas, who has children in Grade 2 and 5, after BTSN. ISB's prioritization of literacy is backed up by excellent library facilities, described by another parent as "the soul of the school." These are far more than collections of books; they're centers of learning managed by expert staff.
6.) Learning is not just for kids
One parent who attended BTSN said they were impressed to hear about "all the professional help I can get from the school." Through ISB's Parent Education Series, family members can pick up some of the same knowledge and skills as their children. The series invites ISB community members to hear from experts from within and outside the school.
Meanwhile, ISB also puts very significant resources into further training for its staff. "The main takeaway [from my talk at BTSN] would be that ISB has the framework in place to encourage and support teachers in a growth journey to become the best educators they can be for our students," said Middle School Assistant Principal Fred Schafer.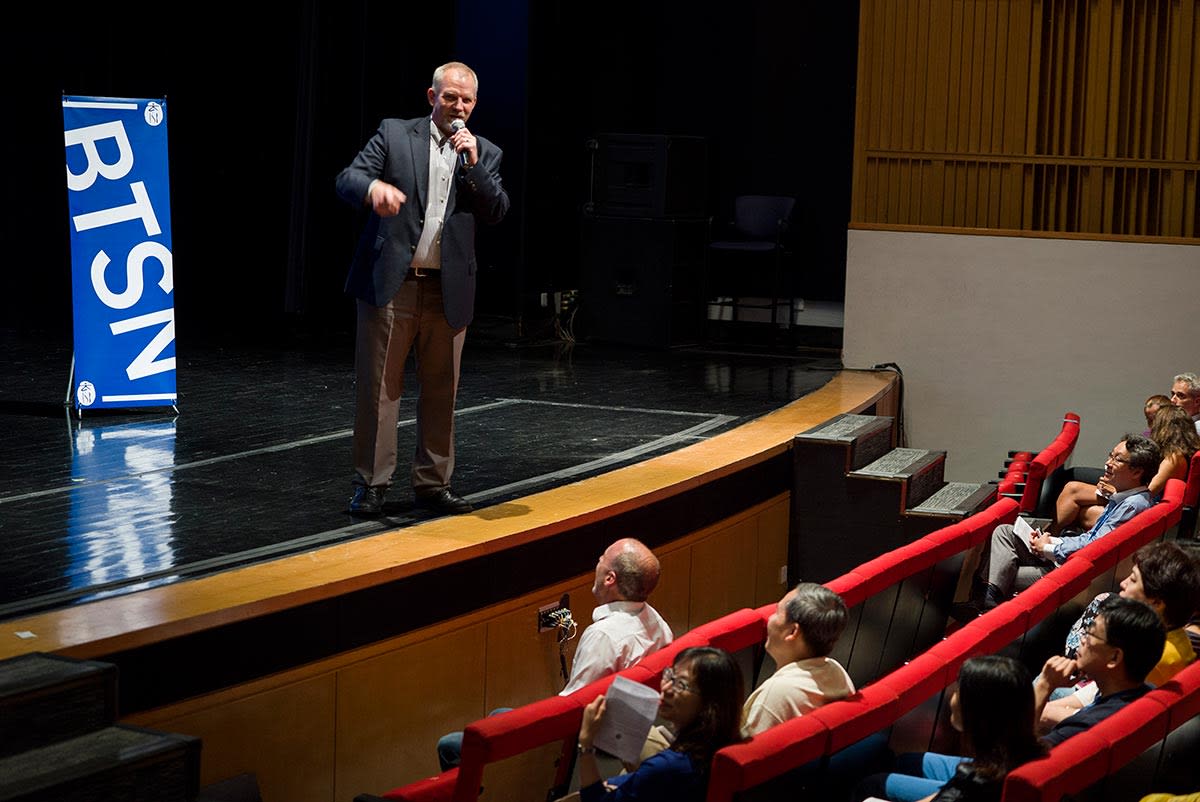 7.) Challenging and joyful learning
A mother of a Grade 2 child came away from BTSN vowing to keep homework within 20 minutes and to spend time reading with her child rather than hiring private tutors. This matches ISB's belief in social and emotional learning, caring for the overall well-being of the child in addition to academic achievement. Another important takeaway, for example, was advice that Middle School children need a minimum of eight hours of sleep per night.
8.) Setting high expectations together
BTSN is one of many events throughout the year that aims to strengthen the relationship between school and home. One parent with children in Grade 1 and Grade 8 said after BTSN, "There is more focus on keeping parents informed and parents having various avenues they can take to monitor their child's learning. There appears to be a shift towards teachers, students, and parents being in partnership to help learners to develop at their best."
Practically speaking, parents learned of the importance of engaging with the school. "I need to have a good understanding of Dragons' Gate [the school's information portal] and to keep a close eye on school announcements," said one MS mom.
9.) Life outside the classroom
BTSN feedback forms were full of praise for the co-curricular programs and activities outside of traditional academics at ISB. Music, art, sports, and service clubs are important parts of campus life as the school gives students opportunities to discover their passions.
10.) No stone left unturned
Essentially, BTSN left parents assured of the resources that support learning at ISB, the careful design of its programs, and teachers' dedication to classes' well-being. Kindergarten teacher Lauren Van Rooyen summarized, "I wanted to impress upon parents that their child is well supported by many teachers. We have educators with specialized knowledge in various curriculum areas, learning support, and language acquisition.
"Teachers collaborate often so that we can plan learning experiences that create a culture of curiosity. Our Reader's and Writer's Workshops provide strategies and skills that children can practice independently. The 'Student as a Learner' framework was shared so that parents understand how we assess behaviors and attitudes throughout the year.
"Most importantly, I want parents to know that aside from measuring their child's academic growth, I ensure that Kindergarten at ISB will be remembered as a joyful time of learning."
ISB is an extraordinary school, made so by a tradition of educational excellence spanning 40 years. Establishing, nurturing, and growing such an exceptional learning community has been and remains intentional; we work hard to build strong relationships so our learning is at its best.
Back