Vocation even on vacation
By Nick Yates, ISB Communications
The Summer Break is a cherished time for members of an international school community. Many use it to return home to their families or simply to rest and recharge their batteries before another academic year. For teachers at the International School of Beijing (ISB), it is also a chance make themselves even better at their jobs.
A large number of ISB teachers gave up time during the holiday to travel for professional development (PD), taking training and attending conferences so that they now bring the latest research on education from around the world back to classrooms in Beijing. From the U.S. to China to Europe, they've been far and wide and have undertaken some epic journeys in a quest for continual improvement. ISB's programs are intentionally designed to be based on best practice in pedagogy, and the school empowers its staff to consider new approaches and adapt their teaching so that it is most effective for students.
Close to 70 percent of ISB's school-fee revenue is reinvested on personnel, including funding training for them. While ISB recruits the most qualified, experienced, and passionate teachers, it is also almost unmatched in Asia in terms of the resources it puts into coaching for its world-class faculty, according to Stacy Stephens, the school's Director of Learning and Strategic Planning. "As a school, you want to take the resources that you have and make sure you have the largest impact on student learning. It's a model that allows us to be a learning institution on a continuous trajectory of growth," Ms. Stephens said.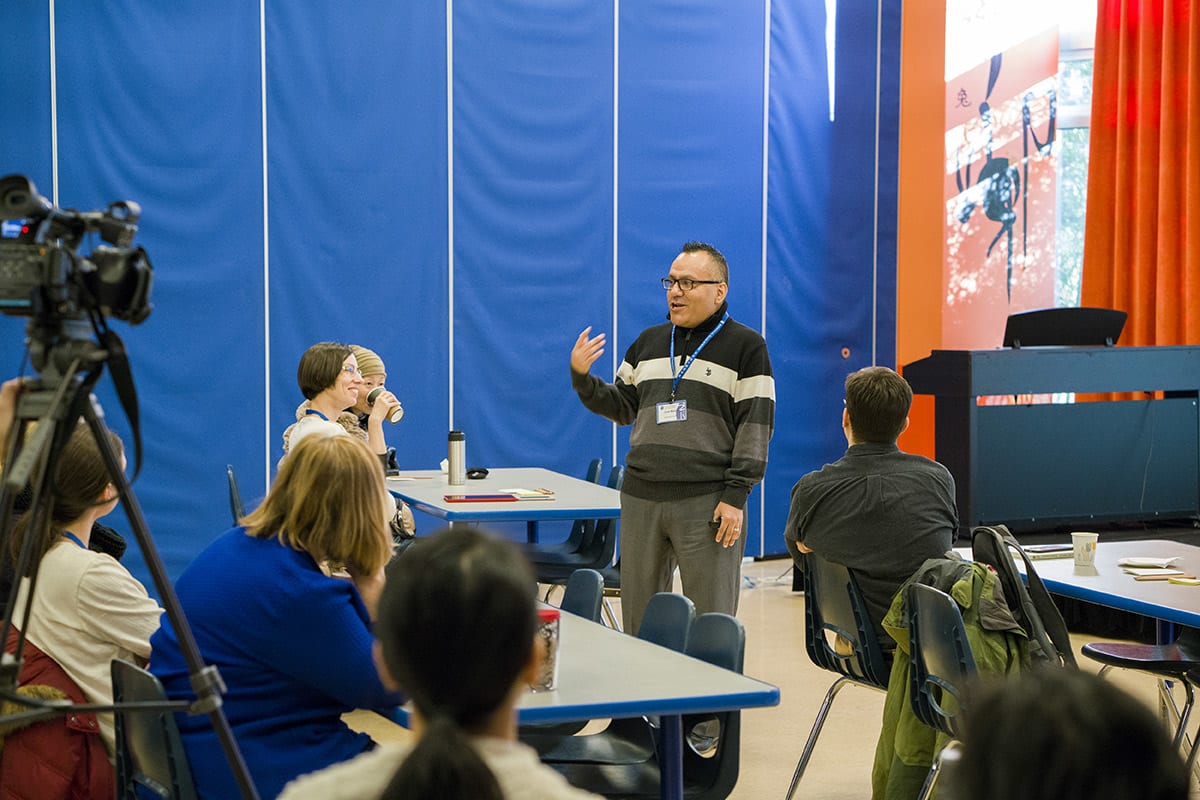 ISB teachers doing PD with a language teaching expert
ISB's dedicated teachers crisscross the globe during the Summer Break, when they have a rare window to spend weeks traveling and focused on their own learning. It's in the nature of an international school that its teaching model is based on practices rooted in disparate parts of the world. Often, the training and research on those practices is only happening outside Asia. When school is in session, such PD generally isn't accessible to ISB staff.
"A lot of our teachers are compelled to take advantage of these opportunities and engage in summer learning," said Ms. Stephens. "For PD in the summer, people are giving up a lot, when they already live 10 months of the year away from their homes and families. But we have so many teachers who willingly engage because they're so committed."
ISB was allowed 10 spots with Harvard Project Zero, the renowned Boston university's project to study and improve education. Thirty-five ISB teachers, about 15 percent of the faculty, applied. Jo Binns, ISB's Strategic Learning Coordinator, flew from Thailand to Boston for Harvard Project Zero then came back to China to scout out service projects for ISB students in Sichuan province. She sacrificed two weeks of her holiday.
Some serious air miles were also accumulated by High School social studies teacher Brian Germain, who did voluntary work teaching refugees in Greece (an experience he first enjoyed in 2016) then attended Project Zero then went to the opposite coast of the U.S. for AP Seminar training.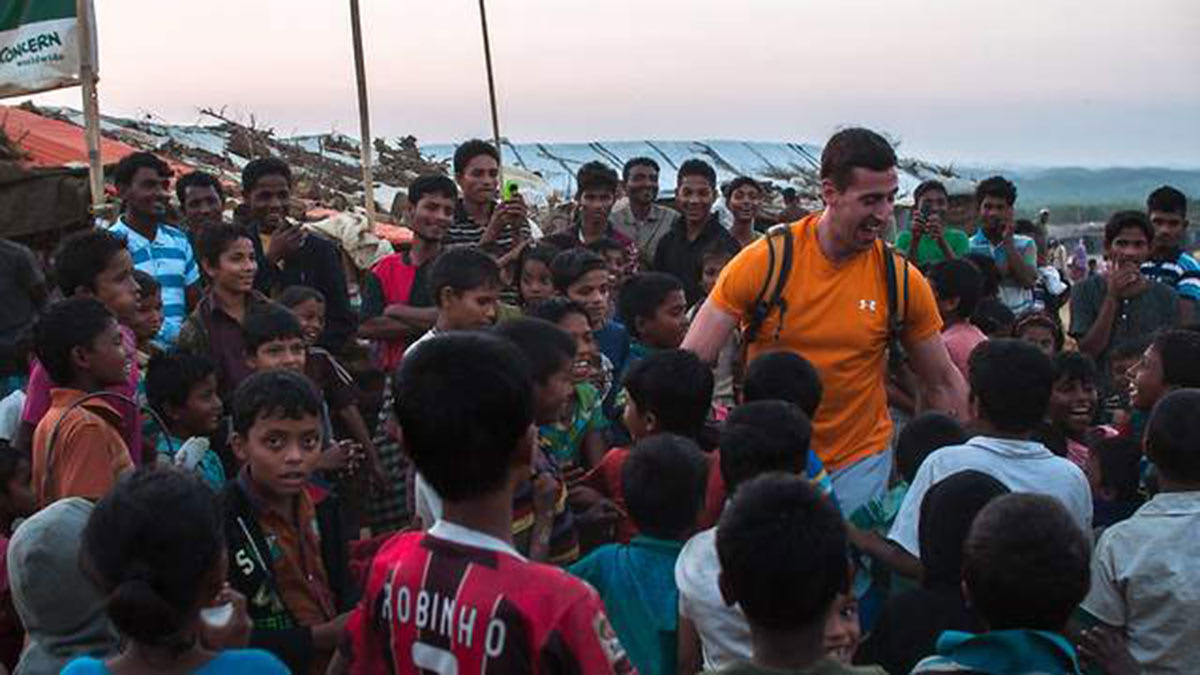 Social studies teacher Brian Germain did voluntary work teaching refugees in Greece among other PD experiences
Other teachers took language training in Washington and Chicago, literacy training in New Hampshire, music training in St. Louis and Seattle, and leadership training in Genoa.
Ms. Binns said, "Project Zero has been a hub of education research for many, many years and I was excited to learn more about current thinking in education practices. I spend a lot of my summer thinking about education anyway, so it was amazing to learn from some true gurus in the field of education and to meet other educators grappling with many of the same issues as I do when I think about education.
"This was one of the best professional development experiences I've had. It was great to also have so many other ISB teachers in attendance. We will be collectively following up on what we learned so that we can make the best use of our deeper understanding. This will benefit ISB students in many areas, especially around habits of thinking, design, integrated learning, and global competence."
Elementary School performing arts teacher Maggie Wang had already spent two summers studying Orff Schulwerk, a creative and hands-on approach to music education. She completed her certification at the University of Missouri in St. Louis this summer. She said she is now more able to meet the needs of diverse learners at ISB, explaining that she has learned through her studies about folk song materials and how to better organize lesson plans. "Being a dual language music educator gives me an opportunity to teach authentic Chinese folk songs and to develop a Chinese folk song collection.
"My lesson plans will have higher levels of engagement, more interactive experiences; I will introduce more Chinese folk songs, and continue to develop my skills in choral conducting."
The PD won't stop with the return to lessons. ISB has a year-long program of on-campus and off-campus learning for faculty, regular visiting experts working with teachers, and even full-time coaches on staff. The school offers some of the same opportunities to parents through its parent education series of talks and workshops.
Ms. Stephens, whose role includes coordinating PD, summarized, "I'm more skillful, I'm more knowledgeable, I have more strategies after my PD. Our teachers will bring what they've learned into their practice. Most people come back after PD with something they can do differently from day one in the classroom, changes they can make to improve students' educational experience in a way that otherwise wouldn't have been possible."
ISB is an extraordinary school, made so by a tradition of educational excellence spanning 40 years. Establishing, nurturing, and growing such an exceptional learning community has been and remains intentional; we work hard to build strong relationships so our learning is at its best.
Back