Inside ISB's new Partnered Instruction model
By Nick Yates, ISB Communications
As they return to campus after Summer Break, students at the International School of Beijing (ISB) are seeing double! That is, there are two experienced members of teaching staff running many of their lessons.
Under the school's new Partnered Instruction model, teachers absent from Beijing because of travel restrictions have been assigned an Instructional Partner (IP) on campus. The two members of staff are working closely to deliver their lessons, with the IP instructing students in classrooms and the regular teacher appearing via Zoom. As ISB provides for both the majority of students returning to campus and families still outside of China, it's a high-tech and truly international affair.
For example, in Owen Fidler's Grade 12 IB Geography class last Wednesday, IP Vanessa Pei was present in the classroom while High School social studies teacher Mr. Fidler Zoomed in from rural Victoria, Australia. Three students joined via Zoom, two from Korea, one from the U.S.
Helped by Ms. Pei, the students worked to understand the requirements of one of their assessments. Mr. Fidler screen-shared slides that gave details he could highlight on screen as he spoke. He presented one part of the assessment and students then worked together in groups to rephrase the technical language of the International Baccalaureate (IB) into plain English, which was then posted on a Padlet (a kind of interactive digital canvas) that the teacher and IP could see being updated in real time.
The pair used the Padlet to check the students' understanding. For this activity, the Zoom session was organized into two breakout rooms, which enabled Mr. Fidler to move between groups just as easily as Ms. Pei and like he would in a conventional classroom.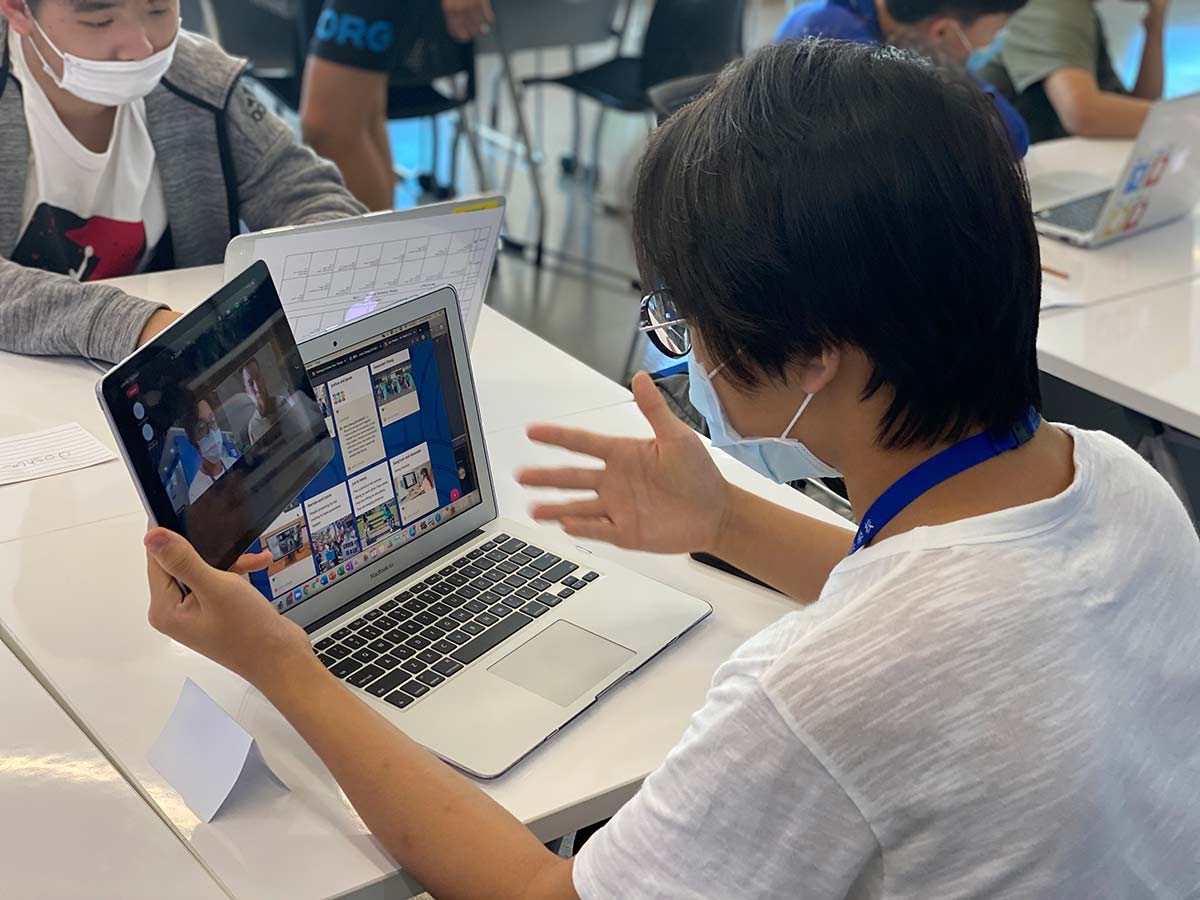 New staff's credentials
This interaction between the students, Mr. Fidler, and Ms. Pei is typical of some of the lessons at ISB as the school continues to provide challenging and joyful learning despite the challenges of Covid-19. Of course, it's all happening with everyone on campus following strict mask use, social distancing, and other Covid-19 safety protocols developed in consultation with Chinese authorities.
At ISB, the temporary campus closure sparked by Covid-19 launched the community into online learning in February. Teachers were inspired to use a range of innovative methods to continue offering the school's quality programs remotely. Now, under the phased reopening of campus allowed by the authorities, all grades will have returned to campus by September 11. ISB's teachers and staff kept outside of China have also been given special permission to return soon. Many are already on their way back.
Considering the regular community feedback ISB has solicited about online learning, the school established a number of alternative learning models it could use in the fast-changing current situation – purely online learning, lessons on campus, or a blend of the two.
In addition to ISB's regular recruitment of permanent teachers, almost 100 experienced and highly qualified IPs have joined the team to support the Partnered Instruction model. They were all personally interviewed by members of ISB's leadership team to ensure high standards and that they are a good fit for the school and its students. The IPs hail from all over the world. Their resumes are packed with advanced teaching qualifications and backgrounds working for other prestigious education institutions. Many of them have past experience at ISB.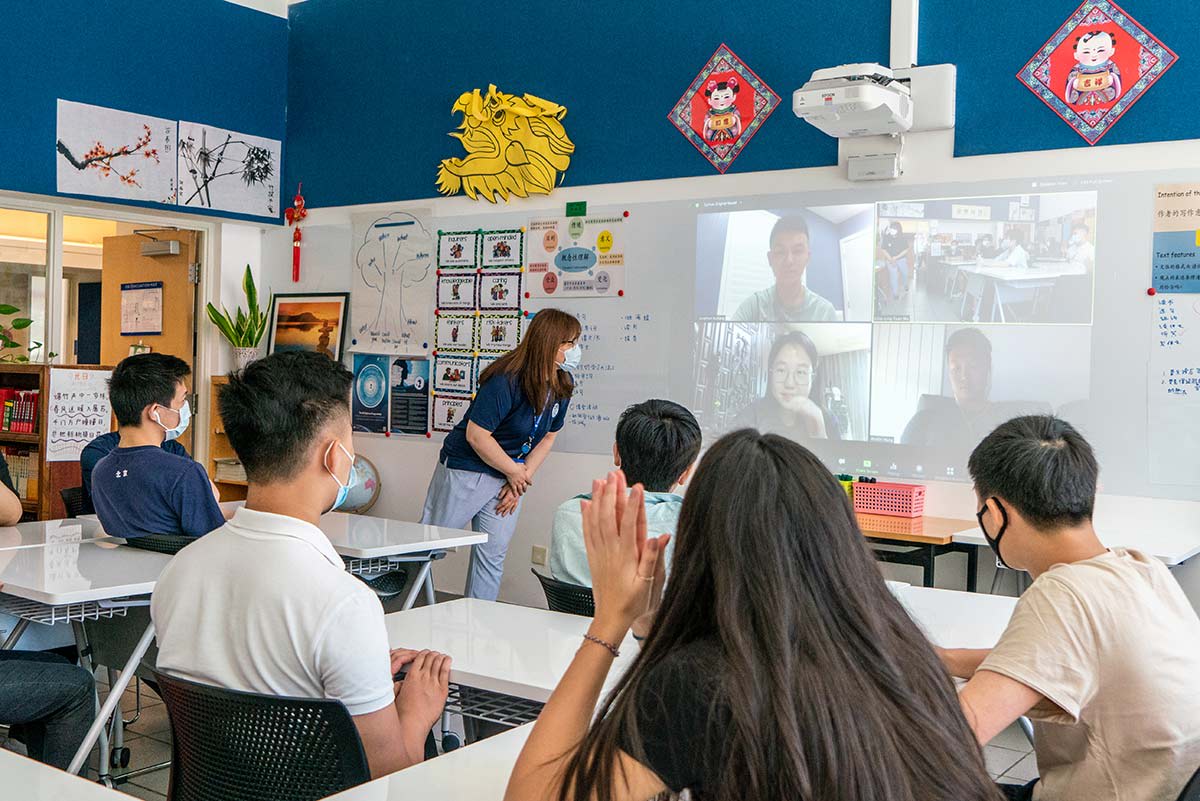 Positive feedback
Ms. Pei is enjoying her work with Mr. Fidler and seeing how effective it is in terms of student learning. "The model provides the students with the opportunity to come back to school. It is an interesting way to teach and learn," she said.
Mr. Fidler's students are also enthusiastic about Partnered Instruction. Christine H said, "It's been great. This way, I feel like our teachers are still here in person because we can see and hear them, and we have another teacher here who can help and assist us."
In their feedback, many students highlighted the opportunity for increased independence that came with online learning, but others were positive about the increased live contact with teaching staff that they are getting with Partnered Instruction. "There will still be plenty of supervision, which means I will not be easily distracted," said Eric X.
Another of Mr. Fidler's students said the lesson was "well-constructed" and that "peers were helping each other to follow the class."
'Keeping students on track'
Ashlea Fidler – Owen's wife and also currently in Victoria – is a teacher in the ISB Middle School, where students have been having just as good a time with Partnered Instruction as those in High School. "Even though our teacher is stuck outside of China, the Instructional Partner is keeping students on track," said Grade 8's Judy L.
"To me, it gives the chance for overseas students to work and collaborate together," added Samuel Y, one of Judy's classmates.
Ms. Fidler's IP is Sue Su. "It's my first time assisting like this," said Ms. Su, "but it feels comfortable. I think most of the students have been doing very well in tasks set by the teacher."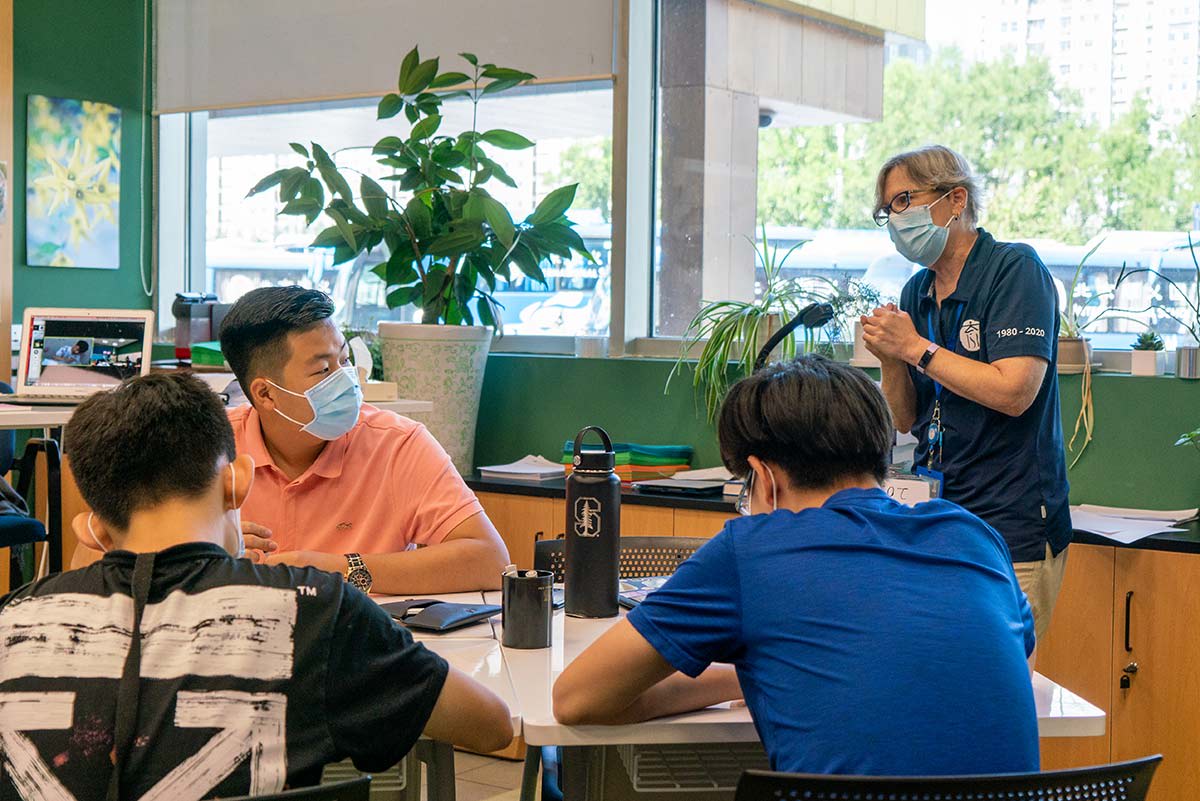 Aligning IPs with ISB's principles
Lauren Van Rooyen teaches in the ISB Kindergarten, which welcomes students back to campus from Tuesday. While running online classes for students since September 1, she has been busy preparing for the kick-off of Partnered Instruction with her IP Michelle Cui.
Ms. Cui has been observing Ms. Van Rooyen's online lessons and has undergone a thorough training and orientation process at ISB, including on the social and emotional learning (SEL) principles that the school values so highly.
"I have learned that SEL is as important as academic learning," said Ms. Cui. "Connecting with each other makes students more confident and respectful. Our morning meetings with classes are a good way to express social and emotional learning, giving students a calm and safe environment in which to learn. I look forward to being a teacher who can care for students' feelings and help them progress in their academic learning once we start Partnered Instruction."
Surmounting challenges
Of course, Partnered Instruction, with many of ISB's families and employees still abroad and restrictions on campus use and social interaction, will never match normal schooling. But ISB is providing students with learning that is as effective as possible in the extraordinary circumstances of a global pandemic. Teachers are working hard to smooth out practical and technical issues in a model that relies on the internet.
"My IP and I are interacting more effectively every lesson – we now use WeChat while the lesson is progressing so I can give her instructions without having to speak over the speakers in the classroom, and she can tell me how quickly students are progressing," explained Mr. Fidler. "[Ms. Pei] is switched on and is beginning to anticipate what I want to do before I ask, and routines are being established well. I've had to adjust my lesson pacing and the way I speak to the whole class to account for lags or drops in the internet connection, but like all my colleagues, we are adapting to make the experience as good as we can for our students."
Informed by feedback on online learning from parents and students, Partnered Instruction allows students to follow a regular schedule with more chances to connect live with teachers. There is plenty of face-to-face student collaboration and socialization, and students on campus can engage with classroom resources and ISB's world-class facilities. Everyone is looking forward to the point when all teachers and families can be back together on campus and classes can be resumed in the style that has established ISB as one of the world's leading international schools over 40 years.
Until that time, ISB has Partnered Instruction in place. For students with two experienced members of teaching staff running their lessons, seeing double is far from a bad thing.
ISB is an extraordinary school, made so by a tradition of educational excellence spanning 40 years. Establishing, nurturing, and growing such an exceptional learning community has been and remains intentional; we work hard to build strong relationships so our learning is at its best.
Back