Extraordinary eLearning
By Nick Yates, ISB Communications
They say necessity is the mother of invention. The proverb, stressing how powerful need is in driving creativity, is certainly true of the International School of Beijing (ISB), where the temporary campus closure and eLearning sparked by Covid-19 has inspired teachers to use a range of cutting-edge methods to continue offering the school's quality programs remotely.
From virtual choirs to interactive analyses of class discussions, ISB students have been engaged in some fun and very effective learning despite being cut off from each other by the isolation measures that China and most other countries now have in place. While the students have been more diligent and their parents more supportive than ever, the eLearning has taken tons of hard work from ISB's talented team of teachers and Office of Learning.
Want to hear the effects of the ISB community pulling together with help from online technology? Listen to this recording. Being split up around the Earth didn't stop around 20 Middle School singers uniting for a virtual choir. They recorded themselves individually and a teacher mixed the tracks together. There is beauty to be found in these trying times!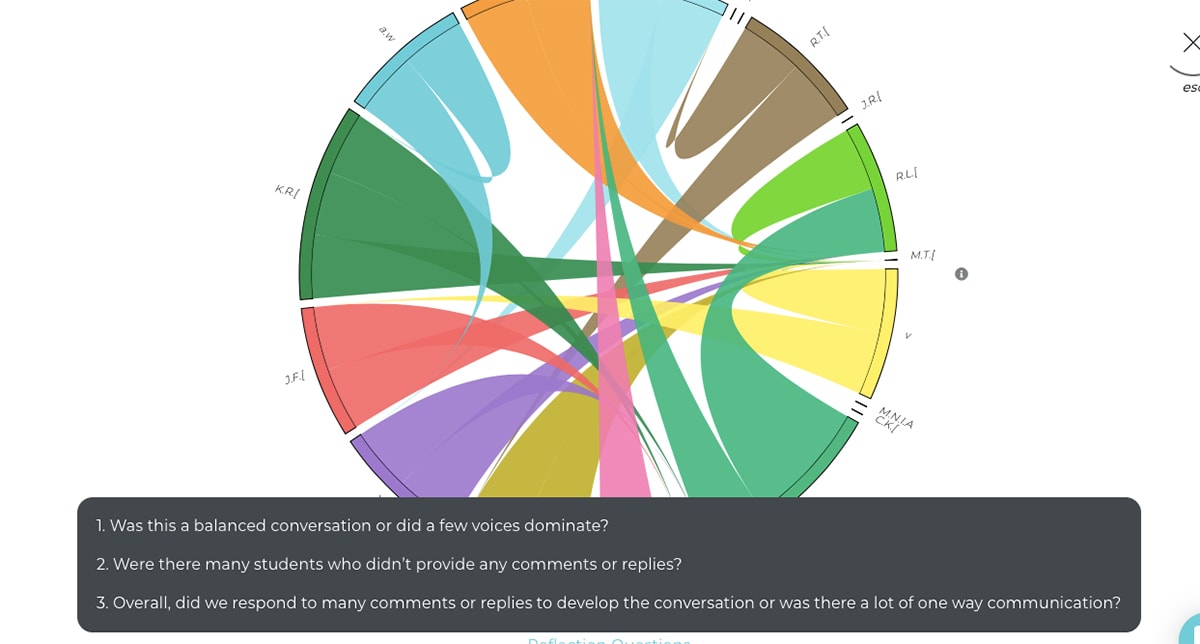 An analysis of a class discussion produced with online platform Parlay
Campus closure a shock but ISB was ready
ISB has been providing eLearning for more than two months now. The Chinese government's directive to close all school campuses to help stop the spread of the coronavirus came during ISB's Chinese New Year Break. A large portion of the community, including families and teachers, were on vacation abroad at the time. Travel restrictions and practical and safety concerns have since kept many of them away from Beijing. Coming so unexpectedly, the unprecedented situation has created huge challenges.
Thousands of schools and many millions of students around the world are now similarly involved in online learning. While many schools have worked hard to keep teaching during closure, research suggests the results are likely to be varied as so many were unprepared.
Fortunately, ISB pre-emptively had a plan for a period like this. Even as we were first hearing reports of a mystery sickness in Wuhan, Beijing's first and biggest international school already had systems in place that would allow the learning to continue in the event of medium-term school closure. Specialist online platforms are in common use at ISB.
Covid-19 has come in an era when the internet has made available myriad sophisticated tools to connect people. After years of embracing responsible use of technology with the school's 1:1 MacBook program, ISB teachers and students have taken up these tools with enthusiasm.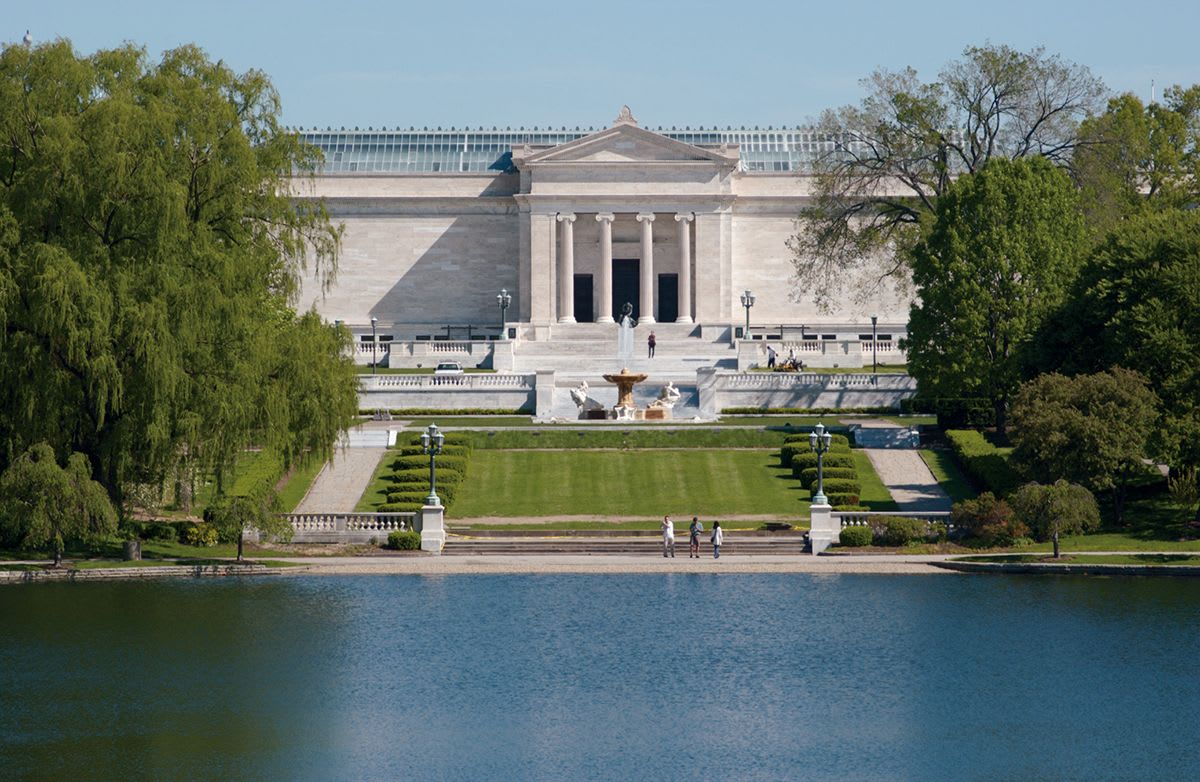 ISB students went on a virtual group field trip to the Cleveland Museum of Art
Early innovation earns acclaim
One example came on March 5, when around 40 ISB art students in Grades 9 to 12 went on a virtual group field trip to the Cleveland Museum of Art. An ISB teacher with connections to the U.S. attraction took advantage of its distance learning program, which lets students view artifacts while having conversations with museum experts through live videoconferencing.
Though mostly closed, many of the world's best museums can still be accessed through virtual tours. ISB teachers used their initiative to take up such opportunities early on. The school has been drawing community members' attentions to many such online gems. ISB librarians have suggested free educative podcasts for children and advised on how to access the Capital Library of China's archives online. These are among the many resources ISB has developed on its parent portal to help families support their children.
It is a combination of embracing technology and maintaining a sense of both challenge and joy in eLearning that earned ISB praise in UK industry bible the Times Educational Supplement (TES) recently. ISB was profiled by TES in this article about best practice during the Covid-19 restrictions. Through building strong relationships and setting high expectations together as a community, the school's stated Mission is to inspire thinkers and leaders and give them freedom to find their place in the world – and this hasn't changed during eLearning.
ISB students responded very positively to a social media poll conducted about their eLearning. While 33 percent replied that they had adjusted to eLearning "like pros," many in the "Still working on it" column pointed to how this experience had inspired them. Grade 12's Andrew L said he had been incorporating habits including yoga and keeping a journal into his daily routine alongside his studies. "ELearning has allowed me to focus on self-care, which has been a blessing for my physical and mental health," he said.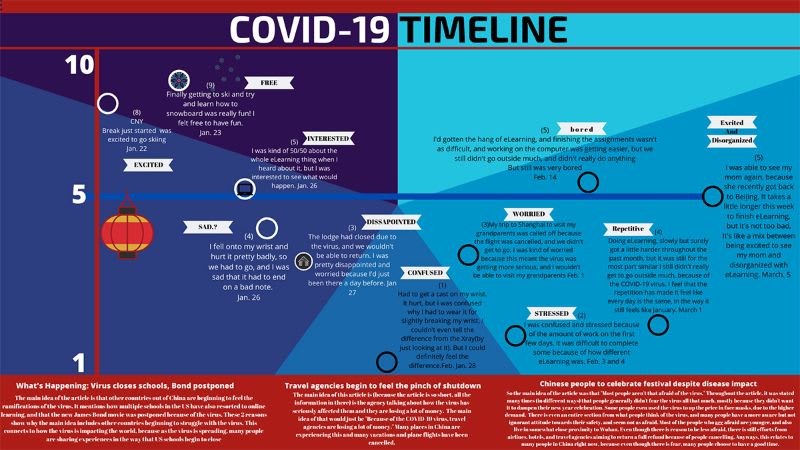 Grade 6 humanities students are pursuing an interdisciplinary online course that includes documenting their experiences and emotions about life during the virus outbreak
Principles behind ISB's eLearning
ISB's model is "asynchronous" eLearning. This means students, wherever they are in the world, are given assignments they can work through at their own pace with opportunities for follow-up support from teachers. Faculty, also in locations around the world, are online and available every school day to be contacted by students and parents. The teachers are assigning meaningful learning tasks, assessing student growth, and providing online opportunities for students to exhibit and celebrate the products of their learning.
With the importance of strong relationships enshrined in ISB's Mission statement, one big priority has been replicating the classroom feel and ensuring time together despite separation. Sessions with online video conferencing platform Zoom give students and teachers a way to see and hear each other, and this has proven to be one of the best ways for students to feel connected and motivated during the time away from campus. Students are offered regular mentoring sessions where they can build relationships and understanding within ISB's social-emotional learning program, which values health and strength of character alongside academic achievement. And ISB counselors are supporting students every day.
The Elementary School has used Zoom to hold fun virtual assemblies. Participants are invited to come with wacky hair or hats while engaging in a story, singing, dancing, and laughing together.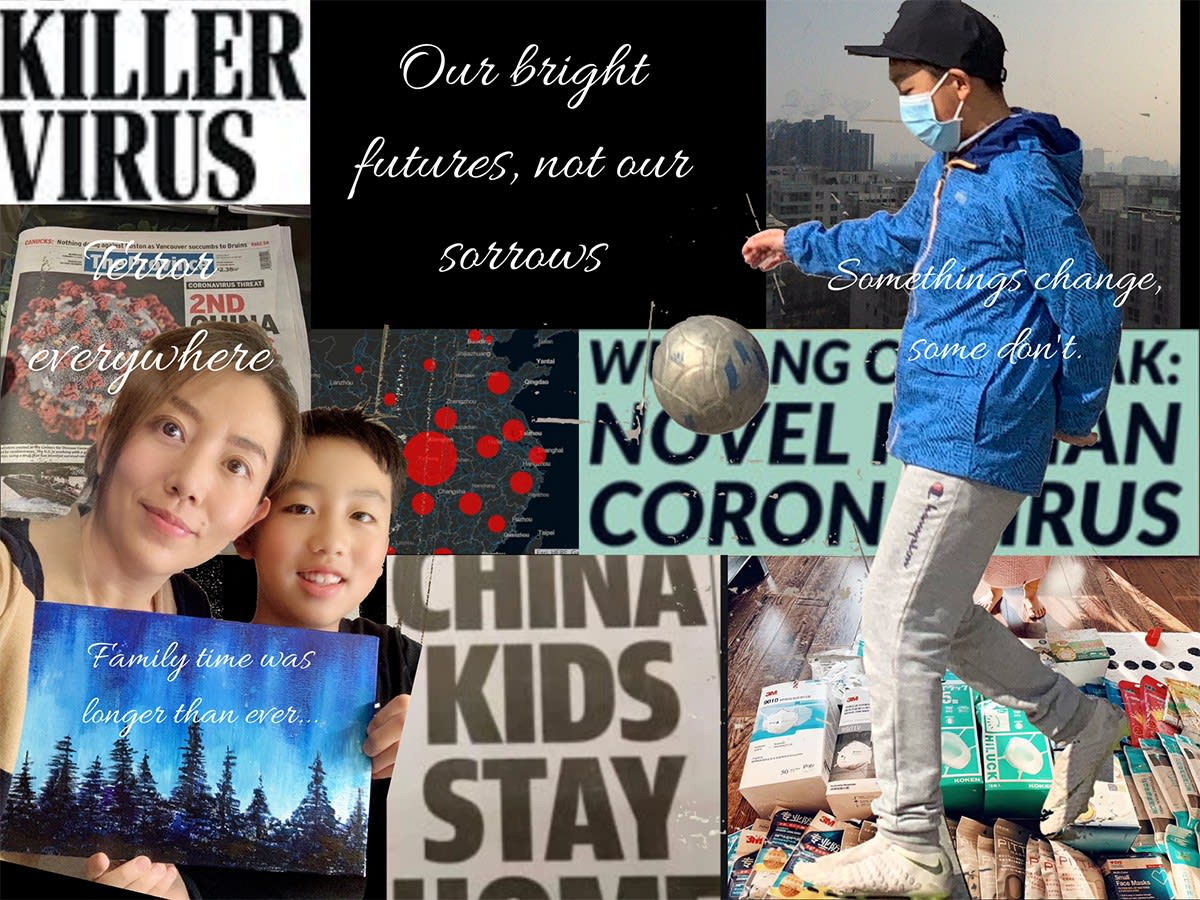 The inspiring present and future of eLearning
More examples of cool stuff happening during eLearning? When all this began, Grade 6 humanities faculty shifted curriculum based on a realization that the students needed content that was in touch with their lived experience during this unique time in history and that had an element of social-emotional learning. They started a unit of study called "Our Stories Make History" that integrates different academic disciplines including humanities, choir, visual art, and drama.
The students are documenting their individual experiences and emotions about life during the virus outbreak, with the end result being a collection of primary-source documents that will contribute to a larger collection, likely on a global scale, of resources that future generations can access to learn more about life during Covid-19. (Some of the Grade 6 students' timelines and diary collages are pictured in this article.)
"I've felt really good during this unit… I find it so cool how we can turn something that is a real problem and something we are dealing with into something that people hundreds of years from now can look back on," said Grade 6 student Hana P of Our Stories Make History.
A notable system being used by Middle School humanities is Parlay, an online discussion platform. Teachers can provide resources for students to look at or read, then they take part in an online discussion. When the "class" is finished, Parlay generates charts and stats showing who commented, which other students' posts they made comments on etc. According to humanities teacher Nikki Long, it's a fun and engaging way for students to come together and feel more connected in their learning.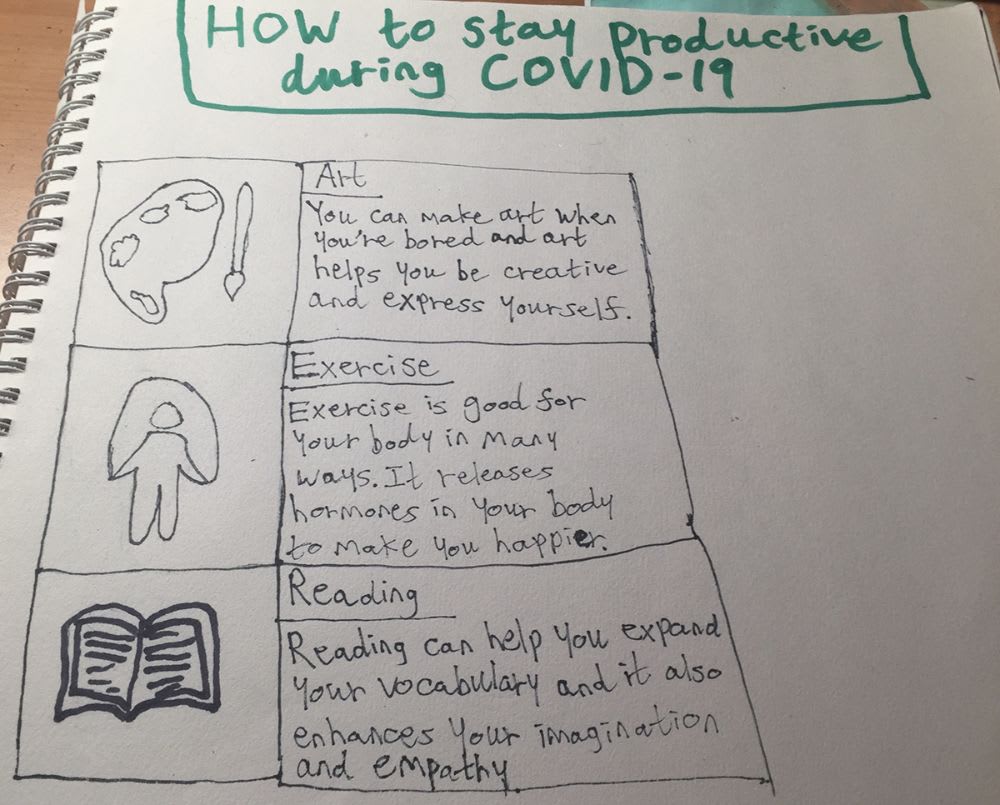 Elementary School PE teachers have created videos showing students how to use items available in their homes for workouts and encouraging them to get their families to join in fun games. Students can post videos of themselves playing and following the routines to inspire others – like these Grade 1 and Grade 5 classes did.
High School biology students have been presented with online simulators and videos, like these. Tools in common use across academic disciplines include EdPuzzle, which allows teachers to create beautiful interactive video lessons, and Quizlet, which presents educative information through games.
Now ISB has enjoyed success with eLearning, there will be plenty more stories of innovation and achievement in this field, even long after the happy day when the campus is allowed to re-open. And as Covid-19's spread around the world is causing more and more schools to take things online, faculty from Australia to Europe have been searching for advice on how to improve their remote teaching. It's perhaps no surprise that ISB teachers, with their wealth of experience and the resources at their disposal, have become a go-to for their colleagues in other schools. Watch this space for news of how ISB educators are not only leading their own students online but helping lead the global learning community in these testing times.
ISB is an extraordinary school, made so by a tradition of educational excellence spanning 40 years. Establishing, nurturing, and growing such an exceptional learning community has been and remains intentional; we work hard to build strong relationships so our learning is at its best.
Back